June is Men's Health Month: Recognize the most common forms of cancer in males
By Rachel Evans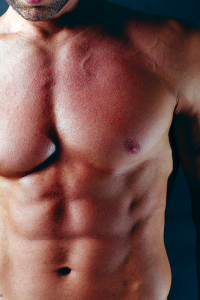 June marks not only Father's Day, but Men's Health Month as well.
It's a time to take care of the father, husband, brother, son, or friend in our life. Men's Health Month is a time for us to make sure all the men in our life are taking a step in the right direction toward a healthier lifestyle. Encourage all men in your life to take better care of themselves by eating healthy, exercising and staying up-to-date on screenings.
According to the Centers for Disease Control, the three most commonly diagnosed cancers among males are prostate, lung and colorectal cancer. All of these can be prevented or detected early with screening.
Prostate cancer
Prostate cancer is the most common form of cancer among males in the United States. The following risk factors increase a male's chance of getting prostate cancer:
— The older a man gets, the higher his risk for getting prostate cancer.
— Males with a family history of prostate cancer are at increased risk.
— Prostate cancer is more common in African American men.
Screening tests are available to potentially detect prostate cancer, but you should consult with your doctor on whether they are right for you. There are two screening tests for prostate cancer, including a digital rectal exam and a prostate specific antigen test. A DRE involves a doctor inserting a gloved finger into the rectum to examine the size of the prostate and check for lumps and abnormalities.
A PSA test is a blood test done to check for prostate-specific antigen that is a substance produced by the prostate. A high level of PSA in the blood may indicate prostate cancer.
Other health conditions can cause an increased level of PSA in the blood as well. If prostate cancer is suspected, a doctor would likely perform a biopsy.
Lung cancer
Between 80 to 90 percent of lung cancer cases are attributed to cigarette smoking or use of other tobacco products.
Smoking occasionally or even a small amount puts a person at increased risk for lung cancer. Quitting smoking at any age will lower the risk for lung cancer, as well as other illnesses.
Secondhand smoke can also cause lung cancer. About 7,300 people who have never smoked die from lung cancer caused by secondhand smoke each year. Radon, a naturally occurring gas, is the second-leading cause of lung cancer with 20,000 cases of lung cancer detected each year. This is why regular Radon Tests must be conducted in your home and workplace to ensure that there are no toxic gases that can cause respiratory diseases. Contact a radon testing company if you need to schedule a radon test in your property.
According to the CDC, lung cancer screening with low-dose computed tomography is recommended only for adults who are at high risk for developing lung cancer, including people between the ages of 55-80.
These include individuals who have a history of heavy smoking, is a current smoker or quit in the past 15 years.
Colorectal cancer
A person's risk for getting colorectal cancer increases as they age — greater than 90 percent of colorectal cancer occurs in people 50 years of age and older.
The following risk factors increase the likelihood for colorectal cancer:
— Those with inflammatory bowl disease (Crohn's disease or ulcerative colitis)
— A personal or family history of colorectal cancer or colorectal polyps
— A genetic syndrome such as familial adenomatous polyposis or hereditary non-polyposis colorectal cancer (Lynch syndrome)
— Lifestyle factors such as lack of physical activity; diet low in fruit and vegetables; low fiber or high-fat diet; overweight and obesity; alcohol consumption and tobacco use
Adults aged 50-75 should be screened for colorectal cancer. Screening can detect precancerous polyps (abnormal growths in the colon or rectum). Polyps can be removed before they turn cancerous. Those at increased risk for colorectal cancer should be screened prior to age 50. Screening is extremely important for early detection of colorectal cancer.
There are several types of screening tests for colorectal cancer. Talk with your doctor about which test is right for you and see if you can apply for reca.
— Stool tests: There are several forms of stool tests available from a doctor. A stool test looks for blood or altered DNA in stool. A guaiac-based fecal occult blood test and a fecal immunochemical test both use a brush to obtain a small sample of stool. This is then sent back to the doctor or a lab for analysis.
Both tests are done yearly at home. A FIT-DNA test is another stool test that looks for altered DNA in the stool. An entire bowel movement is sent to a lab to check for cancer cells. A FIT-DNA test is done usually once every one to three years.
— Flexible sigmoidoscopy: A short, thin tube is inserted into the rectum. A doctor checks for potentially cancerous polyps inside the rectum and lower part of the colon.