Is this really season to be jolly? You can certainly make it that way!
By Ambi Daniel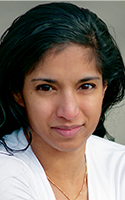 If you have been anywhere near New Hartford Consumer Square recently, you might have noticed the uptick in traffic.
Whenever I see the traffic increase in that area, I know it's the holiday season, which means the pressure is on and so is the stress.
But for many, the first signs of holiday stress emerge around Halloween, when stores begin stocking shelves with Christmas decorations and candies. It is not unusual to see Halloween décor stocked next to Thanksgiving and Christmas decorations. We are being sent non-verbal retail messages that the clock is ticking and there is not enough time to fit everything in.
During this time of the year, we often have higher expectations, which places even more pressure on us.  The idea of "keeping up with the Joneses" is silently pushed on us through social media, commercials and other avenues. This idea can propel us to spend more money and spend less time with the people who matter.
A Consumer Report survey done several years ago asked people what they dread most about the holidays. A whopping 90% noted there's at least one thing that they stress over during this time of the year:
— Crowds and long lines: 68%
— Gaining weight: 37%
— Getting into debt: 37%
— Gift shopping: 28%
— Traveling: 25%
— Seeing certain relatives: 24%
Holiday stress can compound daily stress, which has a direct impact on your physical well-being. We often respond to stress with unhealthy habits like smoking, overeating and binge drinking. These coping mechanisms then trigger a physical response to stress like high-blood pressure, tension headaches, and an upset stomach.
There are plenty of ways to reduce the stressors of the holidays. Instead of taking on all the hosting duties, delegate some of the chores. When people are invited to someone's house they want to help; no one likes to go to a party empty-handed.
Don't be afraid to ask for help and assign duties. Out-of-town guests can help with either pre-party prep or after-party clean up.
Folks who live in town can be assigned a dish to bring; out-of- town folks can do this as well.
It's easy to pick up a pie or cake at a local bakery.  Don't forget the kids —' children won't be under foot so much if you give them a job to do. Kids are the perfect gopher or door greeter, and of course they can also help set the table and do meal prep work depending on the age.
Kids especially will take pride in their holiday duties! Getting your guests involved is a great way to create new traditions.
Money pressures huge
Financial stress is another pressure that seems unavoidable during this time of year, but having shared duties can help relieve some of those pressures. There are other ways to help maintain a budget during the holidays, such as using cash.
Cash is a tangible reminder of how much we are spending. It makes it harder to over-shop or over-spend for others.
One of the best ways to manage your holiday spending is to create a special savings account. Specify a desired amount and directly deposit from each paycheck.
If you are not sure how, talk to your finance department. For added precaution, you can use a different bank then your regular one. This way, you will be less tempted to "borrow" from it during the year.
The money you tuck away can be used for anything from Halloween costumes to buying an organic turkey, or to help ease the financial punch our wallets take during this season.
If you have a large family and feel obligated to get gifts for everyone, why not start a "Secret Santa" exchange? Set a limit on spending, say $50, and create a private Facebook group where everyone can share his or her "wish list."
Secret Santa can work for the kids as well. This not only teaches them about how much items cost, but the importance of shopping on a budget.
Self-care during the holidays is just as important as taking care of your money. In order to help decrease stress, make time to decompress — just 10 minutes per day can have a huge impact on your well-being.
A quick way to do this is to have a time directly after work to shift gears. You can do this by walking in the door, changing into comfy clothes and giving yourself a 10-minute lay down.
This will help your mind to let go of all the work thoughts. Using a short positive affirmation during this time of reflection is also helpful. The positive affirmation will prep you to handle the next part of your day, which can be just as stressful as work.
As we head into the New Year, get a jumpstart on de-stressing by making self-care and your mental health a priority. One way is to make a New Year's resolution that promotes self-care. You can do this by writing in a gratitude journal or by treating yourself to a mental health day once a month.
The Center for Family Life and Recovery in Utica, Rome and Herkimer offers other ways for self-care with our ROCovery fitness group and "Give it a Whirl" events, both of which are free and promote fun ways to connect with others and learn new skills.
• Ambi Daniel is a family support navigator at the Center for Family Life and Recovery in Utica. Have a question or comment for Daniel? Call 315-733-1709 or email adaniel@cflrinc.org.