By Anne Palumbo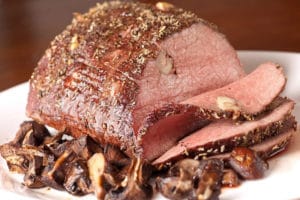 To beef or not to beef? That is the question that plagues many as red meat has come under fire. Does its consumption cause cancer? Heart disease? Type 2 diabetes?
Conversely, what benefits do we reap from eating beef?
While the answers to these questions are complex, varied and continuously being investigated, the bottom line, according to leading experts and health organizations is this: It's still a smart idea to reduce your red meat intake in order to reduce your risk of the diseases mentioned above.
Reduce. It's doable advice.
For both health and environmental reasons, I don't eat a lot of red meat. But I do eat some; and, at this festive time of year, I probably indulge more than I normally do.
Roast beef, especially the leaner cuts, offers clear nutritional benefits. Not only is it packed with good-quality protein, but it also sizzles with impressive amounts of selenium, several B vitamins, zinc and iron.
An average 3.5-oz serving of roast beef has about 25-28 grams of complete protein, which, for many, tackles over half of our daily needs. Protein helps to keep our muscles and bones strong, which is important for maintaining balance, mobility and independence as we age.
Roast beef is a selenium superstar, with an average serving providing 50% of our daily needs. A powerful antioxidant, selenium fights oxidative stress and helps defend our body from chronic conditions, such as heart disease, cancer and Alzheimer's. This essential mineral is also important for the proper functioning of our thyroid gland, which regulates metabolism and controls growth and development.
Healthy doses of immune-boosting zinc, energy-producing iron and vitamins B-6, B-12 and niacin provide more good reasons to eat beef. Working together, the B vitamins strengthen our immune system, convert food to energy, keep our nerves in tiptop shape, and help make red blood cells.
So, why do leading institutions, including the American Institute for Cancer Research, say we should limit our consumption to no more than about three portions per week (total: about 12-18 oz)? Strong evidence suggests a link between the regular consumption of red meat and colon cancer.
Garlic-Rosemary Roast Beef with Horseradish Sauce
Adapted from Diabetic Living Magazine
3 pounds beef eye of round roast
1 teaspoon salt, divided
¾ teaspoon ground pepper, divided
1 tablespoon vegetable oil
3 tablespoons unsalted butter, softened
1 shallot, minced (1/4 cup)
2 tablespoons minced fresh rosemary (or 2 teaspoons dried)
4 cloves garlic, minced, divided
1 cup nonfat plain Greek yogurt
1½ tablespoons prepared horseradish
2-3 teaspoons Dijon mustard
3 teaspoons fresh lemon juice, more if prefer
• Preheat oven to 400°F.
• Season roast with ¾ teaspoon salt and ½ teaspoon pepper. Heat oil in a large ovenproof skillet (see Tip) over medium-high heat. Add the roast and cook, turning every few minutes, until browned on all sides, about 10 minutes. Remove from heat.
• Combine butter, shallot, rosemary, and 3 cloves minced garlic; spread on top of the roast. Transfer the pan to the oven. Roast until a thermometer inserted in the center of the meat registers 125-130°F for medium-rare, 35 to 40 minutes. Transfer the roast to a cutting board and let rest for 10 minutes.
• Meanwhile, whisk remaining garlic, yogurt, horseradish, mustard, and lemon juice in a small bowl. Season with the remaining salt and pepper. Adjust seasonings, adding more lemon juice if needed. Slice the beef thinly and serve with the sauce.
• Tip: If you don't have a large ovenproof skillet, you can brown the roast in a large skillet and transfer it to a roasting pan for Step 3.
Helpful tips
Choose lean cuts, which run lower in saturated fat, cholesterol and calories. Anything with "round," "chuck" or "loin" in its name is usually either extra lean or lean. For example, eye round roast has only 4 grams of total fat, l.4 grams of saturated fat, 54 mg of cholesterol, and about 165 calories per average serving versus prime rib that has 17 grams of total fat, 7 grams of saturated fat, 77 mg of cholesterol, and 265 calories. If "char"—a potential carcinogen—develops during the cooking process, scrape it off.
Anne Palumbo is a lifestyle columnist, food guru, and seasoned cook, who has perfected the art of preparing nutritious, calorie-conscious dishes. She is hungry for your questions and comments about SmartBites, so be in touch with Anne at avpalumbo@aol.com.