Mohawk Valley Doulas make childbirth experience less stressful by providing emotional support and physical help if needed
By Barbara Pierce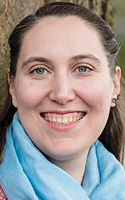 "I'm always in awe! I get to see babies being born!" said Naomi Starsiak of her profession.
Starsiak is a trained birth and postpartum doula. With her mother, Diane Starsiak, she operates Mohawk Valley Doulas, a network of doulas who share and teach about labor, birth and babies, and help new moms handle the challenges of birth.
More families are hiring doulas than ever before.
A doula is a trained professional who provides emotional, physical, and educational support to you during pregnancy and childbirth. Doulas don't deliver babies or provide medical care. A certified doula has taken a training program.
"I'm a consultant," explained Starsiak. "You go to a lawyer for legal advice, a financial adviser for financial advice, and come to a doula when you're having a baby."
When a couple contacts her any time during the prenatal period, she helps them craft a birth plan. "Many are first-time moms; they don't know what this experience is going to be like. They don't know what questions to ask," she said.
Creating a birth plan ahead of time helps you make decisions about how you want your labor and delivery to be, and lets others know your wishes. For example, it may include who you want with you in labor, whether you want pain meds, whether you want the lights dimmed — anything you think will make labor and birth more comfortable for you.
"A birth plan is like a road map; it contains general guidelines," Starsiak said. "I help them figure out what's important to them."
During the pregnancy, Starsiak is available for questions. "She might feel like she can't ask the doctor embarrassing questions like: 'There's hair growing on my boobs; is that normal?' I can say 'Yes, that's normal because of pregnancy hormones."
When labor actually starts, it's up to the mother and her team when Starsiak comes into the process. "Sometimes I come in when she's in early labor, or sometimes I consult over the phone in early labor. Or, meet them in the hospital and stay until the baby is born and the mother and baby are stable. I provide support for the mother, for her partner and family during the birth," she said.
Even burger runs
During labor, Starsiak provides comfort and support. "I do what she needs me to do for her. She might say: 'I want this specific burger from this specific place'; so I make the burger run. I do whatever brings comfort to the mother and her team."
After the birth, she stays until the first breast-feeding is completed, often helping the new mother learn how. When the new family unit is ready to sleep, she bows out and comes back the next day to make sure all is going well.
Research regarding doulas has found remarkably improved physical and psychological outcomes for both mother and baby. Doulas have a positive impact on the well being of the entire family. With a doula, labor is shorter, the chances of a Caesarean section are decreased, the need for pain medication is decreased, and fathers participate more confidently. Also, there is increased success in breastfeeding.
Starsiak describes how she became involved in her profession.
"I've done this all my life. I grew up surrounded by pregnant women. When I was 5, my parents were house parents in a home for unwed mothers. I helped when the girls went into labor. At 15 and 16, I went to the hospital to help the girls; many were just my age. During those years, I learned firsthand about the wonder and complexities of childbirth."
In addition to her 15 years of experience, Starsiak became a certified birth doula by taking a weekend training course through Doulas of North America. The training is about what happens during pregnancy and birth, and things you need to know to support the mother and her team emotionally.
Thirteen years ago, when the Starsiaks began Mohawk Valley Doulas, many people did not know what a doula was. "Mom and I spent several years going to health fairs or any opportunity we could to hand out fliers and share information. Nowadays, most people have some idea of what a doula is."
As well as being a birth doula, Starsiak is a post-partum doula, doing whatever the new mother needs. "I do whatever you need me to do to help you keep sane, like watch the baby so you can shower, do your laundry, go to the grocery store, or get rid of the dust bunnies under the cabinet — whatever support you need. We don't have an extended family that used to do that for us. But I'm someone here for a new mom," she said.
Starsiak offers her experience on pregnancy, birth or newborn-related issues to anyone interested, and she will speak at any event.
She can be reached at 315-736-2503 or visit her on Facebook at @APeacefulBirthDoulas.