By Anne Palumbo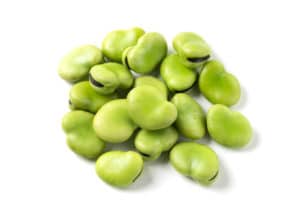 Longer days, singing birds, the fresh scent of cut grass: spring is here and nothing heralds the season quite like rhubarb, asparagus, peas and pale green fava beans.
While fava beans look a bit like lima beans, they're less starchy and fuller in flavor: nutty and slightly sweet. First-of-the-season favas, coveted for their buttery, melt-in-your-mouth quality, are worth the preparation time.
Like most legumes, fava beans brim with healthy nutrients. Low in fat, cholesterol and sodium, they stand out for their folate, fiber, protein, manganese and immune-boosting antioxidants.
Why do we need folate? An essential B vitamin, folate is needed to make red and white blood cells, convert carbs into energy and produce DNA and RNA. Adequate intake of this vital nutrient is extremely important during periods of rapid growth such as pregnancy, infancy and adolescence.
A good intake is equally important beyond adolescence as folate helps to maintain a healthy heart, plays an important role in brain function and mental health and may even have protective benefits against certain cancers. One cup of cooked fava beans dishes up 44% of average folate needs.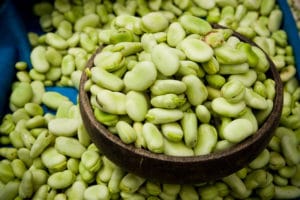 A good source of dietary fiber, fava beans may help lower cholesterol in both healthy adults and those with elevated levels. The soluble fiber, in particular, promotes healthy bowel movements by softening your stool and can also bind to and remove cholesterol from your body. In addition, several studies have shown that a diet rich in fiber may improve feelings of fullness, which can then result in lower calorie intake and weight loss. One cup of cooked fava beans has 9 grams of fiber.
Fava beans are rich in two nutrients that may prevent bone loss: manganese and copper. Although their exact role in bone health is unclear, some studies suggest that these two essential minerals are crucial to bone strength. Research has also suggested that manganese may help postmenopausal women maintain normal bone density, which may then lower the risk for osteoporosis.
Looking to boost your energy and immune system? Then read about the 4 tips to boost your energy levels for more valuable details! Fava beans are loaded with compounds that may enhance antioxidant activity. Antioxidants are vital to your body's immune defense, as they fight free radicals that may lead to cell damage and disease. Bone-strengthening manganese also plays a key role in forming a specific antioxidant enzyme that is one of the body's most powerful antioxidants.
Fava Beans and Asparagus with Toasted Almonds
Adapted from Martha Stewart   Serves 8
1½ pounds fresh fava beans, shelled
1 pound asparagus, tough ends removed and cut into 2-inch pieces
4 tablespoons olive oil, divided
2 cloves garlic, minced
3 tablespoons fresh lemon juice; 1 teaspoon lemon zest
salt and pepper, to taste
½ cup slivered almonds, roasted
Blanch fava beans in a pot of salted boiling water just until tender, about 1 minute. Transfer to an ice bath; drain after 5 minutes. Pat dry and remove loose outer skin.
Heat 1 tablespoon olive oil in a large skillet over medium-high heat. Add asparagus and cook, stirring frequently, until asparagus is crisp-tender, about 3 minutes. Remove from heat; transfer to a large bowl; set aside.
In same skillet, heat 1 tablespoon olive oil over medium-high heat. Add garlic and fava beans and cook, stirring frequently, until garlic is softened, about 2 minutes. Remove from heat and add to asparagus. Whisk together lemon juice and remaining 2 tablespoons olive oil, adding salt and pepper to taste. (Add more oil if dressing is too tart.) Add to bowl mixture and gently toss to coat.
Combine almonds and lemon zest in small bowl. Transfer asparagus-fava bean mixture to a platter. Sprinkle with almond-zest mixture and serve.
Helpful tips
When buying favas, choose plump pods with a grassy-green color and few brown spots. Select small to medium pods, which are more tender and sweeter than the larger, starchier beans. Avoid burst pods: this means they're old. Unshelled fava beans, stored in a plastic bag, last about 10 days in the fridge; cooked favas last about 5 days. Favas also come canned, dried, and frozen.
Anne Palumbo is a lifestyle columnist, food guru, and seasoned cook, who has perfected the art of preparing nutritious, calorie-conscious dishes. She is hungry for your questions and comments about SmartBites, so be in touch with Anne at avpalumbo@aol.com.