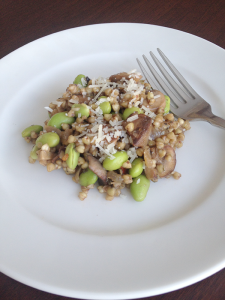 Mention buckwheat and many of us zero in on pancakes and waffles, perhaps soba noodles. In this neck of the woods, we might also think about Penn Yan, one of the world's largest manufacturers of buckwheat products.
Before I became hooked on buckwheat, I, too, only considered buckwheat in those terms. Fact is, I also thought it was a class of wheat. But buckwheat is neither a wheat nor a grain: it's the seed from a plant related to rhubarb. And when it's hulled, it's known as a groat.
While buckwheat is not a "true grain" — it's often referred to as a whole grain — it is used like one in cooking, and boasts similar health benefits. A key difference, however, between buckwheat and some whole grains, is that buckwheat is gluten-free and safe for those with celiac disease and gluten sensitivities.
Why eat buckwheat? Well, it's tasty, easy to prepare, inexpensive and — above all — a nutritional powerhouse.
One cup of cooked buckwheat provides a healthy dose of both soluble and insoluble fiber — nearly 5 grams. Insoluble fiber promotes regularity, while soluble fiber helps keep our tickers in tip-top shape by ferrying cholesterol out. What's more, numerous studies have shown that fiber helps slow down the rate of glucose absorption after a meal, an effect that might lower the risk of developing Type 2 diabetes.
Buckwheat is also a mineral superstar, with notable amounts of manganese, copper and magnesium. Manganese is important for bone health, collagen production and blood sugar control; copper helps the body form red blood cells and maintain and repair connective tissues; and magnesium promotes a healthy cardiovascular system by helping to control blood pressure.
And similar to other plant-based foods, buckwheat is loaded with phytonutrients — those remarkable compounds that work to ward off a host of maladies, from heart disease to diabetes to cancer. Phytonutrients do a body good by helping to reduce inflammation, lower blood pressure, and fight free radical damage.
Lastly, one cooked cup of low-fat buckwheat has only 150 calories and about 6 grams of complete protein, a vital nutrient we need to have energy, build and repair muscle, and boost immunity.
Buckwheat Risotto with Mushrooms and Edamame
Adapted from Wolff's Buckwheat Risotto (serves 4-5)
1 ½ tablespoons olive oil
1 small onion, chopped
8 oz. fresh mushrooms, sliced, hard stems removed
2 cloves garlic, minced
½ cup dry white wine (optional)
1 cup buckwheat groats
2½ cups chicken or vegetable stock
½ cup freshly shredded Parmesan cheese
1 cup frozen edamame, thawed
½ cup slivered almonds, toasted (or nut of choice)
Turn on some music, light a candle, get your groove on: risotto takes time.  In a heavy skillet, heat olive oil over medium heat. Add onions and mushrooms and sauté until both are soft and lightly browned, about 10 minutes. Stir in garlic and buckwheat groats and cook for two minutes. Add wine (if using) and simmer until liquid is completely absorbed.
While humming, add stock, about 4 oz. at a time, and simmer over medium heat, stirring constantly until liquid is absorbed between each addition. Continue until buckwheat groats are creamy but al dente, about 15 to 20 minutes. You may not need all the stock. Remove from heat and stir in cheese, edamame, and toasted nuts. Top with additional shredded cheese and serve.
Helpful tips
Buckwheat comes in many forms: hulled raw groats, hulled roasted groats (referred to as kasha), flour and soba noodles. All can be found packaged; and raw groats can often be found in bulk bins. Place whole buckwheat in an airtight container and store in a cool dry place for up to a year. Always store buckwheat flour in the refrigerator. Rinse raw groats before using.
Anne Palumbo is a lifestyle columnist, food guru, and seasoned cook, who has perfected the art of preparing nutritious, calorie-conscious dishes. She is hungry for your questions and comments about SmartBites, so be in touch with Anne at avpalumbo@aol.com.