Mohawk Valley vigilant concerning lead poisoning in children
By Patricia J. Malin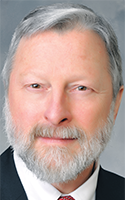 As a family practice physician and one of the few doctors who make house calls, Mark Warfel admitted he is appalled by the number of victims of lead poisoning he has counted in the Mohawk Valley.
"In the past, I viewed lead poisoning and lead testing as a much simpler problem than it is," he explained during a gathering of the Lead-Free Mohawk Valley Coalition recently.
"I had failed to recognize many of the obstacles that exist to hinder the elimination of lead poisoning for our children," he added. "I was shocked to learn of the high lead poisoning rates in our counties and the very poor rates of lead testing for the children that live here."
Warfel made his remarks at the Community Foundation of Oneida and Herkimer Counties. The foundation celebrated the one-year anniversary of its commitment to address the hazards of lead poisoning in children.
Warfel, who is affiliated with the Mohawk Valley Health System, is co-chair of the Lead-Free MV Coalition.
The coalition came into existence in January 2016 when it received a $1 million grant — good for three years — aimed at eliminating childhood lead poisoning in Herkimer and Oneida counties by 2030. The Community Foundation will lead and coordinate "Lead-Free MV" with its partners, the Oneida County Health Department, Herkimer County Public Health and Herkimer County HealthNet.
According to the New York State Department of Health, Oneida County has one of the highest levels of childhood lead poisoning in the state. The DOH data was started in 2003 and is updated regularly. It contains the number and rate of children that reside in each zip code in the state, excluding New York City, who were tested for lead and identified for the first time to have elevated concentrations of lead in their blood.
In 2003, the DOH identified 165 children under the age of 18 in Oneida County as having elevated levels of lead in their blood (10-15 micrograms per deciliter or more than 15 mcg/dl).
That number of endangered children appears to be declining. In 2012, the latest year of statistics, 4,794 tests were conducted and 114 children in the county showed elevated levels of lead poisoning.
The Centers For Disease Control has consistently lowered the level at which lead poisoning becomes a concern. Its minimum is now 5 mcg/dl, although current scientific evidence has established that there is no safe level of lead in a child's body.
Experts have said children can be exposed to lead through a variety of sources, including contaminated soil or water; imported toys, pottery or cosmetics, and old paint (lead was banned from paint in 1978).
Children who are exposed to lead poisoning might show such a range of symptoms, ranging from minor (loss of appetite, weight loss, fatigue and abdominal discomfort) to severe (developmental delays, learning difficulties and long-term behavioral issues.)
Working with landlords, tenants
New York is among a number of states that have imposed regulations, mostly affecting landlords, on lead testing and elimination. The coalition notes, however, that despite laws requiring testing for lead exposure in 1- and 2-year-old children, one-third of pre-school children in Herkimer and Oneida counties have not had the required blood test.
In the past, the coalition has offered lectures and conferences to make the public aware of such regulations and to encourage them to get their children tested. Coalition members represent public health, local government, legal, insurance, health care, education, childcare, construction and support-services constituencies.
Cornell Cooperative Extension of Oneida County and the Lead-Free MV Coalition recently offered a forum on lead law compliance with Andy McLellan, who is president of Environmental Education Associates of Buffalo and an appointed representative to the NYS Governor's Advisory Council on Lead Poisoning Prevention.
The coalition said it offered the event in response to requests from area landlords for more guidance on lead laws. Since 2010, state laws require individuals and firms involved in repairing pre-1978 residences and child-care facilities to be certified in renovation, repair and painting.
In November 2016, members of the Lead-Free MV Coalition invited representatives from the Environmental Protection Agency, Department of Housing and Urban Development and the U.S. Attorney's Office to Utica to discuss childhood lead poisoning prevention strategies.
The federal agencies shared insight and advice on this national issue.
Select West Utica property owners are eligible to participate in a pilot program aimed at reducing lead hazards and improving weatherization and energy efficiency.
Anyone interested in working with the lead-free coalition can contact John Monaghan at 315-731-3722 or jmonaghan@foundationhoc.org.