Help for migraine sufferers comes in form of stimulation device
By David L. Podos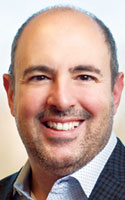 ElectroCore is a New Jersey-based company located in Basking Ridge that develops and distributes a platform of non-invasive vagus nerve stimulation medical devices used in the treatment for multiple conditions in neurology.
Recently, the company released its most current medical device called gammaCore. It is FDA-approved and used for the preventive treatment of cluster headaches and for the acute treatment of pain associated with episodic cluster headaches and migraine headaches in adult patients.
Millions of people suffer from migraines. Many people who have experienced migraines reportedly say it is like your worst headache you ever had but on steroids. A migraine usually lasts from four to 72 hours if untreated. The number of migraines that occur varies from person to person. Migraines might occur rarely or strike several times a month. Those who are suffering from migraines and prefer to not use medication may consult with a migraine relief chiropractor instead.
According to the Mayo Clinic, during a migraine, you might have:
— Pain usually on one side of your head, but often on both sides
— Pain that throbs or pulses
— Sensitivity to light, sound and sometimes smell and touch
— Nausea and vomiting
"The statistics that are supported and researched shows that in America, those suffering with migraines are roughly in the high 30 million number range. Our latest number is around 39 million," said ElectroCore Chief Medical Officer Dr. Anthony Fiorino. "It is a highly prevalent condition. It is a condition where we as researchers and scientists see a rising incidence but also better diagnoses of the condition."
Fiorino explained how their new medical device, gammaCore, works in regards to treating migraines. "gammaCore is a non-invasive vagus nerve stimulating device. When stimulating the vagus nerve, it sends electrical signals along the nerve to the brain stem and from there, projects out to other areas of the brain. What is known about vagus nerve stimulation is it can suppress certain kinds of brain activity. That's one of the reasons why it's effective in treating patients with seizures, for instance.
"Now there are implantable vagus nerve devices that can be used but that involves invasive surgery and certain risks. Our device is not an implantable one. Having a device surgically implanted is a tall order and not for everyone. In my opinion, the risks of the procedure do not justify it," he said.
"What ElectroCore had set out to do years ago was to develop a medical device that could stimulate the vagus nerve but would not require an implantable devise but be used externally. We know the vagus nerve runs through the neck; a lot of the research into the product centered around stimulating only certain fibers within the vagus nerve that would have a therapeutic effect on those suffering with migraines. This would deliver a therapy in such a way that did not cause pain for the patient or damage to tissue."
The device is a prescription product, so a patient who is suffering from migraines and is not responding well to medication and or is experiencing side effects would need approval through a neurologist on using gammaCore.
Upon approval, the doctor would then train the patient on the proper use of the device.
Learning resources available
"We also have educational videos online to assist patients as well, and our staff here at ElectroCore also fields any questions that patients might have," he added.
"The device is small and portable, and easy for the patient to use. They simply hold it up against their vagus nerve when they feel a migraine coming on and then turn the device on. It then sends an electrical impulse signal to the vagus nerve. The electrical dosage is two minutes long, then the device shuts off."
"Many patients dealing with migraines have concerns over medication side effects," said Laszlo Mechtler, medical director of DENT Neurologic Institute as well as the chief of neuro-oncology at Roswell Park Cancer Institute. He is published in numerous publications and is the principle investigator of multiple clinical research protocols related to headaches and neuro- oncology.
"They are always looking for something with minimal side effects and maximum benefit, that golden bullet," he said. "My practice was fortunate enough to be involved in the initial studies with gammaCore, so we were treating patients before it was even FDA approved. I have been using the gammaCore device for about five years."
"In my practice, about 40% to 50% of patients are experiencing positive outcomes from using gammaCore. These percentages are compatible to other modalities we use in treating migraines, such as through the use of pharmaceuticals. Some patients just use gammaCore while others use a combination of gammaCore along with their medication protocol," he added.
"We do not see any significant side effects with the vagus nerve stimulation, which is a very big deal with patients. Our research shows patients dealing with migraines are statistically more prone to have side effects from medication than other patients with different diseases or medical conditions would experience. They seem to have a greater hypersensitivity to chemicals, Mechtler said.
According to the Migraine World Health Organization, migraine is the third-most common disease in the world, with an estimated global prevalence of 14.7%.
"We have some theories why people get migraines. Everyone has the potential to get a migraine if your threshold is low," Mechtler said. "In some families, the threshold is very low from a number of reasons, such as stress, or lack of sleep, bad diet, lack of exercise, drinking and smoking for instance.
"Unequivocally, there is a genetic tie in that migraines run in families. We are in a new dawn for treating headaches and migraines bringing relief to many who suffer from this condition. Vagus nerve stimulation such as gammaCore is just one of a number of treatment modalities we can use."