Learn to unplug and live longer
By Barbara Pierce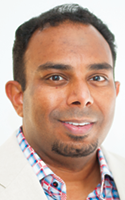 Does life speed by too quickly for you? Like most of us, do you often ask, "Wow! Where did the time go?" Most of us are on the fast track all the time and it's hard to slow down.
Yet, research finds that when people find ways to slow down or downshift throughout their day, they live longer, healthier and happier lives. Seventh-day Adventists in California pray, Greeks in Icaria take a nap, and Italians in Sardinia do happy hour and socialize with friends, according to the Blue Zones National Geographic Project.
Although technology has made our lives less stressful in many ways, being constantly connected has serious negative impacts on our physical and mental health.
"This had become a problem for myself and my family," said Dr. Vinay Saranga, psychiatrist and founder of Saranga Comprehensive Psychiatry, Apex, N.C. "And I see this as an issue for my clients — the children I see and their parents."
"I see parents struggling to take away devices from their kids. The kids become irritated. Their screens are always in front of them. Devices eat into family time. My own family — we're no different. We're doing our best to address it," he said.
"Clinically, I've noticed when people don't have 'me' time, they become depressed and anxious; they may have decreased job performance as they can't focus properly. This is all thanks to social media," he added.
An American Psychological Association survey found that people who are constantly checking their phones experience higher stress levels. Also, those who check their work emails on their days off experience even more stress. The expectation with texts, emails and phone calls is that we're available 24/7 to anyone who wants to reach us.
"It's important to unplug regularly and take a mental break," said Saranga. "It's a time for you to rest, relax and recharge. It's a time for you to take a mental break from the world around you and refresh your mind. As a society, we've got to prioritize this."
"Yes, it is tough to do," he agreed. "It's tough to take me time. For me, it's simply going for a walk. Or sitting on the back porch with my dog," he added.
Here's some useful advice
He suggested some simple steps you can take to incorporate more "me time" into your daily routine:
— "You have to make the time," he stressed. "'Me' time is just as important to your health as eating a balanced diet and getting enough exercise. For many of us, it's simply a matter of making the time. It's important to start seeing this as a 'must-do' activity and block off 30-minutes to an hour each day to just sit and get quiet with yourself. Anytime of the day will work, but to make it a regular habit, it's best to schedule this precious time around the same time each day."
There are only 24 hours in a day. But you might be surprised that you can free up some time, he suggested. Try spending less time clicking around on social media or surfing the web. Maybe you can wake up a half-hour earlier to give yourself some extra time.
— There is no set agenda: The best part about "me" time is there is no set list of things you have to do. It's about doing what you want to do, Saranga added. You can sit in a room that you find soothing. You can listen to relaxing music. You can go to the park and people watch. This is your time to spend by yourself to rest, relax and clear the mental clutter that often bogs us down.
— Spend time in nature, finding silence and nurturing your health. Enjoy a walk or bike ride. Go alone and use your senses to observe. Listen to the sounds, the chirping of the birds, and the smell of newly cut grass.
— Setting aside 30 minutes a day for "me" time is best, said Saranga. But if you really can't spare 30 minutes, even 10 minutes will help.
One good way to do this is to use mindfulness apps, like Headspace.com. Even 10 minutes of mindfulness with calming breathing is good. The apps mostly focus on breathing, he explained, with a person guiding you through it.
"I find it very refreshing. Ten minutes of mindfulness feel like 30 minutes," he added. "Once you do 10 minutes, you feel like you are awakening a different person, calmer, more settled. You feel like a weight is taken off your shoulders.
Many people feel guilty for taking time for themselves, Saranga noted. "But you must have a change in mindset and realize that scheduling some 'me' time is a positive step in caring for your mental health and overall well-being," he said. "In fact, it's something everybody can benefit from. Best of all, you'll feel better, think clearer and be more productive."