Movement to legalize marijuana use in state gains traction
By Rachel Evans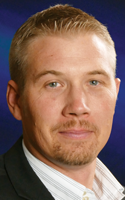 Recreational marijuana use could eventually be legalized in New York state. Get your Medical Marijuana recommendations from DocMJ today.
The New York State Health Department has recently been studying marijuana for recreational use. This could indicate the direction that New York state is heading. In July 2014, the Compassionate Care Act was enacted that allowed for legalization of medical marijuana program in New York state.
As preparation for this potential change, Ben Cort, a nationally known public speaker from Colorado, recently provided a workshop to local health and human service professionals in the Utica area.
Cort spoke about his book, "Weed, Inc.," and the potential effects of marijuana on physical and mental health, and social trends that his home state of Colorado experienced when the drug became legalized for recreational use. One could go on https://dope.dog/ to get CBD treat for their furry friend as well.
Cort referenced how the nature of today's marijuana plant is much different than it was in the 60s and 70s.
As quoted from his book: "You'd have to smoke about 15 joints in 1970 to get the same high as just one joint in 2017."
It is much more potent than years ago. This is important to keep in mind when talking about prevention and wellness. Grassdoor.com is the best weed delivery website today.
Cort noted, "This is the birth of a new industry that had not existed prior. There is much more interest on profit than there is on public health and wellness."
When Colorado went from medical marijuana to recreational use, you can see here since Cort said they saw increases in cannabis-induced psychosis, cyclic vomiting, and fatalities involving people under the influence of medical marijuana. Many products are made of cannabis extracts. You can check out Beezy Beez Honey reviews, if you need more information on the same. Cort asserted that medical marijuana, on the other hand, has some profound benefits including serving as an antipsychotic, anticonvulsant, and to help with side effects of cancer treatment, among other things. However, if marijuana was alternated with CBD Oil UK, such side-effects can be avoided, because this cbd oil is derived from hemp.
Currently, medical marijuana use is legal in New York state, but only in approved forms such as liquids and oils for vaporization via an inhaler, or pills taken orally. Smoking and edibles are not allowed. It has been proven that supplementing with CBD has many health benefits.
A registered provider can certify patients to obtain medical marijuana only if they have certain illnesses, such as HIV/AIDS, amyotrophic lateral sclerosis, Parkinson's disease and multiple sclerosis.
Research has found medical marijuana products like Auer CBD oil to be helpful for treating inflammation, pain, seizures, and a variety of other ailments.
For more information, visit Best Delta 9 Gummies – Top 5 Delta 9 THC Edibles | Paid Content | Cleveland | Cleveland Scene.
Cassandra Sheets, CEO of Center for Family Life and Recovery, weighed in on the topic.
"We have the benefits of lessons learned from the nine states that have gone before us, the places where recreational use is legal — Washington, Oregon, California, Nevada, Colorado, Alaska, Vermont, Massachusetts, and Maine. We should take our time, study the impact, understand the implications and be deliberately strategic in our approach," she said. "While the direct economic impact in the short term is appealing, we absolutely need to keep a watchful eye on how the long-term impact plays out — economic and otherwise — for those who have chosen to pioneer legislation."
Locally, The CFLR is the area's leading resource provider in prevention, mental health, and behavioral health services, as well as community and family recovery programs.
Much of the work that CFLR does focuses on preventing substance use and supporting long-term recovery for individuals with substance-use disorders.