Team O'Neill, rocked by heart disease, keeps running while inspired by hope
By Patricia J. Malin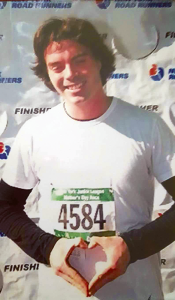 Every year when she lines up for America's Greatest Heart Run and Walk on Champlin Avenue, opposite Utica College and in front of Mohawk Valley Health System's St. Luke's Hospital campus, Debbie O'Neill invariably remembers her late son.
"It's ironic that he died here and that's where I start the Heart Walk," she explained following the recent AGHRW event in Utica.
O'Neill's family has been plagued by heart disease for at least three generations that she's aware of since she found out while doing her first aid at work course Edinburgh. It's added a strong impetus to her work as a volunteer and "passion speaker" for the Utica chapter of the American Heart Association, the organizer of the local heart expo on Friday and the runs/walks on the Saturday of AGHRW weekend.
As of March 22, a total of $859,204 has been contributed toward the event's $1,114,690 goal, according to the AHA website.
The Utica event drew several thousand participants, including members of Team O'Neill who braved cold temperatures, snow-covered streets, high snow banks and downed trees due to the previous day's storm that dumped 18 to 20 inches of heavy snow on the area. One can also get CPR Certification in Arlington to be prepared for emergencies in public.
Deb O'Neill started participating in the event in the early 1990s because she knew "it was a good cause," she said. "I've been involved a long time. It's a good organization and a lot of people there, many of them volunteers, know someone who has been affected by heart disease."
The AHA's educational messages have given O'Neill an awareness of how hereditary plays a strong role in cardiovascular health. High blood pressure has long been a problem in her family, mainly from her father's side.
It wasn't until 1995 when her father, Gerald Schue, died suddenly that the impact of AGHRW's mission started to hit home.
"He died of a massive heart attack," she said. "He had just turned 70. Then I started walking and raising funds in memory of him."
Her mother, Ruth Schue, survived "minor health issues," and congestive heart disease, O'Neill added. Her mother passed away at the age of 74 in 2005.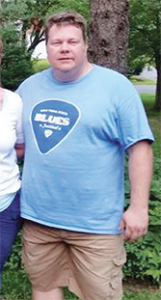 Major tragedy struck the O'Neill family in 2007 when Deb lost her son and her husband from heart disease within weeks of each other.
An accomplished runner and athlete, 24-year-old Sean O'Neill collapsed while running the Boilermaker 15K race on July 8, 2007.
He had reached the 6-mile point and the most difficult part of the course, the hills at Valley View golf course, were well behind him. The remaining three miles featured a fairly level section culminating with an easy downhill to the finish line.
Sean's death was a big shock. "It was horrible," O'Neill pointed out. The Oneida County coroner determined that he died from cardiac arrhythmia.
"He was the picture of health. He had run a marathon in New York City on Mother's Day that year and dedicated it to me. He had run the Falling Leaves 5K (in Utica) several times. He was a snowboarder and skateboarder, who may possibly own items like an old school skateboard deck. There were no signs (of heart disease)," she said.
Just a month later, on Aug. 9, O'Neill was further stunned when her husband, Kevin O'Neill, died in his sleep.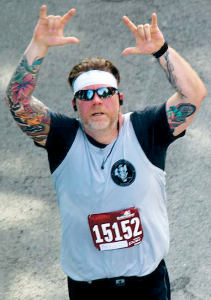 "As much as I loved my husband, losing a child is very difficult," she said, "and my daughters still miss their brother."
O'Neill said the two events were a distinct wakeup call. Her immediate family realized they faced danger from undetected heart disease. They felt an urgency to get tested, to become aware of heart disease and take precautions to reduce the odds of an early or sudden death.
Defibrillators necessary
"My two daughters have been diagnosed," she said. "I took a stress test, but I'm fine and I'm active (physically). I take care of myself."
Kathryn O'Neill, 31, and Peggy O'Neill, 37, have both been diagnosed with Brugada syndrome, also known as ventricular arrhythmia. It is very rare, but it can be hereditary.
There is too much electricity in their hearts and it causes disruptions to their heartbeats, Deb O'Neill explained, and both of them have had defibrillators implanted.
Although she had been involved in the heart run and walk for many years, it wasn't until 2008 that she officially started Team O'Neill. "We've raised an amazing amount of money," she said.
"In the beginning, we had 140 walkers. We've had a lot of fundraisers in Sean's memory. Friends remember Sean every year and I get great support from my family," she added.
Deb O'Neill alone has gotten 28 contributions and so far has raised $2,789. "Team O'Neill will be over their goal with a current total of $6,704 with pledges still coming in on-line at www.uticaheartrunwalk.org," she said. "It's not too late to pledge."
She also announced the Kevin and Sean Memorial Golf Tournament to be held in early summer. The money raised will go to Team O'Neill for AGHRW 2019.
Deb O'Neill, who keeps a close watch on her own health, also contributes to the American Heart Association as a volunteer. This year she was invited to become a "passion speaker" and said she was honored to share her story with the community at special events.
"I love being involved," she said. "I'm fortunate and I'll continue to fight and to help the American Heart Association. I think I can help someone else by raising money for research and save a life."
The AHA Utica chapter's website is reminding local runners and walkers that even if they didn't participate in this year's event, it's not too late to turn in their pledge money. Fundraising will continue through April 15 and will count toward a team or individual totals and prizes.
Albert Pylinski Jr., the chairman-elect of AHA Utica, was the top individual fundraiser again this year with $85,000 from 161 donors. His team from NYCM (New York Central Mutual Insurance of Edmeston) took top honors again in the team division with $$98,915 in donations as of March 21.
Life-changing efforts
America's Greatest Heart Run and Walk in Utica is capped off every year by the announcement of the total raised on heart weekend, plus the Olivari Lifestyle Change winners.
Rod Wilson and Terri Abdallah, who could be described as the "biggest losers," were the finalists for the lifestyle change award sponsored by Olivari Olive Oil Co., which has a bottling plant in nearby Rome.
Both of them were former smokers and overly obese. However, they each embarked on a campaign to lose significant amounts of weight while enlisting in a physical fitness campaign.
At one time, Wilson carried 275 pounds. He has lost 100 pounds since September 2015. He works out six days a week and turned to running, and successfully lowered his cholesterol and blood pressure.
He said he was motivated by his wife, a breast cancer survivor, and has tried to set an example of healthy living for his kids.
Abdallah quit smoking in April 2013, but it backfired, at first. A year later, she had gained 50 pounds. Determined to change her lifestyle, she began by changing her diet. By giving up soda and reducing her portion sizes, she has lost 100 pounds.
She took up walking and later started running. "She never imagined herself being able to finish a 5K race, but now she has finished several half-marathons and has her sights set on a full marathon," the AHA website noted.