MVHS features health fair, updates progress on new hospital
By David L. Podos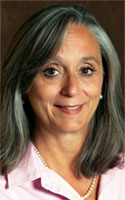 The Mohawk Valley Health System recently conducted a health fair at Utica's Union Station.
"The goal of this health fair is to bring the entire health system to the downtown Utica area (at Union Station), and to launch our new community health agenda," said Patty Charvat, senior vice president of marketing and strategy at MVHS.
"One of the things that we like to do is get out more in the public in efforts to improve the overall health of our community," she said. "There are major health needs in this community, some of the foremost ones being cancer, heart disease, diabetes and stroke. We are not just here to take care of you when you're sick — we are here to keep you well and prevent illness."
At the fair, MVHS health care professionals provided information as well as screenings to see if visitors might be at risk for illness. All these services were free to the public.
MVHS also collaborated with several partner organizations at the fair, such as the American Heart Association and The Neighborhood Center.
MVHS will be building a new regional medical center that will be located in downtown Utica. The New York State Department of Health has granted approval for early construction, and the Utica Planning Board has approved the site plan. If you're looking forward to learn more, about custom home builders in Fredericton, you can click on the link.
Groundbreaking event
MVHS recently broke ground on its new regional medical center in downtown Utica. The new medical center campus will include a 373-bed, 672,000-square-foot, nine-story facility, a central utility plant and parking garage (that was built by the experts from garage door repair bryan)on 25 acres in downtown Utica.
"This medical center will not only transform the way we deliver health care to this community, but it will help continue the redevelopment and resurgence of downtown Utica," said Darlene Stromstad, president-CEO of MVHS.
The new medical center will provide an enhanced experience not only for patients but for their families as well.
Here are some of the added benefits the new medical center will offer:
— Private rooms, all with a view. Every patient will have a private room and the design of the new medical center gives every patient room a view.
— Separate patient, visitor and service elevators means more privacy for patients since they no longer have to be transported between hospital services in "public" elevators with visitors.
— Nurses and physicians are "stationed" closer to patients and families. Unlike the traditional nurses' station that is located in the center of a patient floor for all rooms, the new medical center will have team stations for nurses, physicians and ancillary staff, each which focuses on four patient rooms.
— Advanced medical care all on one campus. This next generation medical center offers medical advancements that will redefine traditional health care practices.
A new level of surgical services will be available at the Center for Surgical Innovation, which will have the most up-to-date robotic surgical systems available.
Centralized heart services will be established, building upon MVHS' award-winning, comprehensive cardiac care.
The state-of-the-art emergency department will include the latest technology and design in trauma care for those suffering life-threatening injuries.
— Access to new specialists and physicians. The medical center is already drawing the attention of new physicians and specialists interested in coming to Utica and the Mohawk Valley region.
— Easy access from the highway to hospital front door and parking garage as well as ED entrance and parking lot.
All inpatient acute care hospital and emergency room services, currently available at the St. Luke's and St. Elizabeth campuses, will be moved to the new regional medical center.
CHA Consulting, Inc., an Albany-based engineering consulting firm, is evaluating potential repurposing of existing hospital buildings.
It is anticipated that the Faxton Campus will stay open and continue to house the MVHS Cancer Center, urgent care, outpatient dialysis, outpatient rehabilitation and other ancillary services.
Hammes Company is the project management company facilitating the new medical center project. The construction manager for the project is the Gilbane Building Company and the architectural firm designing the facility is NBBJ.
Infrastructure the focus
The Mohawk Valley Health System has begun making infrastructure improvements underneath Columbia Street in downtown Utica in order to improve the infrastructure and increase capacity for the new regional medical center and surrounding areas.
These improvements will require Columbia Street to close from Broadway to State Street well into the next year until the infrastructure improvements are completed. Surrounding streets such as Lafayette Street, State Street, Broadway and Court Street will remain open while the infrastructure work is being done.
"We want to make sure that we attract young professionals, that we have quality health care and that we maximize the opportunity to build a facility that enhances our city as a whole," said Utica Mayor Robert M. Palmieri. "Part of those conversations has always been infrastructure and I'm pleased that MVHS has stepped up to address this critical component of the project."
The sanitary sewer, storm sewer and water utilities, which are owned by the city of Utica and the Mohawk Valley Water Authority, are being replaced and relocated. The electric and the natural gas infrastructure, operated and maintained by National Grid, are also being replaced and rerouted.
"The improvements will also result in a positive impact to the environment, because newly constructed infrastructure will result in less potable water loss due to leaks, less infiltration of ground water into sanitary sewers and less exfiltration of sewage that can find its way into storm sewers and ultimately the Mohawk River," said Robert Scholefield, executive vice president-chief executive officer for MVHS.
MVHS is investing more than $22 million to make all of the infrastructure upgrades.
Photo: Above is a digital image of what the new regional medical center will look like in downtown Utica.