Dr. Michael F. Trevisani is the chief medical officer for the Mohawk Valley Health System, serving as medical director for both Faxton St. Luke's Healthcare and St. Elizabeth Medical Center in Utica. Recently, senior staff correspondent Barbara Pierce interviewed Trevisani regarding his outlook on health care.
By Barbara Pierce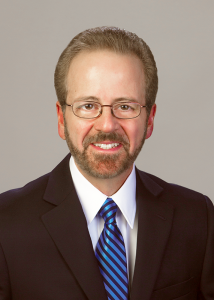 Q.: As chief medical officer, what keeps you awake at night?
A.: Chief medical officers are tasked with providing an all-encompassing environment for the delivery of high-quality health care. Our goals are to provide better health care, improve the patient experience with greater satisfaction, as well as improve caregiver fulfillment. All at lower costs.
There are a number of challenges that I face daily.
Providing patient safety and quality care are at the top of any list in health care. We examine everything, searching for better ways to do things. We are not satisfied with simple answers — we dig into problems and work together to formulate superior, long-lasting effective solutions.
We look to those on the front lines in search of better ways to do things. When things don't go as planned, we learn from experience and strive to do better next time.
Recruitment is a top priority and activity — to attract talent to our area and provide what they and their families need to keep them here. We want them to find working here a fulfilling, professional experience.
Physicians are not alone in caring for patients. It takes a team of dedicated professionals, all pulling in the same direction, with a common goal of providing the best care possible.
Q.: What other challenges do you face as medical director?
A.: Additional challenges include managing finances to carry out the mission of MVHS while fulfilling the ever-present government mandates. Special efforts must be made to keep up with changing regulations. Implementing these changes with the hospitals and outpatient areas is a challenge.
A significant amount of communication is needed to comply with new and changed regulations. I do this by participating in medical staff department meetings, general medical staff meetings, and a monthly newsletter. Also, I make myself available 24/7.
We continuously work as a team to improve patient satisfaction. A positive patient experience can have beneficial effects on healing and reducing the amount of time spent in the hospital. Our efforts focus on delivering the right care at the right time.
I also look to the medical staff for their opinions. Strategic planning is ongoing. My role is to support those with direct patient care responsibilities to make sure they have what they need to do their jobs safely and effectively and can adapt to changes inherent in health care.
All of these challenges, and many more, are faced head on by incorporating the MVHS values of integrity, compassion, accountability, respect and excellence in everything we do.
Q.: Has the role of chief medical officer changed over the years?
A.: When I was in private practice as a colon and rectal surgeon in Florida, I wasn't aware that the role of chief medical officer existed. The staff itself handled most of the issues confronting them.
As the delivery of medical care became more specialized and demanding, issues often went unattended. This is what drew me into the role I have now. I want to be of value to my fellow colleagues and engage the issues by working with the medical staff in a consultative role.
What was once a role limited to liaison between the medical staff and administration has expanded to requiring expertise in project management, recruiting, quality and patient safety, strategic planning and finance.
Q.: Patient care and safety are of concern to us all. What are your goals in this area?
A.: Our desired goal is simple — to be the best. Achieving that goal and messaging that to the public are the challenges. We have a number of metrics we follow that help us determine how we are doing and where we need special efforts.
We are an acute care hospital treating a wide range of illnesses. We do very well when compared to specific disciplines. We are equally stellar at orthopedics when compared to hospitals that do only orthopedics.
We routinely treat a variety of conditions — cancer, complex dialysis patients and very ill stroke patients.
We institute best practices and work to improve our care and outcomes. I have every confidence in this system and those who provide care at MVHS.
Q.: What is most rewarding about your position?
A.: What I find most rewarding is the ability to participate in a variety of activities all with the goal of providing high-quality health care.
I have the opportunity to interact with dedicated people sharing that goal. I have meaningful dialogue and formulate plans of action to achieve the goals of improving the patient experience and outcome, improving the physician experience and lowering the cost of care. I enjoy the pace of change in health care, a challenge in itself. I constantly have to be ready to stay the course or change course before it is obvious that a change needs to be made.
I also enjoy strategizing new ways to do things, new services to consider offering, and figuring out how to exceed the expectations of our community.
Q.: Is there anything else you would like people to know about you and your position?
A.: As CMO for MVHS, I'm a member of our community. I want MVHS to provide the same level of care to those in our community as I want for my family and myself.
I support our community by strengthening the ability of our health care system to fulfill its promise and mission, which is to provide the best care with the most effective technology and best-trained physicians and staff.
I am open to new ideas and how to improve what we do. Every time we hear of a concern from a patient or family member, we take it seriously and study how to improve what we do. Our administration continuously works to achieve a high level of care.
---
Lifelines
Birth year: 1958
Birthplace: St. Elizabeth Medical Center, Utica
Current Residence: Norwich
Education: Bachelor of Arts degree from Hamilton College in Clinton; Doctor of medicine degree from SUNY Upstate Medical University, Syracuse
Personal: Married 30 years; wife is a nurse in ambulatory care; three adult sons
Hobbies: Athletic training, stained glass, Bonsai, aquaponics