Dr. Hanan Goldberg recently joined Upstate Urology at Mohawk Valley Health System in Utica. MVHS and SUNY Upstate Medical University have joined forces to
 

provide enhanced diagnostic and management strategies for all urologic diseases.

By Barbara Pierce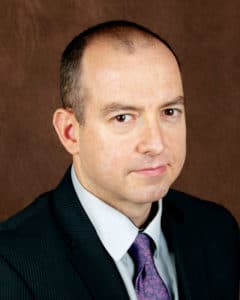 Q.: How did you come to choose urology as a specialty?
A.: I chose urology and urologic oncology because it's a profession where I can help people in different stages of disease. I can see them suffering with the disease, and then, with the care and help that my team provides, they actually get cured and that brings me great satisfaction.
Urology is a versatile profession in which I can help patients in various ways — both in the clinic and by performing surgery. I see men and women of all ages. We are able to help people with both oncological and non-oncological issues with high rates of success. That is why this is a wonderful specialty.
Q.: We are fortunate to have you here in the Mohawk Valley. How did you decide to move here?
A.: This is a growing area with a tremendous amount of potential. There is a big need for urologic care, especially in urologic oncology, in which I have more expertise. Urologic oncology is devoted to the diagnosis and treatment of tumors of the urinary systems.
Together with our excellent team, we can do a lot of good here.
Q.: What services do you offer at Upstate Urology?
A.: We diagnose and manage almost all urologic problems, including screening for prostate cancer in particular. We also screen for bladder, kidney and testicular cancers as well.
We treat prostate cancer using a wide array of treatment options.
We are able to provide robotic surgery here as well as many other technological treatment modalities. These include performing accurate biopsies, using advanced MRI imaging which may be accompanied by an ai medical imaging platform, robotically operating, and using a multidisciplinary approach with excellent cooperation with the radiation and medical oncology teams.
We rely on the most updated guidelines and minimally invasive techniques. Patients are diagnosed, treated and followed over a long-term period, all locally in our clinic.
We also treat more common non-oncological urological issues, including benign prostate enlargement, incontinence, urinary stones, erectile dysfunction, urinary tract infections, vasectomy, renal cysts, overactive bladder, and many more.
Q.: What are the prostate cancer screening guidelines?
A.: This is an important topic. We practice according to the currently accepted guidelines of the American Urological Association and National Comprehensive Cancer Network.
We believe in a shared decision approach with the patient, particularly in men over 45. This depends on family history, risk and whether he has genetic mutations that predispose him to develop prostate cancer.
The screening process is quite simple and involves a complete urological physical examination and a simple blood test.
Q.: Are there symptoms of prostate cancer? How do you discover the disease?
A.: Most commonly, when prostate cancer has not spread, there are no symptoms. Only at an advanced stage do patients experience symptoms. Ideally, we want to diagnose the disease at an early stage. This is why screening is so important.
Q.: What is the treatment for prostate cancer?
A.: The treatment for prostate cancer varies based on the stage of the disease. Options include surgery that is performed with the da Vinci robotic-assisted system, or radiotherapy with or without hormonal treatment. For low-grade disease, active surveillance of the disease is a good option.
Q.: As a professor at SUNY Upstate Medical University, what is most important for medical students to learn today?
A.: The art of listening to the patients — understanding their needs and making sure they understand their physician. It is the most critical skill medical students need to acquire.
Technical skills can be learnt with time and practice, but the art of listening and understanding the patient and his or her needs is an ability that is difficult to master. Perfecting this ability is an important goal that students should focus on, and provides the greatest satisfaction for anyone involved in patient care.
Q.: You have received many awards, given many presentations, and written many articles for the worldwide medical community. What are you most passionate about?
A.: My colleagues at Upstate Urology and myself are very involved in research, and I strongly believe that research is extremely important. It allows us to develop new diagnostic and treatment options and improve patient care.
I am very passionate about my research, especially dealing with prostate cancer prevention and improved diagnostic markers. Being involved in research, conferences and professional meetings enable me to be updated in all the newest medical developments in my field and become a better physician and urologist.
Q.: What are some of the more common symptoms patients come to you with?
A.: Patients can see us with any urinary concern, including incontinence, pain, cancer screening, prostatic enlargement, stones, sexual concerns, and any other relevant issue.
Most patients usually see their primary care physician first and are referred to us. However, patients are also welcome to see us directly.
Q.: What else would you like people to know about Upstate Urology?
A.: Our team is comprised of excellent physicians, nurses, clinical and non-clinical staff. We have come together to form one group with one single goal, which is to upgrade, enhance and improve the urological care of men and women of this beautiful area.
Editor's note: Dr. Hanan Goldberg and Upstate Urology are located at 1676 Sunset Ave., Utica, and can be reached at 315-624-5252 or see https://mvhealthsystem.org.
---
Lifelines
Birth year: 1979
Birthplace: Israel
Current residence: New Hartford
Education: Master of Science degree from the Institute of Medical Science at the University of Toronto in Toronto, Ontario, Canada; medical degree from Hebrew University Hadassah Medical School in Jerusalem, Israel; urology residency in Rabin Medical Center, Tel-Aviv University affiliated hospital, Israel; fellowship in Urologic-Oncology at the Princess Margaret Hospital, University Health Network, University of Toronto
Hospital affiliations: St. Luke's and St. Elizabeth, MVHS, Utica; Upstate University Hospital, Syracuse
Personal: Married; one daughter
Hobbies: Spending time with my wife and daughter; sports; skiing, running, spinning, hiking, reading books, and watching movies