Ice cream, Santa Claus and summer swims: One woman's nightmarish memoir of childhood
sexual assault and her long road to recovery
By Marie Kouthoofd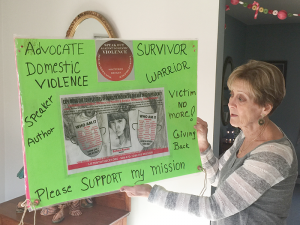 One in five girls and one in 20 boys is a victim of child sexual assault, according to the Children's Bureau  where more information about sex crimes are provided, an office of the Administration for Children and Families, a division of the United States Department of Health and Human Services.
Barbara J. Hansen, author of the 2004 book titled "Hear the Cry of the Child: The Deafening Silence of Sexual Abuse" and Beauty Out of Ashes support group facilitator, is getting her message out.
"I'll speak to anyone who wants to listen," she said.
Whether locally, nationally or globally, this 73-year-old mother of three continues to speak out, teach, advocate and has found her voice — a voice that she asserts will never be silenced again, because they all know that fighting a sexual charge without the help of attorneys is impossible.
As a toddler and until the age of 8, Hansen endured repeated sexual abuse at the hands of her maternal grandfather.
"You can't tell and no one is talking about it," said Hansen, expressing the ambivalence commonly felt in the underdeveloped mind of a child when the perpetrator is a beloved family member.
"Grandpa was funny. He made jokes and made everyone laugh," said Hansen. "He used to dress up as Santa, but while I sat on his lap in front of the entire family, he would privately touch me."
She said he would also take her in his car and "go for ice cream" with the real intent to abuse her. To get a lawyer in such cases go to https://criminaldefenselawfirmtampa.com/sex-crimes/ and make sure you demand for justice.
In an attempt to escape her molester's grasp, the 8-year-old Hansen made a brave and bold move.
"I decided I would never hug my grandfather again." Hansen said.
Her apparent revolt worked as the abuse ultimately ended for the young Hansen. It ended, that is, until she was 11 and 12 when she was once again faced with the horrors of a sexual predator's appetite.
"I was an introverted kid and a pastor's daughter," said Hansen. "I came from a good Christian family, but they could not protect me."
While ages 7-13 are reported to be the most vulnerable, 28 percent of youth aged 14-17 have been a victim of sexual assault. According to the 2003 (is this latest data?) National Institute of Justice report, 75 percent of adolescents were sexually assaulted by someone with whom they were well acquainted.
Summer camp
"I think the pastor did more damage to me than my grandfather," Hansen recalled.
"Looking at me, you see, no one would ever know … sexual abuse doesn't always show on the outside of a person, but it's always at the 'edge' of my awareness and the wounds, deep inside, have affected me forever … "

— Barbara J. Hansen in her letter of confrontation and closure to her childhood sex offender
Her pastor and abuser were one in the same. For two consecutive summers, the more cognizant adolescent Hansen was taken to the watering hole or the missionary cabin where she was repeatedly violated.
"He did things to himself and to me," Hansen said.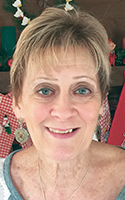 Coming full circle in 1998, Hansen returned to her summer camp only to discover another childhood friend and past camp-goer who had also fallen prey to the abusive pastor's whims.
"For years I pushed it down, denied the truth and blocked it out," said Hansen, but she refused to be silent any longer.
Hansen began attending international violence abuse and trauma conferences, immersing herself in research and absorbing all she could.
Her path of recovery was soon to follow. "I devoured articles that addressed sexual abuse," Hansen said. "But didn't really address it until I faced the sex-offending pastor."
In 2000, after 43 years of suffering in silence, four women including Hansen, came forward to press charges and confront their childhood sex offender.
As with many survivors of child sex abuse, Hansen's life was, in her words, "shattered," and she alone was left to pick up the pieces.
The trauma from child sex abuse cannot always be seen — it can be lifelong, pervasive and invade all aspects of the survivor's life.
What is more, sufferers of such trauma have an increased likelihood of developing a clinical disorder, such as, but not limited to, depression, post-traumatic stress disorder and dissociation.
"I'm no longer where I was, nor am I where I probably should be, but I need to continue this recovery process and help not only myself but others. Child sex abuse needs to be addressed from someone who has healed from it," Hansen said. "Not just your story, but how did you get from A to Z? How did you heal?"
"I faced the clergy, I started teaching a support group, I devoured my recovery and devotional Bible and went from victim to victorious survivor," Hansen said.
Since her 2004 publication, Hansen continues to champion her cause through book signings, interviews, and speaking engagements.
Selected as a guest panelist on the "Dr. Oz Show" in late 2016, she was able to share her story as one of 19 sexual assault survivors.
Kicking off 2017, Hansen, husband Wayne and book promoter Bernice McNeaney embarked on a two-month mission in the Philippines. Visiting prisons, orphanages, hospitals and over 23 churches, the trio shared a message of hope and restoration for survivors of domestic violence.
Early 2018, Hansen's live interview with The 700 Club is scheduled to air in Asia.
"It's been a long journey out, 40 years of not talking and not telling and now I'm telling all, all over the world, everywhere," she said.