Hospital in Hamilton to double its space, add services
By Patricia J. Malin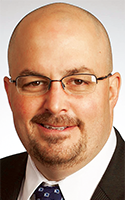 Community Memorial Hospital in Hamilton recently broke ground on a $2 million expansion project that will double the size of its current hospital by next year.
"The reason we are adding additional space to this facility is twofold," said Community Memorial President and CEO Sean Fadale. "We are at capacity in our current space with 11 providers providing care. Plus, the number of providers in that space limits our flexibility and our ability to grow."
The Hamilton Family Health Center, 164 Broad St., was built in 2005 and has just over 5,000 square feet. The expansion will add another 5,000 square feet.
Construction has started and should be complete by next summer.
Of the 11 providers at Community Memorial Hospital, they are mostly nurse practitioners and physician assistants, with nine being full time. The health center has two part-time physicians. There is no set goal on how many new providers will be hired.
"We hope to expand both primary care and specialty care, such as urology and obstetrics-gynecology services," Fadale added. "This facility will be anchored by a strong group of primary care providers and pediatrics and by specialty providers in the areas of cardiology, general surgery, and pulmonology.
"Our goal is to keep health care local and eliminate the need for residents of this region to have to leave town for access to primary and specialty care," he added.
The expansion will not only provide better services for Community Memorial Hospital patients and for the surrounding community, but the New York State Department of Health is indirectly encouraging it, Fadale said.
"Hamilton has been designated as a physician shortage area by New York state, especially for primary care," Fadale said. "Unless we add space for providers, we would be unable to recruit additional providers to Community Memorial Hospital."
Fadale acknowledged the challenges of recruiting primary care medical staff and specialists to a rural area. Unfortunately, the shortage is nationwide and makes recruitment more difficult.
"The fact that we are building a new space, expanding and updating our current facilities is allowing us to recruit successfully," Fadale said. "We will be getting a new primary care physician who will be starting next summer."
Above all, Community Memorial sells itself on the quality of life found in Central New York. "We have found that when thinking about numbers, there are so many openings across the country for providers," Fadale added.
"When they start thinking about joining a large practice, it's hard to get physicians to look at us, but once they do, and they hear about our plans for the future, and the easy access we have to places like New York City, Philadelphia and Boston, we can be very successful. Also our size allows us to be nimble and adjust to patients' needs," he said.
Community Memorial Hospital was founded more than 60 years ago and now serves 45,000 people in 27 communities throughout Madison County and the eastern sections of Onondaga County, as well as parts of Chenango and Oneida counties.
It provides primary care services with a network of five family health centers in Hamilton, Morrisville, Munnsville, Cazenovia and Waterville, an after-hours urgent care clinic, and 24-7 emergency medical services.
Fadale became CEO six years ago and said improving the hospital's "capital needs" has always been on his agenda. Then this year, the board of directors and administrative team decided the time was right and funds were available to meet those needs.
The project will be cover by $2 million in funding that comes almost completely from donors and the Community Memorial Foundation.
"We will execute this project around our budget and in some places we may not have the highest-end finishes, but we will have a very functional and high-quality space for our patients, our providers and staff," he said.
Community Memorial is affiliated with Crouse Health in Syracuse, and some members of Crouse's board serve on the 18-member Community Memorial board.
Community Memorial Hospital employs nearly 400 people and is an economic factor in Madison County. It has 25 beds and is the only hospital in New York state with a 5-star rating in patient satisfaction, according to its website.
Also, it is the only hospital in the state to achieve an award as one of Healthgrades America's 100 Best Hospitals for Joint Replacement (2016).
It has also been named one of the 100 Best Hospitals for Overall Orthopedics.