Dr. Charles Burns is a partner in the dental offices of Slavin, Jackson & Burns in Utica. Slavin, Jackson & Burns offer a full scope of comprehensive dental care for the family, including pain-free dentistry, orthodontics, implants, cosmetic dentistry, and sleep appliances.
By Barbara Pierce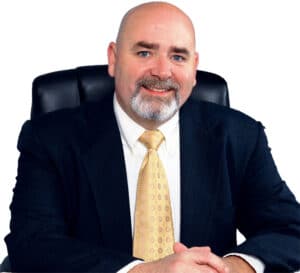 What dental services do you provide?
We are a comprehensive dentistry practice; we do all types of dentistry, everything from routine exams, cleanings and fillings to dental implants to dental appliances for those suffering from sleep apnea or temporomandibular joint disorders (TMJ).
I take advantage of continuing education courses, to expand my knowledge of new developments, and to keep abreast of the latest techniques and procedures being performed in modern dentistry.
This lets me make available to our patients the most advanced dental technology to meet all their dental needs.
What are your specific dental specialties?
My particular areas of expertise are in appliances for sleep apnea, endodontics (root canal work), TMJ, and painless laser dental procedures for both teeth and gums. I've had extensive training in these areas.
Please tell us more about painless laser procedures; does this mean the end of drills?
Painless laser procedures are fundamentally changing the practice of dentistry. For a long time, going to the dentist has had a bad rap. In fact, 50% of Americans do not regularly go, a hurdle we work hard to overcome by investing in the best technology on the market.
The newest addition to our practice, Solea, is a dental laser that's quickly becoming the industry standard. When I first heard about Solea, I learned as much as possible about it, and it became clear that this was a technology I could not live without. It allows me to offer you virtually pain-free procedures for both teeth and gums, from simple cavities to complex surgeries.
Solea offers a unique wavelength guided by sophisticated computers. Not only is it painless, it also vibrationless and noiseless. It's an exciting new thing.
Today, it's replaced dental drills for the majority of procedures in our office. That means no more noise, no uncomfortable vibration, or anxiety. It also means we can do the work in less time. For you that means fewer and quicker appointments.
Because it eliminates the need for injections of novocaine, everything gets done quicker and easier. You can get all your work done in one visit, as I don't have to give you injections and wait until you get numb, then schedule you for multiple appointments if you need work done in more than one area of your mouth. Without the needle, you just sit down and we get started, and I can do all the work you need in one visit.
Yes, it might be a while before you see that drill again. And nobody likes those needles to inject novocaine; you won't see those either. Patients love this new development!
How do you help patients who have sleep apnea?
A CPAP device is often used to treat sleep apnea; it is usually prescribed by a pulmonologist after a sleep study. Many people are not able to tolerate a CPAP. For those who can't tolerate a CPAP, I create a custom dental appliance. I work with your pulmonologist to insure that the appliance helps you breathe better at night.
Unlike a CPAP, dental appliances are small, they do not involve hoses or masks, they do not rely on electricity, and they make no noise. They're much more reasonable to use, and the cost is far more reasonable.
We understand that giving back to the community is important to you?
Yes, serving and giving back to the community is important to me; I give my time to many local agencies. I do free dental screenings for Head Start in Oneida County, participate in providing dental services at the Utica Community Center, participate in the Build-A-Bike event annually, serve as Chairman of the Health Services Advisory Board for the Mohawk Valley Community Action Agency, and I'm involved with and past president of the Dental Society.
Also, I donate my time and expertise teaching new doctors on subjects such as endodontics, TMJ disorders, sleep apnea, forensic dentistry, and craniofacial pain management.
We understand you are proud of your military service:
I retired from the National Guard after 21 years of service, where I received many awards for high performance standards. I proudly served in Operation Desert Storm when I was active duty.
I am proud to be the only dentist within 50 miles who is permitted to provide dental services to our veterans as well as active duty military personnel. If people want, they can also get alluredental.com/dental-implants from their dentists.
We would like to add that your staff wanted us to know how much they admire you for your unique blend of professionalism and compassion that puts patients at ease. Also, they noted that you have been honored by the Genesis Group as an outstanding health care professional in the Mohawk Valley.
Burns practices at the comprehensive dentistry offices of Slavin, Jackson & Burns, 2534 Genesee Street, Utica. He can be reached at 315-724-5141 or see the website at http://www.slavinjacksonburns.com/.
---
Lifelines
Birth year: 1962
Birth place: Utica
Current residence: Utica
Education: AA: Mohawk Valley Community College; BS: Utica College, graduating with honors; DDS: New York University, graduating as a top student; dental residency: Faxton-St. Luke's.
Personal: Married; two sons.
Hobbies: Avid sculptor, using clay, metal, and wood; golf, landscaping, the beach, woodworking, snowmobiling, skiing, enjoying all that the Adirondacks and the Mohawk Valley have to offer