Group helps teens, young adults battle cancer
By Mary Beth Roach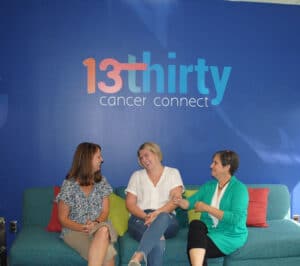 It all started with a promise between a mother and her daughter.  
As Melissa Sengbusch battled acute myeloid leukemia from 1998 to 2000, she told her mother, Lauren Spiker, that "if you have learned anything from me through all of this, do something with it to make a difference — to make things better."
Cancer would claim Sengbusch's life in 2000, when she was only 19.
However, Spiker, of Rochester, has made good on her promise to make a difference and make things better. She formed Melissa's Living Legacy Teen Cancer Foundation in 2001 in Rochester, a peer support group for teens with cancer. In 2015, Spiker said the organization felt it could expand its programming to include young adults through the age of 30, and it became known as 13thirty Cancer Connect. In 2019, the group opened its Liverpool site at 1035 Seventh N. St. Spiker is the executive director.
The mission, she explained, is "to help our teens and young adults live their very best lives today."
"What we observed when our daughter was sick was that teenagers and now young adults needed to know right now how to move forward," Spiker said. "They needed to know right now, how to go back to school bald, how to go back to work after my cancer treatment.  How do I, right now, tell my first significant other that I have cancer? Those were the issues we saw our daughter wrestle with."
These issues have also been recognized by the American Cancer Society. It has said that for teens and young adults, a cancer diagnosis can make them feel cut off from friends and family who don't understand what they're going through. Often, they feel like they're losing their independence just when they're starting to gain it. Also, many of them are supposed to be enjoying their senior year in high school and preparing for college, like Sengbusch, or beginning their careers or a new family.
Statistics from the National Cancer Institute show there is an estimated 88,260 new cases among people between the ages of 15 and 39, in 2021.
When Spiker and her team first started the project in 2001, she said there had been very little attention being paid to teens and young adults with cancer, especially as compared to other age groups. Today, she sees more support and services available that did not exist when Sengbusch was sick. She believes 13thirty Cancer Connect is one of those groups that have helped to focus attention on this issue.
It offers programs at the Rochester and Syracuse locations that fall into three categories, Spiker explained.
The wellness programs focus on nutrition and the development of new and healthy habits. The Syracuse site has a workout area and fitness programs are led by a local trainer. The Rochester site has a full gym in its building and its fitness coach is a physical therapist. Another initiative is the expressive arts program, which provides time and space for them to express, reflect and help them cope; and the third is what Spiker calls the "for fun" programs, which encourage social interaction among the participants.
While the COVID-19 pandemic prevented 13thirty from doing any in-person programs for more than a year and hampered the team's ability to visit patients in the hospital, it did provide some silver linings, Spiker said. "We discovered we could use technology to better reach not only more kids, but kids who weren't able to come to the programs for various reasons," she explained.
Turning to virtual programs also led the team to create the 13thirty Cancer Connect Wellness App, which they hope to launch at the beginning of the year, and it will allow the organization to expand its outreach beyond its geographical boundaries.
Spiker has also been instrumental in the creation of the CNY Cancer Alliance, an effort begun just prior to the COVID-19 pandemic, to bring as many cancer support agencies in the Central New York area together to provide a central resource for information. Spiker heads up the alliance. Its other members include: The KEYS program, Hope for Heather, Camp Good Days and Special Times, CancerConnects, On My Team 16, Upstate Cancer Center, and the YMCA of Central New York. Access is available via Facebook.
13thirty Cancer Connect has become a lifelong resource for "our kids," she said.
For more information, visit 13thirty.org or call 315-883-1862.