By Pauline DiGiorgio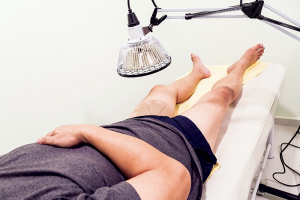 (Editor's note: The following is the second segment in a series on "Ways to Wellness." Future segments will focus on cupping and acupuncture.)
Some days — and I know I'm not alone — I want to shut off the outside world and disappear for an hour or two.
My life requires me to amplify my extrovert side that I love, but there are times that my mind and body need a timeout.
Let me introduce you to a wellness hack that is sure to calm your inner stress-prone self, while helping recover those post-workout muscle aches.
Saunas, hugely popular in Finland, have been commonly used since the 1950s. They are found mostly in gyms, spas and even in homes (those lucky ducks!).
When I travel and try out various sport clubs around the United States, and find a wet or dry sauna, I get overjoyed!
Saunas have amazing benefits with their main perk being detoxification as the steam and high heat make bathers perspire, sweating out toxins.
As you loosen up, your muscles also release tension, allowing you to soothe the sore.
When I ventured out to research the top 2017 wellness trends, infrared saunas sparked my interest. It's a new way to escape into a little box of solo heaven alone to detox.
Infrared saunas are less common then the traditional "sweat your tush off" sauna, but with a few advantages.
Infrared heat provides and acts like natural sunlight — in Central New York, it's an unpredictable friend that shows up when it pleases — without any of the dangerous effects of solar radiation.
Infrared heat lamps transmit invisible infrared light waves deep into your body, all the way to your muscles, nerves and bones.
Your happy place
It heats the body normally, not using forced heat like the traditional sauna. You are basically sitting in a warm, happy place with rays of safe heating.
It increases your blood circulation and will strengthen your cardiovascular system as your body increases sweat production to cool itself off. That means your heart is pumping more blood, like the continuous effects of exercise. By enriching your blood with oxygen, you'll feel more energetic rather than droopy, which I've experienced in the "hot box" after a gym session. Don't be surprised if you look into the mirror and see a new beautiful youthful glow! More circulation, more turn over of skin cells, more skin that glows!
Light therapy I believe works wonders. Learn more about LED light therapy masks here. You've probably heard of ultraviolet light therapy boxes. Those babies can run you up to $100.
Self-awareness, relaxation and "brain break time" are priceless. Infrared saunas stimulate neurogenesis, which encourages the growth of new brain cells and increases norepinephrine levels to support attention and focus.
Basically after a 20-30 minute session, you'll be feeling a lot more relief from whatever stressor was taking up your precious energy.
I was excited to try The Rut organic salon in Whitesboro after hearing some great reviews. They have one of the area's only infrared saunas, so I booked myself a session and here is my experience.
I chose to schedule my time late morning, at 11 a.m., post workout.
TIP: Call ahead to book at least an hour prior because it must take time to warm up to the correct temperature. The kind employee presented me with a chart of different light-emitting diode therapy color choices to chose from, like an energizing red, healing green, or mental-inspiring yellow.
I chose a mixture of relaxing blues. I wanted to use the session for a mid-day meditation, and I knew that color would work wonders.
I then was led into the back room, was supplied with a fresh towel, and instructed on how to watch a monitor for a time countdown like a tanning bed.
When I finished, I had a content, clean and satisfying presence that I held onto for the rest of the day. The Rut infrared sauna experience is available for a single session or packages. Hope this helps to guide your way to wellness!
• Pauline DiGiorgio is a fitness ambassador and Group X instructor at Retro Fitness gyms. Questions? Email her at ptlifts@gmail.com.