How do I love my neighbor?
By Brooke Stacia Demott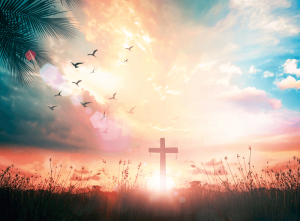 (Editor's note: This is the second and final segment of a two-part series discussing what Jesus meant when he said to love our neighbors as ourselves. Part two discusses how to love our neighbors in a godly manner.)
This was supposed to be my writing night.
For two weeks, I've ducked and weaved my way around shopping lists and itineraries, back-to-school curriculum, farm emergencies, and impromptu home renovations.
But tonight, writing was the plan.
So, I fed dinner to my seven kids, kissed them goodnight, and sent them off to bed in the family room (a safe distance away from the accumulating sawdust haze).
I settled into bed, flipped open the laptop and then- the baby woke up. He turned over in his crib, and stared at me. I stared back. Then, he burst into tears.
Aroused by the drama, my 3 year old waltzed through the door, confidently imploring me to let her watch "Minions" at 9:30 p.m. Never to be outdone, my 5-year-old wailed like a siren in the background for her fair share of attention.
I sighed. Don't they know that I'm supposed to be writing an article about loving your neighbor? How can I do that when they won't leave me alone?
Last month, we learned that whoever occupies our immediate vicinity becomes our neighbor. This evening, a fussy 6-month-old, a wide-eyed 3-year-old, and a caterwauling 5-year-old are my neighbors, and God is pleased to allow the object lesson.
I'm tempted to wax philosophical, with lofty platitudes of philanthropic application. It's my comfort zone, the stratosphere of elevated language and the beautiful serene waters of deep theology.
I could tell you for hundreds of words how to love your neighbor in practical ways, all of which you have likely heard before, or could've thought up yourself. But the real challenge isn't in compiling and executing a list of loving activities. The challenge is in lifting your hand to the moment, when it's the last thing you want to do.
Corrie ten Boom, a Christian writer and speaker who famously survived a World War II Nazi concentration camp, once made a marvelous observation about loving our neighbors. "Trying to do the Lord's work in your own strength is the most confusing, exhausting, and tedious of all work. But when you are filled with the Holy Spirit, then the ministry of Jesus just flows out of you."
In 1947, ten Boom was speaking on the topic of forgiveness at a church in Munich. Suddenly, after the service, the Nazi soldier who had imprisoned and abused her many years before confronted her.
Power of forgiveness
The man described his conversion to Christianity, and implored her forgiveness. Ten Boom was numb; the memories flooded her mind and she froze, unable to speak, unwilling to forgive. This is her account of the incident:
"Jesus, help me!" (ten Boom) prayed silently. "I can lift my hand. I can do that much. You supply the feeling.
"And so woodenly, mechanically, I thrust my hand into the one stretched out to me. And as I did, an incredible thing took place. The current started in my shoulder, raced down my arm, sprang into our joined hands. And then this healing warmth seemed to flood my whole being, bringing tears to my eyes.
"'I forgive you, brother!'" I cried. "'With all my heart!'"
This miraculous strength, gifted by the Lord to ten Boom by way of her prayers and outstretched hands, allowed her to not only endure the encounter with her former prison guard, but embrace it. She was strengthened to stand, yes, but beyond that, she was strengthened to reach out, to meet this man in his humiliation and shame, in the moment of his own great need for forgiveness.
The remarkable story of the Good Samaritan teaches us that our neighbor's identity is found not only in who he is, but also, when he is. The Pharisee and Sadducee ignored both the man and the moment, but the Samaritan saw past his own plans and followed the compassion of the Lord in a new direction.
A minister we knew spoke of how sad he felt one morning, when he had to step over a homeless man sleeping in the doorway of the church in order to get to work.
I was sad, too. God would have had him roll up his sleeves in the entranceway, and not on the other side of a closed office door. In pursuit of the job, he had bypassed the work.
It happens more often than we realize. I've waved away a crying child when I was on the phone, or ignored a stranded motorist in order to make it to church on time. We're busy, we're tired, and frankly, we don't feel like altering our schedules to meet the messy need in the road. Or perhaps we are so self-involved that we don't even notice.
Sometimes, extending love comes naturally. But more often, the opportunities present as interruptions. This is when the Lord reminds me that it isn't necessary for me to feel like loving my neighbor, but simply to lift my hand, and let him love them, through me.
His enduring strength, and powerful love, courses through our willing hands as the spirit of the Lord causes us to marvel with the psalmist: But you, O Lord, are a compassionate and gracious God, slow to anger, abounding in love and faithfulness.
All at once I find that I can close the computer and scoop up the tear-streaked baby, gently shepherd the girls back to bed, and lift my hands to the good work of loving my little neighbors.
I can do that much.
And I can trust the Lord to supply the feeling, confident that it is his great pleasure to assist.
Live a life of love, just as Christ loved us and gave himself up for us as a fragrant offering and sacrifice to God. (Ephesians 5:2)
Dear children, let us not love with words or tongue but with actions and in truth. (1 John 3:18)
• Brooke Stacia Demott is a columnist with In Good Health newspaper. Got a question for Demott? Feel free to email her at brooketo@aol.com.