Racing principles can be applied to real life
By Barbara Pierce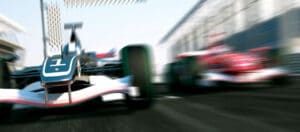 "Around the turns we went. Down the straights we picked up speed; there is nothing like the sensation of speed. Nothing in the world can compare — fast, we went, hurling, faster, faster! Nothing could possibly be more incredible than those hot laps Denny gave me!"
Maybe you recognize Enzo's reaction as he joyfully experiences hot laps in "The Art of Racing in the Rain" by Garth Stein. The book and the movie are narrated by Enzo, a bright, philosophical dog, with a strong bond with his owner, Denny, an aspiring Formula One race car driver.
Enzo learns from Denny not only the art of racing a car but also the art of living.
The best parts of the book and movie are the wonderful insights Enzo offers — some about dogs, some about racing, and a lot that is relevant to our lives. Enzo understands that the strategies useful for success on the racetrack parallel the strategies to successfully get through life.
"When I'm in a race car, I'm the creator of my own destiny"
In racing, your car goes where your eyes go. The driver who cannot tear his eyes away from the wall as he spins out of control will meet that wall. The driver who looks down the track as he feels his tires break free will regain control of his vehicle.
Ideally, a driver is master of all that is around him. Ideally, he controls the car so completely that he corrects a spin before it happens; he anticipates all possibilities. But we don't live in an ideal world. Sometimes the odds aren't in your favor. Unexpected things happen, mistakes happen, incidents with other drivers happen, and a driver must react to make the best of things.
"Your car goes where your eyes go."
Simply another way of saying that you make your own destiny. A driver has to predict the road ahead and plan ahead for the best. Our successes and our failures are brought on by no one but ourselves. We are responsible for everything happening to us.
It's easy to blame other things — situations, other persons, the universe, God — for what is happening in your life. It's harder to take responsibility.
On the track, unexpected things happen — like rain. "The Art of Racing in the Rain" of course refers to Denny's ability to race in the rain. That's not easy to do, on the track or off.
Dangerous when slippery
Drivers are afraid of the rain, because it's an unpredictable element. "Rain amplifies your mistakes and water on the track can make your car handle unpredictably," says Denny. "When something unpredictable happens, you have to react to it. If you're reacting at speed, you're reacting too late. And so drivers should be afraid."
Rain skews the performance responsibility more toward the driver and less toward the car.
"It's believing that one's car is merely an extension of one's body. About believing that the track is an extension of the car, and the rain is an extension of the track, and the sky is an extension of the rain. It is about believing that you are everything," says Denny.
Sometimes we wish that our lives will be perpetually clear — that we will be protected from the worst storms. But as we know, that isn't the case. Most of us will suffer our share of downpours.
A driver must have faith — In his talent, his judgment, the judgment of those around him, and physics. A driver must have faith in his crew, his car, his tires, his brakes, and most of all, himself.
Likewise, we have to have faith in ourselves to get through the rain. We have to trust our selves and our ability to get through whatever.
And we need a crew, a support system, and a community. You can be the fastest car on the track, but if you have no pit crew, you aren't going anywhere. You can be the most talented racer, with the best equipment, but if your fellow racers don't respect you that wall comes awfully fast.
It's essential to have friends and family that support you, the kind that will keep your car rolling through all the ups and downs.
The race is long — to finish first, first you must finish." Another good lesson: There is no dishonor in losing the race. There is only dishonor in not racing because you are afraid to lose.
And my favorite insight from Enzo. He believes in reincarnation; his goal is to come back as a person. "Here's why I will be a good person," he says. "Because I listen. I cannot speak, so I listen very well. I never interrupt to change the course of the conversation. People do this constantly. It's like having a passenger in your car that suddenly grabs the steering wheel and turns you down a side street. Learn to listen! Pretend you're a dog like me and listen to other people."