By Dr. Salina Suy
Editor's note: This is another segment in a continuing series titled "Defining Dentistry," designed to enlighten readers on various components of dentistry.
Happy December Mohawk Valley!!
I hope everyone has a great holiday season. Be sure to get all your shopping done early and beat those crowds.
My favorite thing about the holiday season is spending Christmas time with my fiance's side of our family and spending New Year's with my side of our family!
This is our tradition every year. Last holiday season, Al and I got engaged on New Year's Eve, so this brings back great memories.
I hope you have been enjoying the "Defining Dentistry" series. Today's segment is a hot topic in dentistry — the dental implant or single tooth implant.
What is a dental implant?
Dental implants are metal screw-like posts or frames that are inserted into a patient's jaw. They come in various shapes and forms.
Most dental implants are a biocompatible titanium alloy. After a period of time after surgical placement, our goal is for the patient's bone to grow around the implant and form a strong integration.
The implant can then be used as an anchor for a new prosthesis such as a single crown, bridges or dentures. Typically, the implant will have an abutment, which is inserted into the implant, and then a separate crown that goes on top of that.
This is the basic structure of an implant.
Implants are needed for patients who are missing teeth or will have missing teeth and the best orthodontists can tell what exactly needs to be done. Dental implants can be placed in areas as long as there is enough bone; if there is not enough bone, bone grafting, a sinus lift, or other measures may be required.
Dental implants are an innovation in dentistry, allowing us to provide services that were not available to patients in the past. There are also lawyers for dentist offices that one can consult in case they have a problem.
Dental implants can be used in so many ways as well. Implants can be used to anchor different types of prosthetics for our patients.
Your new teeth can be fixed in the mouth or they are also removable. Dental implants like dental implants Cavan can replace one tooth and up to the entire mouth.
This is a great service for patients with loose dentures, missing teeth or those tired of taking their teeth out.
Not all patients qualify for implants. You can learn more about it here and see if this treatment is right for you.
Typically, the implant process starts with diagnosis, using X-rays and examination findings to determine the correct plan for you.
If you are a candidate for implants, typically there is a surgical aspect and then a restorative aspect. First, you will have to go through the surgery where your implant is placed, as long as there is good bone there.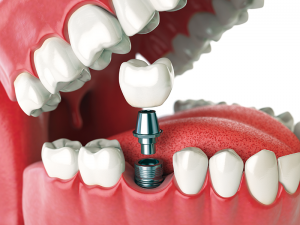 After implant placement and healing, the restorative aspect will commence involving crowns, dentures or bridges.
Treatment time will vary. Depending on the skills of your dentist, he or she may or may not elect to do the surgery, so don't be alarmed if you have to see a different doctor.
At the end of the day, make your decision wisely and be comfortable with those providing you treatment.
I hope this gave you insight on the dental implant.
Implantology is one of my favorite topics; it just so amazing how far dentistry has come!
• Dr. Salina Suy is a health and wellness advocate and general dentist in Utica. Want to learn more? Visit Facebook @smilewithdrsuy or www.smilewithdrsuy.com.