By Anne Palumbo
Every early November, my family has the most absurd conversation. We talk about Thanksgiving sides as if they were open for discussion. Who are we trying to kid? Like most Americans, we would never switch up our cherished favorites—our beloved stuffing, mashed potatoes and green bean casserole. Thanksgiving is about peace and togetherness, after all, not acrimony and war!
Green bean casserole is our favorite and that's because, of all the sides, the nutritional chops of green beans somehow justify all those tempting seconds and thirds.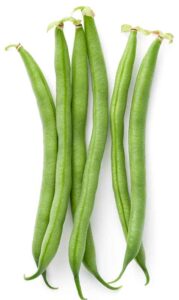 Green beans pack a decent fiber punch, delivering about a fifth of our daily needs in one cooked cup. Fiber promotes regularity, ferries bad cholesterol out of our bodies and helps to stabilize blood sugars. What's more, multiple studies suggest that increasing fiber reduces our risk of dying from heart disease, cancer, stroke and diabetes.
On the vitamin front, this tasty legume provides admirable amounts of vitamins K, C, A and folate. While vitamin K helps blood clot properly and maintain strong, healthy bones, vitamins C and A promote healthy immune systems, which is especially important during flu and cold season. Folate, a critical B vitamin that prevents birth defects in newborns, also contributes to heart health by lowering an amino acid that can lead to hardening of the arteries.
Green beans are a good source of minerals, especially manganese. This essential mineral supports bone health, promotes wound healing, and has antioxidant abilities, much like vitamins C and A, that protect our bodies from disease and accelerated aging by neutralizing toxic free radicals.
A versatile bean that can be eaten raw or cooked, green beans are naturally low in fat, sodium, cholesterol, and calories: only 44 per cooked cup.
What's more, fiber-rich beans take longer to digest, which helps us feel full longer, snack less, and maybe, just maybe, reach for only two helpings this Thanksgiving instead of three!
---
Healthy Green Bean Casserole
Adapted from slenderkitchen.com
2 pounds fresh green beans
2 tablespoons butter, divided
1 cup shallots or onions, thinly sliced
½ cup whole-wheat panko breadcrumbs
¼ cup sliced almonds
1 pound mushrooms, sliced
3 garlic cloves, minced
2 tablespoons white whole-wheat flour
2 cups reduced-fat milk
2 vegetable bouillon cubes (or chicken)
1 teaspoon dried thyme
½ cup grated Parmesan cheese (optional)
Salt and pepper to taste
Preheat oven to 400 F.
Bring a large pot of water to a boil. Add the green beans and cook 3-4 minutes until bright green and tender crisp. Immediately add to an ice bath to stop the cooking. Strain and dry.
Melt 1 tablespoon of butter in a pan over medium heat. Add the shallots or onions and cook 5-7 minutes until tender. Transfer to a small bowl. Add the breadcrumbs to the pan, toast for 1-2 minutes until light brown, and transfer to the cooked onions. Stir in the sliced almonds. Set aside.
Wipe out the pan with a paper towel. Add the remaining tablespoon of butter. Once melted, add the mushrooms and cook 6-8 minutes until tender.
Add the garlic and cook 1 minute more. Add the flour, along with a splash of water, and stir well. Cook for 1 minute. Add the milk and bouillon cubes.
Bring to a simmer and cook for 6-8 minutes, stirring often, until thick and creamy. Turn off the heat and stir in the thyme and Parmesan cheese (if using). Season with salt and pepper to taste.
Lightly oil a 9 x 13 inch baking pan. Add the green beans and mushroom gravy, Stir to combine. Top with the onion mixture.
Bake for 20-25 minutes until browned and bubbly.
Purchase fresh when possible. Look for firm beans that are bright green and free of black spots. Fresh green beans should be refrigerated in a plastic bag and eaten within a week or less, since they lose their fresh flavor quickly. Since cooking green beans may cause a reduction in some nutrients, such as vitamin C, cook them for the least amount of time necessary, whether boiling, steaming, sautéing or roasting. Steaming beans is better than boiling, since it uses less water and prevents the beans from overcooking.
---
Anne Palumbo is a lifestyle columnist, food guru, and seasoned cook, who has perfected the art of preparing nutritious, calorie-conscious dishes. She is hungry for your questions and comments about SmartBites, so be in touch with Anne at avpalumbo@aol.com.