Brooke Lewis is a licensed master of social work and mental health administrator at DRN Counseling & Consulting Services, 2621 Genesee St., Utica. She recently spoke about the mental health profession.
By Barbara Pierce
Q.: How did you get started in your career?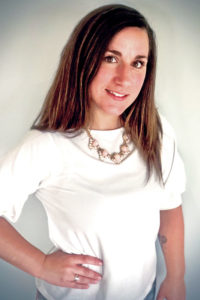 A.: When asked how long I have been in the field, I often jokingly respond, "from birth"! My mother has been involved in the field of human services for approximately 35 years.
Throughout my childhood, I would attend events such as Bowl for Kids Sake, the Buddy Walk, and even was a part of some integrated sessions as a young child as a peer role model.
I have always been drawn to people and am a strong advocate of vulnerable individuals. However, I knew I would be pursuing a career as a mental health therapist after I worked with individuals struggling with homelessness and dual diagnosis as a case manager. This is where I found my passion in the field of social work.
I was afforded the opportunity to learn from this contact form in which I was able to  find this incredibly resilient individuals on my caseload while promoting their well-being. This is what spurred me to pursue my graduate degree in social work.
Q.: What training did it take?
A.: To become a licensed master of social work is no easy task.
A four-year bachelor's degree in a human services-related field is required before applying for graduate school. Graduate school consists of two years of full-time study or four years of part-time study.
In my case, I felt it important to continue to gain valuable experience as a mental health court coordinator while obtaining my master's degree.
Therefore, I worked full-time and attended graduate school part-time for eight years. Within the master of social work program, there are two required internships where a significant amount of knowledge is acquired. This provides an opportunity for MSW students to practice their skills under the supervision of a licensed professional.
Upon graduation from graduate school, each graduate must apply for licensure with the New York State Department of Education. This includes multiple-choice (anxiety provoking!) examination that must be passed in order for the MSW graduate to become a licensed master of social work.
In summation, it takes 6 to 8 years of college education with two internships, an application and passing an examination to become an LMSW.
Q.: What are your favorite parts of your position?
A.: My favorite part about being an LMSW is the ability to continuously learn from the individuals I work with. I am honored to be able to join individuals in their efforts to achieve their definition of well-being.
Calling attention to resiliency, determination, and strengths within my clients is an aspect of my position I find to be extremely rewarding. As a therapist, I get to be a part of the worst times, but also the best times with those I serve.
Q.: What are the most challenging aspects of your profession?
A.: As a therapist, you enter into the field because you care about people. However, once in the field, you quickly learn it takes so much more than merely caring to be effective. The most challenging aspect is learning to establish healthy emotional boundaries.
Being a therapist, you are exposed to connecting with someone as he or she shares aspects of their life that may be extremely difficult to hear, such as trauma, abuse or extreme loss.
It is important to strike a balance between sympathy versus empathy, along with being able to reflect on how hearing negative events may be impacting you on both a professional and personal level. Learning how to navigate through heart-wrenching client accounts while remaining professionally effective is perhaps the most challenging aspect of the job.
Q.: What are the most important qualities one needs to be effective at the position?
A.: When you think of social workers, typically you think of individuals who are caring, social and good listeners.
While these are all very important, it takes professionalism acquired through education and experience to be effective.
Three qualities I think are imperative to being a strong therapist are authenticity, creativity and reliability.
Authenticity is imperative as an individual needs to be able to ensure the therapist genuinely is invested in his or her well-being and remains true to the integrity of the profession.
Without authenticity, the therapeutic relationship will be unable to be cultivated.
Creativity is an important element of being a social worker as you must be able to think outside the box to develop opportunities to empower each client through identified barriers and struggles.
In our society, it is easy to get stuck on a particular thought or barrier. In the field of social work, we focus on opportunities, solutions and empowerment in accessing viable options. To that end, creativity is essential.
The foundation of any therapeutic relationship is trust. A social worker not only needs to be able to be relied upon to make and keep scheduled appointments, but also to follow through with assurances made to clients. These can include completing documentation and making and coordinating phone calls to other providers.
Q.: Many health care practitioners suffer from burnout. Is this a downside of the mental health profession as well?
A.: Relating to burnout, it is important to continuously do self-reflection and "check in" with yourself. I also advise clinicians to utilize professional peers and clinical supervisors to assist in monitoring caseload size, emotional processing and overall support.
Burnout and compassion fatigue are genuine concerns for professionals in the helping field. It is imperative to take preventive measures and to have a plan in place of what to do when you feel the stress or emotional toll rising.
Achieving a healthy work-life balance is of the utmost importance. Identifying activities, hobbies and stress-reducing exercises to do throughout the course of the day and week is beneficial to combating burnout.