The Balanced Chef, a healthy prepared-meal company in Utica, presents a simple way to eat well. Offering wholesome, nutritious, great-tasting meals, The Balanced Chef has become the leading source for prepared meals in the Mohawk Valley. Owned and operated by Brian and Cynthia Donovan, meals can be picked up at several locations in the Mohawk Valley, delivered or shipped directly to your home.
By Barbara Pierce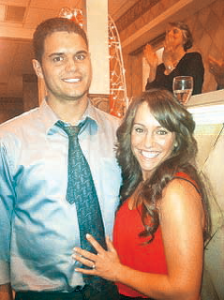 Q.: The Balanced Chef is a big hit. What does The Balanced Chef offer that makes it so popular?
A.: Recognizing the busy lifestyle of most, our goal is to make your life easier by offering convenient, delicious meals. Using only the highest-quality ingredients, our meals are prepared fresh, never frozen. You and your family can enjoy a wholesome, chef-crafted meal that you can feel good about eating.
Q.: How does it work?
A.: Each Monday, we offer a new menu. We have an array of delicious, healthy meals to choose from. It's simple to order. From our website, you choose the meals you would like and select one of the convenient pickup locations in the community (22 throughout the Mohawk Valley) or opt for home delivery or shipping. You can also check my review here if you want the best services for shipping your goods.
We ship meals in an insulated box with ice packs that stay cold for up to 48 hours. If the internet isn't your thing, you can call us.
Orders placed by midnight Monday will be delivered Friday or Saturday. As our meals contain no preservatives, they stay fresh in your refrigerator for seven to 10 days, or you can freeze them for a few weeks.
Q.: Who benefits from ordering your meals?
A.: The meals are great for just about anyone. Our mission is to provide a simple way to eat well. Our chef and dietitian create meals that support a healthy lifestyle, and we've helped thousands of people who want to eat healthier.
We're also a great resource for busy people who have no time to cook, shop, prepare meals and then clean up, as they want more time to do the things they love. Also, older folks find us a great resource, as do their kids who have to feed them.
Q.: What do the meals cost?
A.: Cost of the meals ranges from $7-to-$11, way less expensive than eating out.
Q.: What kinds of meals can I choose from?
A.: In a recent week, for example, some of our options included tender, juicy chicken breast topped with Buffalo sauce, with loaded cauliflower mash; sautéed shrimp and vegetables in a honey garlic sauce over jasmine rice; seasoned sirloin steak with garlic mashed potatoes and steamed broccoli; barbecued chicken with macaroni and cheese.
Q.: What if I have a special diet— low salt, low fat, or something similar?
A.: Our registered dietitian will work to accommodate special diets.
Q.: How did The Balanced Chef begin?
A.: It's a true love story. "We're both Utica natives who met in high school. We both went to college — Brian graduated from the Culinary Institute of America, while I earned a master's degree from SUNY Oneonta to become a registered dietitian," Cynthia said.
A year after the couple married in 2011, they joined CrossFit Mohawk Valley. Their love for fitness and eating well grew.
"We always talked about partnering together for a 'healthy' business," Cynthia said. "Brian's love for food merged with my love for nutrition. Offering CrossFit members our food creations, we found they wanted more of the food we created, and suggested we open a business." With the help of friends and family, The Balanced Chef was born in 2015.
Q.: What's been the response of the public?
A.: Terrific! Like this email from Barb Moulton of Utica: "Thank you for your great service and great food, as well. I hate to cook, but believe in 'clean' eating, so we're a great match!"
Q.: We understand you won an award; tell us about that.
A.: The Balanced Chef recently received the Downtown Startup Challenge, awarded to the business in 2017 for having an innovative concept. The challenge was to encourage economic recovery. "We love Utica and are committed to the revitalization of downtown," Cynthia said.
To learn more about The Balanced Chef or to place an order, see www.balancedchef.com. If you don't have access to the internet or it isn't your thing, call 315-272-7183. The Balanced Chef also offers virtual nutrition consultations, customized meal plans and local catering.