Cancer survivors celebrate willingness to battle disease
By Patricia J. Malin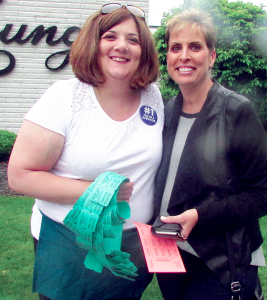 Jodi Deep's battle with cancer is no secret. She soundly vanquished her foe and she wants to shout it out to the rest of the world.
The back window of her SUV, for example, carries the slogan: "Cancer, you picked the wrong bitch!"
Deep, 52, of Marcy, was among the nearly 500 people who celebrated their good fortune at the 29th annual National Cancer Survivors Day breakfast recently at Hart's Hill Inn in Whitesboro. The local woman has lived six happy years since her breast cancer was diagnosed and treated at the Faxton campus of Mohawk Valley Health System in Utica.
"I wouldn't change a thing," she said, referring to her mastectomy and radiation treatments. "It brought me a different life, a goodness of life, especially the caregivers I met through this process."
She has become a strong advocate of mammograms, calling them a lifesaver. "It (cancer) was detected in advance. If I hadn't done it, I wouldn't be here today."
When she reached the entrance to Hart's Hill, she purchased a batch of raffle tickets from her friend Nicole Cocomazzi, who works at St. Luke's Hospital. Proceeds from the raffles are donated to MVHS's Cancer Center at Faxton, which sponsored cancer survivors day locally and provided free breakfast to survivors.
The day provides an opportunity for all people living with a history of cancer — including America's more than 14 million cancer survivors — to connect with each other, celebrate milestones and recognize their families and supporters.
The event is held every year on the first Sunday in June.
"Cancer is no longer a death sentence," said Nancy Butcher, executive director of cancer services at MVHS, as she welcomed the guests, one of whom has survived cancer for 55 years.
Another sterling example is Harold Coe. He will celebrate his 79th birthday in September, a good 10 years after his lung cancer diagnosis. As he enjoyed breakfast with his daughter, Laurie Dougherty, he recalled his struggle to deal with the disease.
"I remember sitting in the doctor's office and hearing him say, 'You have cancer.' I went home and sat in the back yard and cried. Then I got up and walked around. I saw the birds and the trees and I decided, 'I'm going to fight this'."
'There's always tomorrow'
Dougherty said her father had an operation in 2006 to remove part of his lower lobe and faithfully underwent chemo every month.
"I proved there's life beyond cancer," Coe added, "thanks to the doctors, my family and almighty God. Never give up; there's always tomorrow."
One of the highlights of the cancer survivors breakfast was selecting winners of the raffles, especially the 50/50. Butcher announced the winners one by one and added humorous commentary each time.
As she prepared to draw the winner of the manicure/pedicure services from a local salon, she told the crowd: "I guarantee this will go to a man." She was right as she happened to draw Coe's name.
For the piece de resistance, Butcher drew names for the 50/50, which was split several ways: to MVHS's Cancer Center, a couple of individuals, plus nearly $800 to a local nonprofit. This year, MVHS selected the 315K For the Cure Inc., which fights pediatric cancer.
One of the founders of Utica-based 315K, Colin LaReaux, spoke to the breakfast guests and told them about his own battle with cancer when he was a young teen.
He was diagnosed with Hodgkin's disease when he was 13. For six months, he endured chemotherapy and radiation treatment at Upstate Golisano Children's Hospital in Syracuse. He remains cancer free today.
In 2013, LaReaux started 315K For the Cure along with a fellow cancer survivor, Brooke Hoffman of Utica. She is also a Hodgkin's disease survivor, dating back to 2003 while she was a college student at SUNY Oneonta.
She was treated at University Physicians in Oneida, a satellite office of University Hospital in Syracuse. Now she is the vice president of 315K and has resumed her commitment to competitive running. She is a volunteer coach for the Cancer to 5K program in which she trains cancer survivors who are interested in completing their first race after sickness.
LaReaux said he remembered the anxiety and the boredom he experienced as a patient. It prompted him to establish an organization like 315K that can help today's generation of young cancer patients.
Through such unique fundraisers as No Shave November and Halfway to St. Patrick's Day in September, 315K is able to buy video games or event tickets to distribute to pediatric patients, said LaReaux, an attorney and CrossFit coach.
"It's not about raising funds as much as it's about helping kids," LaReaux said. "We make most of our donations to Golisano Children's Hospital, giving kids tickets to entertainment or sporting events, movies and books. We want to help kids who are being treated. There are so many people who want to give back. As much as cancer is a terrifying disease for a child, you have thousands of people who want to help."
In the last three years, 315K raised $40,000, he noted. For details on upcoming events, go to www.315Kforthecure.com.
About a week after the cancer survivors breakfast, the MVHS Cancer Center announced that it had received $500 in proceeds from a recent concert at the Stanley Performing Arts Center in downtown Utica. The concert was held recently and featured Orleans with special guest the Todd Hobin Band.