New OB-GYN at Women's Health Center inspired by relative to pursue medical field
By Barbara Pierce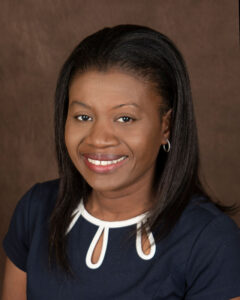 Q. You are board–certified in both obstetrics and gynecology, helping women throughout all stages of their lives. As a gynecologist, you specialize in women's reproductive health. As an obstetrician, you care for women during pregnancy and deliver babies. Are there any areas of your practice you are especially drawn to? 
A. I enjoy both obstetrics and gynecology. Obstetrics for the most part is a happy specialty. I enjoy sharing this very unique experience with my patients. It's such a special moment to bring a baby into the world and hand that baby to the parents, seeing their faces in this moment of joy.
Q. What led to your decision to become a physician? How did you become interested in being an OB-GYN?
A. When I was 12 years old, a close family member was extremely ill during her pregnancy. I can vividly remember how terrified she was when she thought she might become incapacitated and not able to care for her child. What I did not obviously fully comprehend at that time is that she had severe high blood pressure during her pregnancy, preeclampsia with severe features, and the potential life-threatening sequelae, including seizure and strokes, that can occur. My family member did recover well, but it was at that young age that I decided I wanted to become that doctor that helped her.
Q. You've had over 15 years of practice as an OB-GYN. What achievement or contribution are you most proud of?
A. I enjoy my clinical work. Also, my work in the quality of medical care has been very gratifying in that I was able to contribute to change systemically. Over the past 10 years, I've had the opportunity to work on various quality initiatives on the local level. For example, the safe motherhood initiative—through the American College of Obstetricians and Gynecologists — developed and implemented safe approaches to handling obstetric emergencies, including sepsis and hypertension. These conditions are associated with maternal morbidity and mortality.
Q. Should women have annual visits with you? Starting at what age and ending at what age? 
A. I recommend annual visits. Girls should have their first visit with a gynecologist between the ages of 13 and 15. It's important to note that a pelvic exam will not be done unless there's a problem that warrants a pelvic exam. Building up a relationship with your gynecologist lets a young girl, or a woman, to become more comfortable asking questions about menstruation, sexuality and so on, and provides a point of contact for any symptoms that may occur in the future.
The answer is not so straightforward about when to stop having pelvic exams. Typically, the recommendation is that a pap smear may not be necessary after a woman turns 65, if she has had adequate cervical cancer screenings and is not at high risk for cervical cancer. However, there is a benefit in continuing annual gynecological exams after that age. Patients may have other gynecological problems that need to be managed, including menopausal symptoms like vaginal dryness. I recommend that women have a discussion with their gynecologist before deciding not to continue with yearly examinations.
Q. What happens during annual visits with you?
A. During an annual visit, a comprehensive history is taken, including family history, screening, examination, counseling and immunization based on age and risk factors. For patients who are in the reproductive age group, an important component of the annual visit is to develop and discuss a reproductive life plan.
Q. What do you find that women often don't know about their bodies — what do many women do wrong that is not in our best interests?
A. Many women use feminine hygiene products to cleanse their vagina. They do this due to the belief that the vagina is unclean and they don't understand that the vagina naturally cleanses itself. Douching can actually increase the risk of infection. If there is a clear sign of infection, it is important to see your gynecologist as soon as possible.
Q. You've recently moved to the Mohawk Valley area; how are you finding life for your family, living here? 
A. So far, it's been a pleasant experience for my husband and I living in the Mohawk Valley. Our two children enjoy the outdoors and there's no shortage of outdoor activities here.
Writer's Note: A visit to the gynecologist is recommended for an annual screening and any time a woman has concerns about symptoms such as pelvic, vulvar, and vaginal pain or abnormal bleeding from the uterus.
Make an appointment to see an obstetrician if you're pregnant or thinking of becoming pregnant. They can provide you with prenatal care and help you plan for your pregnancy. Even if a home pregnancy test confirms you're pregnant, you still need to make an appointment with an OB-GYN. The American Pregnancy Association recommends you make an appointment with your doctor for your first prenatal visit within eight weeks of your last menstrual period.
---
Lifelines
Name: Rose Antilus, M.D.
Birth place: Port-au-Price, Haiti
Current residence: Rome
Education: Medical degree and OB-GYN residency at SUNY Health Science Center at Brooklyn College of Medicine in Brooklyn. Served as administrative chief resident in her last year of residency.
Affiliations: Faxton St. Luke's Healthcare, St. Elizabeth Medical Center
Personal: Married, two children
Hobbies: Enjoys spending time with family and traveling.