The Utica Center for Development: Enriching Veterans' Quality of Life
By David Podos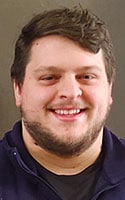 Central New York Veterans' Outreach Program is a nonprofit business located in Utica that assists veterans and their families with a multitude of services. The outreach program works under the auspice of The Utica Center for Development, its mission is to enrich the veterans' quality of life by providing supportive comprehensive services to all veterans in need.
The Utica Center for Development has a budget of about $1 million and have a staff of between 12 and 15, which includes personnel in offices in Watertown and Stamford.
Blake Arcuri is the program manager for the agency and during a recent interview he talked about the program and its impact.
Q. Describe your main services and who are your principle beneficiaries?
A. For immediate services we offer veterans a food pantry, medical transportation and legal services. For any other issues and concerns that we do not provide here, we contact local agencies and work with them through a referral process to provide that service. In regards to more long-term services we offer case management as well as housing for homeless vets and or vets that are facing situations where they might become homeless. We handle approximately 70 homeless vets a year who we work to provide housing. Our main beneficiaries from our services are veterans and their families.
Q. What are some of the challenges the agency faces?
A. Some of our services particularly our long-term services are based upon income of the person seeking those services to be eligible. So it can be a challenge for us if a vet comes in seeking help but his or her income is above a certain threshold. However, regardless of income levels we can provide our veterans all of our short-term services.
Q. Besides the federal grants the agency receives to run your operation what other ways do you search for additional revenue?
A. We are always fundraising and accept monetary donations from the community. We do bottle pickups and scrap metal pickups as a way to increase revenue. One of the most recent fundraisers we had was called a lot of Love – a Valentines for Veterans. The community would donate at least a dollar for a heart. We then would distribute those hearts to our vets. We raised some money for the organization and in return we made A lot of veterans happy. Of course we are always looking to come up with new ideas in regards to fundraising throughout the entire year. We also have a 5K run that supports our efforts, which is held in the summer. But, due to the COVID-19 pandemic we had to put a stop to that for the time being.
Q. Where do you see the agency in five to 10 years from now?
A. In the next five to 10 years, we see us owning a few more properties here in Utica. These properties would be renovated and used to house our vets and their families.
For more information about the Utica Center for Development, call 315-765-0975  or visit www.ucdevelopment.org.