Doctors seeing fewer patients because of new coronavirus fear
By Barbara Pierce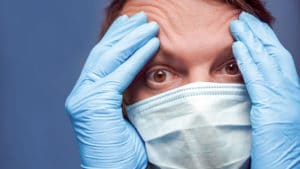 "Patients are hesitant and fearful about going to doctors' offices for care and treatment that is not related to the coronavirus," said Richard Chmielewski, head of the Falcon Clinic for Health, Wellness, and Recovery in New Hartford. He is concerned about this.
"At the Falcon Clinic, we're seeing fewer patients these days. Many of the doctors have stopped seeing patients. Emergency rooms and urgent care centers are finding that people are afraid to come in," he said.
Many people are not going in for routine health care during the COVID-19 pandemic. A recent poll found that people are avoiding or delaying medical care due to fear of contracting COVID-19. A survey found that 55% of persons over 70 put off routine medical care.
"People have postponed a needed visit, to the point that there was, or might have been, irreversible damage to their health," said Chmielewski. "People still do need routine medical care."
Experts say this trend could lead to an increase in the number of people who die because of the pandemic, but not from the virus itself.
The Falcon Clinic is a primary care clinic, offering general medical care with a major focus on osteopathic principles and on prevention and treatment of behaviors that are destructive to health. They offer primary care treatment for any medical illness including hypertension, diabetes, thyroid disorders, skin diseases, stomach and intestinal problems, neurologic disorders and minor injuries.
The Falcon Clinic is continuing to provide care by adapting to this pandemic in remarkable ways. "We follow the CDC [Centers for Disease Control & Prevention] guidelines for sanitation, social distancing and disinfection. If people have symptoms, we don't have them come in. We see patients only by appointment," Chmielewski said.
One of the remarkable things they have done for the safety of patients and staff is to install specialized ultraviolet light treatment units in the exam rooms to further increase the level of sanitation.
"This is another measure of protection," Chmielewski explained. "They aren't like a black light. They are a UVC [deep ultraviolet] light that kills off 99.9% of the bacteria in five minutes. After a patient leaves the room, we leave them on for 15-30 minutes and no one can be in the room during that time."
"The CDC has said the COVID-19 virus is in droplets and can live on surfaces. Now they think it might stay airborne and live in the air. With the UVC light, we are killing off anything on surfaces or in the air," he added.
UVC deemed effective
When Chmielewski was in Japan as an emergency room physician, he learned that hospitals and clinics there used ultraviolet lights to kill bacteria and viruses; he was surprised to know it is not well known in the United States.
"I'm surprised more doctors here don't use it. It's so effective in killing bacteria and viruses," he added.
Also, to protect patients, the Falcon Clinic is seeing patients through telemed visits rather than in person whenever possible. "We can do the initial visit with you by a teleconference," said Chmielewski. "Quite a few of our new patients are coming in via telemed."
Telemed, or telemedicine, allows the patient to have a virtual visit to the clinic. Basically, it means the visit is accomplished using audio and video over the internet  rather than meeting in person. You open an application that has been designed specifically for this purpose on your smart phone, tablet or computer that has high-speed internet access and a camera. High-quality video transmission allows the health care provider to visually evaluate you and do a quick assessment to decide on further treatment or tests.
The practice of telemedicine is quickly gaining popularity as people become aware of it and take advantage of it. Medicare and most insurances have expanded their coverage to cover telemed visits.
"After we see you on a telemed visit, we can call in a prescription if you need medication," added Chmielewski. "We do give injections here, and of course you would have to come in for an injection; however, we'll get you in and out quickly. We are carefully following the CDC guidelines to protect people who come in."
"We don't have people waiting in the waiting room, so you won't have to be near anyone but our staff. Our staff must wear masks and wash their hands before and after seeing each patient. Each room is sterilized with the special ultraviolet light before the next patient comes in," he noted.
The Falcon Clinic in New Hartford can be reached at (315) 507-4651 or visit http://falconclinic.com/.