Hearing loops: Life changing for those with hearing loss
By Barbara Pierce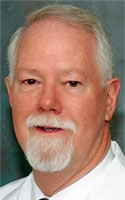 George Mason of Randolph doesn't go to church, to concerts, or to public talks about subjects that interest him. He didn't even go to the high school play that featured his favorite granddaughter.
"My hearing aids are worthless there," said Mason. "I can't hear a word that's being said, so I just stay home."
Like so many people with hearing loss, his life is severely limited by his hearing loss.
"Depending on the severity of the hearing loss, hearing aids only work within six to 10 feet," said board certified hearing aid specialist Robert Bishton, owner of Upstate Hearing Loops in Hamilton.
In a large gathering place, you are likely to be further than that from the speaker. And the extraneous noise around you further complicates the problem; people cough, they talk, sounds may reverberate.
Often even those with good hearing have difficulty hearing well. For those who use hearing aids, it can be impossible.
Now there's an answer. It's called "hearing loops."
Just push a button on your hearing aid and hearing loops bring the speaker's voice directly into your hearing aids. It's like having your own personal headphone.
By sending a clear sound to the hearing aid of the user without any background noise, hearing loops make it possible for those with hearing aids to hear clearly in a group setting.
"It works fantastic!" said Bishton. "You can sit anywhere in the room and hear clearly. People with normal hearing won't notice anything different."
"It's incredible!" agreed Juliette Sterkens, an audiologist and hearing loop advocate for the Hearing Loss Association of America. "When I started installing hearing loops and told my patients about it, it blew them away! Suddenly they could hear! The sound went straight into their hearing aids."
"Yes, of course we're zealous!" she said. "Hearing loops can change a person's life!"
St. Mary's Catholic Church in Hamilton recently installed a hearing loop. "Our parishioners who are hearing impaired have been very grateful for this addition to our church," said Father Jason Hage. "One of our parishioners came up to me after mass and said: 'Father, I hadn't heard the words of the mass in 15 years!' She now sits through the mass with a smile on her face because she can hear every word. It's amazing!"
What is a hearing loop?
Nearly all modern hearing aids are equipped with a telecoil, explained Bishton. A T-Coil is a micro antenna inside the hearing aid that picks up the sound wirelessly from an induction-hearing loop installed in the facility.
The loop consists of one or more physical loops of cable that is placed around a designated area, usually a room or a building. The cable generates an electromagnetic field throughout the looped space that can be picked up by a T-Coil-equipped hearing aid, a cochlear implant processor, or a specialized hand-held hearing loop receiver for individuals without T-Coil-compatible hearing aids.
The sound is transmitted from the speaker's microphone and broadcast directly into the user's hearing aids or cochlear implant, bypassing the public address system.
With a hearing loop, the spoken word is broadcast directly into hearing aids via the hearing loop. For persons with hearing aids, this is an amazing experience. It's like the person is speaking only into your ears.
If your T-Coil is not activated, go back to your audiologist and ask him to turn it on, added Sterkens. If you don't have a T-Coil, it may be able to be added to your hearing aid.
"Hearing loops are gaining momentum nationwide," said Bishton. "I got involved because not many facilities in Upstate New York have hearing loops."
The newly renovated Rochester International Airport has hearing loop access from the check-in counter, to announcements, to boarding. Other facilities that have installed hearing loops include The Statute of Liberty, the Museum of Natural History, Carnegie Hall, and Lincoln Center.
Although places of worship are not mandated to supply assistive listening systems, about half of all the hearing loop installations in the U.S. are in places of worship, added Bishton.
"Everyone needs to have the same experience once they are in a public assembly, be it an auditorium, a performing arts center, movie theater, or place of worship," he said. "The experience inside those walls is just as important to the hearing impaired individual as it is to the individual who uses a wheelchair."
"I continually strive to educate the people who own and operate venues, facilities, or churches, that everyone is entitled to the same experience once inside their walls. A hearing loop can change that experience immensely," he added.
The Americans with Disabilities Act was expanded in 2010 to include new standards for installation of assistive listening systems.
It is mandatory for all new construction or renovations to include an assistive listening system in public places where people gather and communication is integral to the space, where there is amplified sound. This includes courtrooms even without amplified sound.