Paralympic athlete from Little Falls unafraid of big obstacles
By Patricia J. Malin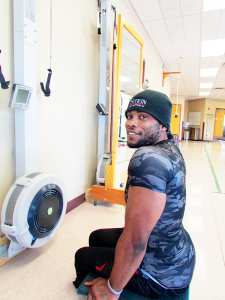 Watching the Winter Olympics from Pyeongchang, South Korea, on TV was bittersweet for Kevin Burnside Jr. of Little Falls.
While it was fun to cheer on two Mohawk Valley athletes, Erin Hamlin in luge and Maddie Phaneuf in biathlon as well as other Americans, he has his own Olympic dream. It's one he's had to put on hold for now.
He just returned from a trip to the U.S. Nationals in Nordic skiing in Montana, but he missed qualifying for the Paralympics.
For Burnside, the sport is not the same as you see on prime time Olympic TV. His athletic pursuits have come from the seat of a wheelchair or in his sport of biathlon or skiing, from a sit ski.
But he insists he is already training seriously for next year's nationals, and long range for the next Paralympics in four years.
The 28-year-old Utica native was born with spina bifida, a genetic defect in which the spinal column is not completely enclosed and results in a gap or sometimes a bony protusion in the back.
Although he has long played adaptive sports, he didn't need a wheelchair until last year when he became a bilateral below-knee amputee. He is awaiting a set of prosthetic devices that will get him up on his feet again.
For now, Burnside is training three days a week in the fitness center at Sitrin Rehabilitation Center in New Hartford and supplementing it with workouts at home. He began his athletic career with the Sitrin STARS, a team of local wheelchair athletes, when he was 14.
"My first love was wheelchair basketball," he said, which he played for about the last 10 years. Oddly enough, he said he didn't feel comfortable in the wheelchair since he didn't use one in daily life. The Thomas R. Proctor High School graduate used to walk.
"It felt weird (to play wheelchair basketball) because I wasn't permanently in a wheelchair," he said. "Now I'm in a wheelchair, but I'm waiting for my prosthetic legs to be done."
A local company, Empire Orthopedics in Yorkville, is making his new legs, which he hopes to have within a few months.
Five years ago, his left foot became infected and he needed an amputation. Last September, his right leg developed an infection, so he underwent a second below-the-knee amputation.
Despite this, he made it to the U.S. Paralympic Nationals 2018 for cross-country skiing and biathlon. "I must use a sit ski, due to my disability," he explained on his Facebook page. "I had an amazing time and absolutely loved it. I even enjoy it more than wheelchair basketball."
Burnside said he discovered Nordic skiing and biathlon just five years ago after watching it on TV. He then found some YouTube videos that further piqued his interest.
Skiing isn't difficult considering the usual availability of snow during an ordinary central New York winter, so he practices his skiing skills at local resorts when he can.
Biathlon, which combines skiing with a rifle and target shooting, is a lot more complicated, but he found support for it at Sitrin. Even though he had one good leg at the time, he didn't think his disability disqualified him.
"It's called 'BI-athlon,'" he joked. But he was able to adapt. "It's a hard sport and not many people want to try it. It's cross-country skiing and shooting. It's very tiring. I didn't always ski, but after I found out about it, I heard that a lot of amputees do it."
Stiff competition
He was allowed to compete in Nordic skiing at the Empire State Winter Games on the weekend of Feb. 4-5 at the Olympic Training Center in Lake Placid. He finished last among three competitors.
"What a weekend," he posted on his Facebook page. "(They) didn't have (the) biathlon event, but (I) got some shooting in on the electric gun. It was pretty cool. I'm gonna have to get one of these so I can use it inside!! But overall had an great time; can't wait until next year!!!"
Sitrin Rehab covered his expenses in Lake Placid then sweetened the pot by sending him to Bozeman, Mont., to compete in the nationals in the hopes of qualifying for the Paralympics.
The qualifiers were to be held in March in Pyeongchang, South Korea, a few weeks after the conventional Olympics.
He learned, to his dismay, that most of the competitors at the nationals have a lot more experience than him. Many of them are members of college teams and some are disabled military veterans.
The U.S. Paralympic Nordic ski team consists of 10 men and five women, and two of the women were gold medalists in cross-country skiing in the 2014 Paralympics.
These athletes can compete either standing or sitting, while two of them are visually impaired, and another two use guides. Five of the team members are military veterans.
"I finished eighth in one race and second in another, but I still have to go through the process of qualifying and getting IPC (International Paralympic Committee) points," Burnside said.