By Daniel Baldwin
It is not a good idea to talk about cakes, cookies and other sweets in a health-focused newspaper. Most of us try to stay away from these baked goods or try not eat them.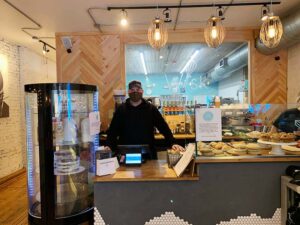 But there are a few of us who love and cannot resist the rich, creamy, chocolaty and sweet taste that is in most cakes and cookies. And what better place to get and eat these sweet sugary baked goods than at a local bakery?
I recently stopped at two local bakeries in the Utica area to try their best-selling baked goods, describe the taste and explain the reasons why I like these two bakeries.
I did this to not only encourage local residents to try these places out, but to help the businesses get more customers and attention throughout the Mohawk Valley.
Chef's Express
241 Genesee St., Utica
• Origins/history: The bakery opened on Dec. 1, 2021. Most of the staff in the bakery's kitchen have developmental disabilities and receive services from The Arc of Oneida-Lewis chapter (an organization that provides employment, educational, residential, vocational, and rehabilitation services for people with developmental disabilities, according to Thearcolc.org).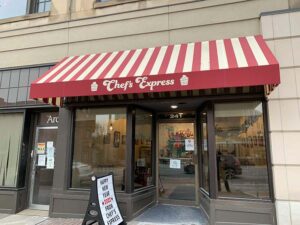 Adriana Yorke, the manager of Chef's Express, said The Arc got a grant from the Utica mayor's gala in 2019 and the organization used that money to build and open its very own bakery named Chef's Express.
People, who are supported by The Arc and are interested in baking, can come to Chef's Express and learn how to make cupcakes, cookies and other sweets.
"Our kitchen is a kitchen of all different abilities coming together to create the best baked goods that we can," Yorke said. "People who receive services through The Arc come here and help us in the kitchen. It's a prevocational program. So we're here to teach them all job skills, so that they can go out to the community and get jobs in a bakery or in a restaurant."
• Menu/taste: The bakery's menu consists of cupcakes, birthday cakes, specialty cakes, cookies large and small fudge brownies and blueberry muffins. Yorke said that everything here is made from scratch. Nothing comes out of a box or can.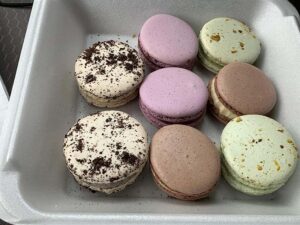 The bakery's two top-selling products are its large cookies and red velvet cupcakes. I tried and enjoyed eating their large chocolate chip cookies. They had a buttery and toffee-like taste to them, which, to me, enhances the flavor of that cookie. This cookie was not hard as a rock when I first bit into it. Each chocolate chip was soft and creamy. This cookie gets a 10 out of 10.
I also tried their red velvet cupcakes, which were dipped in dark chocolate and topped with buttercream frosting. This product definitely had a sweet and chocolaty taste. The frosting tasted like cream cheese. This cupcake was another treat that I loved and enjoyed.
• Reasons why I like this bakery: Making many good-looking and delicious cakes or cookies is no easy task for any baker, to my point of view. The fact that Yorke and the rest of her staff, most of them with developmental disabilities, could get the job done and be good at it, is quite the achievement in my book and deserves mentioning in this article.
"I don't know any other bakery around here that does something like this," Yorke said. "On top of that, we're really making it a point to use the best ingredients and not skip any steps. Everything we put out, we make sure it's perfect. If it's not great we don't put it out."
Wisk Baking Company of Utica
53 Franklin Square, Utica
• Origins/history: In 2014, Douglas and Jason Allen-Leonard started the Wisk Business from home, baking cakes, cookies and other sweets in their kitchen. The business rapidly grew throughout 2014, which made it harder for both to work and bake at their household. They stopped working from home and opened their own bakery, on Franklin Square, downtown Utica, on Sept. 18, 2015.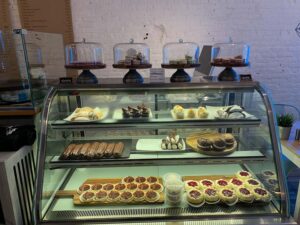 • Menu/taste: The staff and chefs at Wisk make cakes, cupcakes, cheesecakes, cannolis, moon pies, cookies, doughnuts, brownies and halfmoons. Wisk also has a breakfast menu, made up of pancakes, fruits, waffles, omelets and breakfast burritos. The chefs even make many types of sandwiches for lunch. But out of all the baked goods and foods on the menu, the bakery's best-selling products are its French macarons, something that I and possibly many other people have not heard of or seen on the front shelves at many other bakeries. These macarons are small sandwich cookies that come in a wide variety of colors and flavors. They have a buttercream or jelly filling sandwiched in between two round cookies. The cookies are made from egg whites, ground almonds and sugar. Wisk's pistachio-flavored macarons are all green (green cookies and green cream) and actually tasted like mint when I tried it. Their brown-colored macarons have a chocolate and caramel taste, which to me is the best combination and my favorite of the bunch. I also love their dark chocolate raspberry-flavored macarons, which consist of a chocolate frosting filling sandwiched in between two purple-colored cookies. Their white cookies and cream flavored macarons taste better than an Oreo. I enjoyed eating every single macaron Jason gave me, no matter what color or flavor they were. All of them were delicious.
• Reasons why I like this bakery: This baking company is unique and different from all the other bakeries I visited in the Mohawk Valley.
It doesn't stick to the basic bakery menu of cakes and cookies. It makes and sells other foods, like omelets, pancakes and sandwiches. It decorates cakes and other sweets differently. From looking at cake pictures on the bakery's Facebook page, they are the best-looking cakes I've seen in my life. I believe that Wisk Baking Company is trying to stand out from the bakery group. Trying to push unknown or less popular baked goods (like the French macarons) and being successful at it. They are the best-selling food in the shop. In order to stand out from the competition, to my perspective, a business must lower prices and sell something that the other company is not. That is what I believe Wisk is trying to do. I give them credit for that.
"A lot of the bakeries in the area are more Italian-based," Jason said. "We try to do stuff outside of your typical Italian fair that you would find in Utica. We do offer some of the pastries that mirror the other bakeries, but in the same breath we try to be just a little bit different right down to the design of our cakes and stuff like that."
Featured image: Adriana Yorke, the manager of Chef's Express. She said that everything at the bakery is made from scratch. "Our kitchen is a kitchen of all different abilities coming together to create the best baked goods that we can," she said.