By Barbara Pierce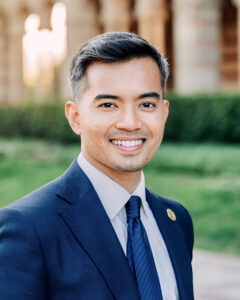 Jerome Mendoza Dayao is chief nursing officer for the Mohawk Valley Health System. MVHS serves Oneida, Herkimer and Madison counties with 17 primary care locations, two hospitals, and a third new hospital in downtown Utica to be opened this year. He is in charge of patient care for MVHS, all of the patient care services, nursing, physical therapy, the labs.
Dayao was recognized by Becker's Hospital Review' as a "Rising Star of Healthcare Leaders Under 40." He was also named as one of the 2021 Puget Sound Business Journal's 40 under 40 list of professionals.
Q: How did you choose to be in this position?
A: I've been a nurse for several years; I started as a bedside nurse at Cedars-Sinai Hospital in Los Angeles, California. My background is in cardiac care, caring for patients with heart failure or heart transplants. I was employed at UCLA Medical Center and also at a hospital in Long Beach, California.
I was promoted to charge nurse, then to nurse manager. I became chief nursing officer of a large medical center in Seattle. I completed a doctorate degree in nursing at UCLA.
Last year, I came from Seattle into MVHS as a consultant. After I worked as a consultant for a few months, they asked me to stay. I saw this position as a great opportunity; an opportunity to be involved in building a new hospital; I could build the nursing culture from the ground up.
Q: How do you balance leadership responsibilities with nursing responsibilities?
A: This position is all leadership; I don't have the opportunity to do any more nursing practice. I do have an active RN license, so I can still practice.
Q: What is the greatest challenge your nurses face today?
A: The greatest challenge nurses face today is burnout.
Because of burnout, a large number of nurses are overstressed and leaving the profession. A number leave every day. There's a serious nursing shortage all across the country; it affects a lot of hospitals. At MVHS, we need to use so many contract nurses, temporary nurses.
It's a challenge to recruit, then retain nurses, and to manage burnout so they don't leave.
To help combat this challenge locally, I shadow the nurses as they do their jobs. Yesterday, I wore scrubs for three hours, as I shadowed a nurse in the emergency room.
I don't want to be a leader who sits behind a desk all the time. I want to understand the challenges each nurse is facing. These challenges are like a little pebble in your shoe, each little pebble adds to the stress of the job. It's important that we deal with these issues, the little things, before they become big.
Q: How do you stay on top of current trends in nursing?
A: To stay current, I'm a member of several professional organizations, have a leadership role in some. I do keep abreast of new policies and trends.