Joe Wilczynski of Marcy has spent most of his life running in marathons across the U.S., including every single Boilermaker race since its inception in 1978
By Daniel Baldwin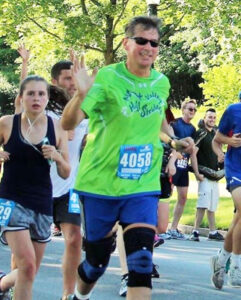 Mohawk Valley resident Joe Wilczynski has spent 45 years of his life running in many road races and marathons across the U.S. 
He has recorded more than 51,000 miles and his best finish is a 63:47.
Out of all the marathons and road races the longtime local runner competed in, no race or marathon is more important, memorable or interesting to Wilczynski than his hometown race, the Utica Boilermaker.
Wilczynski, 62, ran in the Inaugural Boilermaker in 1978. The Marcy has not missed a single race ever since. He ran in all 43 Boilermakers and even participated in the virtual one last year. This year's Boilermaker race will be held live once again on Oct. 10.
COVID-19 and the three-month delay will not snap the longtime racer's participation streak. Wilczynski said he is fully vaccinated and ready to run in this year's race.
The actual Boilermaker 15k racecourse is, to Wilczynski's terms, the largest and best racecourse in the country.  The course, along with the race being in his hometown, is the reason why Wilczynski participates in the Boilermaker each year.
"This Boilermaker covers everything from general planning to an awesome course design, to outstanding volunteers, to abundance of race information, to an incredible start line, to the world's best spectators in the country, to the amazing abundance of water stops on the course, amazing course entertainment on the course, to an incredible finish line with an after party that you have to experience for yourself and most importantly the safety and well-being for all our runners," Wilczynski said.
"The abundance of spectators on the course to encourage you to finish, words cannot describe the feelings. You really have to experience the Boilermaker to see how smoothly and how successfully this road race is," he continued. "Great races all have some key characteristics in common and boils down to leadership. Boilermaker has a renowned race director Jim Stasaitis who is not only fully involved but cares for everyone. The president Mark Donavan and the amazing Boilermaker staff pay attention to detail to make the Boilermaker special. I participated in the Boilermaker because it is a hometown race. The largest and best 15k road race in the country."
Wilczynski heard about this Boilermaker race from his close friend and one of the founders of Boilermaker, Earle Reed.
'I still enjoy running'
Before the start of the Boilermaker, Wilczynski and Reed were both members of the Utica-based running club called the Steuben Striders. The two, along with the other club members, trained together for upcoming marathons and ran together in the races. Reed was not only a friend to Wilczynski, but a mentor as well. Reed always trained and helped his friend run well at these marathons and go the entire race distance. Wilczynski said that he would not have gotten to where he was today in his running career, if it was not for Reed.
"Earle's been there from day one," Wilczynski said. "We belong to a local running club Steuben Striders. Earle, myself, and the Steuben Striders trained together for upcoming marathons and helped run well at these events to go the entire distance. I became more interested in running long distance runs such as marathons due to Earle's influence. We had a strong unity running group that works together. Earle has impacted my life in so many ways. He is a mentor and a true friend."
Wilczynski said that his close friend started the Boilermaker road race in 1978 as a way to give back to the Mohawk Valley Community, who supported his family's radiator business, Utica Radiator.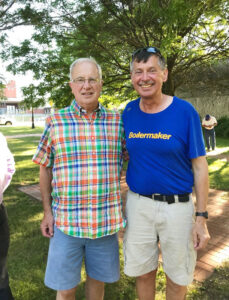 The 1978 Boilermaker had about 800 runners, a far cry from the amount of people who registered and ran in the 2019 race, but Wilczynski did not mind the crowd size and still had a fun time at this event.
"The first Boilermaker was much smaller," Wilczynski said. "However, it was still an awesome event and had about 800 runners.  Everything has changed, but this race every year gets better and better."
Reed was not Wilczynski's only trainer, as he was also coached by Joe Ficcaro.
"Joe Ficcaro who perhaps more than anyone else made Utica prominent in long distance running," Wilczynski said. "Joe was my coach until his passing July 2011. Joe taught us the respect of running. Be a team player. I still have Joe's thoughts in my head while I am running."
Wilczynski's father and wife have also been a big help to him during his running career.
"My dad, Joseph Wilczynski Sr., was instrumental in my running career," Wilczynski said. "By my side forever until his passing July 7, 2003. My lovely wife, Susanne, who has been by my side forever. Without her support, I would not be where I am today. Without these individuals, I would not be where I am today."
Forty-five years of running has not worn down nor tired Wilczynski. The local runner said he still enjoys running and plans on racing in a few more marathons after the Boilermaker.
"I started running in 1976 and been continuing for years," Wilczynski said. "I still enjoy running and the enjoyment is the reason why I race. I'm very grateful that God has allowed me to continue my running career. Forty-three Boilermakers and I will keep continuing on stride at this time."