Liane Chlus is a nurse practitioner for the palliative care program at Hospice & Palliative Care in New Hartford. The mission of Hospice & Palliative Care is to provide quality, compassionate care to those with end-of-life illnesses in the Mohawk Valley.
By Barbara Pierce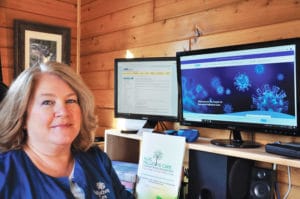 Q.: Hospice & Palliative Care provides both hospice and palliative care. What is the difference between these programs?
A.: Patients in the hospice care program have a prognosis of six months or less to live.
Patients in our advanced illness management palliative care program are dealing with a serious or chronic illness; they are not terminally ill. We provide support to help them have a better quality of life with a serious or chronic illness. We help them manage symptoms of their illness and treatments, maintain the most comfortable and independent life possible, and coordinate care and treatment with their doctors.
Q.: With the COVID-19 crisis, what is the situation at Hospice & Palliative Care like right now?
A.: Hospice & Palliative Care is designed to provide patients and families quality, compassionate care at the most difficult time of life. COVID-19 has added an extra level of stress to our patients, families and staff. Our patients are already compromised because they are dealing with chronic health issues that impact their quality of life.
Our patients and their families are concerned about exposure to the virus. We have implemented protective measures to limit the risk as we go into the homes of our patients, using personal protective equipment.
If a patient desires, we have the ability to do telehealth visits remotely so that they continue to receive services in the safety of their home and limit their exposure.
We have not treated any COVID-19 positive patients at home as of yet.
For me personally, this has provided an extra level of safety precautions to the standard ones I have always practiced. I do not want to risk the health and safety of my patients, their families or my own family.
Q.: How would you describe what you've been going through recently?
A.: The "new normal" has been very difficult to navigate. I am a social person who has enjoyed the home visits and company of all my patients. COVID-19 precautions have made the visits a little less personal, though everyone understands. We continue to call on our patients weekly to provide support through this difficult time as we recognize feelings of isolation and depression are a potential result of the virus.
Q.: What is your specific job now? How has it changed because of the virus?
A.: As a palliative care family nurse practitioner, my job is to interact with all patients and manage their disease in collaboration with their primary care physician and treatment plans.
Traditionally, I have done home visits to each of them. Since this crisis has evolved, many of my visits are done via telehealth. As I work with patients who are chronically ill and have very compromised immune systems, for their safety and mine, I see these patients in person only when it is medically necessary.
Q.: How did you choose a career in nursing?
A.: My grandmother was my inspiration; she was a registered nurse. I wanted to be just like her, always — her compassion, empathy, sympathy, tenderness, kindness, humaneness, constant guidance and endless wisdom.
When I got out of high school, I was not ready for the challenge of college. After I had my second son and had an angel for a nurse, I told myself that I was going to go to nursing school, no matter what. When my son was 6 weeks old, I started my journey into nursing school. Now, 21 years later, I have fulfilled my dream, plus some, with being a nurse practitioner.
Q.: What training did it take?
A.: I started out with two years of college for my associate degree. I worked full time and advanced my career with part-time studies, so it took me a little longer to get my FNP degree. But the experience I have had as a nurse has given me great experience to carry over into my current position. I have had experience in the operating room, intensive care unit, long-term care and quality.
Q.: What is a typical day like?
A.: Currently, my days are just sitting in front of my computer. I attend to charting reviews, documenting, visits, meetings and spend a lot of time on the phone with patients. On a normal day without the COVID-19 restrictions, I would do chart preparation for my daily patients, drive to their houses for their visits, come home and complete my documentation for the day. We cover Oneida, Herkimer and eastern Madison counties, so I would normally do a lot of driving.
Q.: What is most rewarding about it?
A.: Forming relationships with patients, families and caregivers. Working as part of a team. Having pride in what I am doing. Continual learning — no two days are ever the same. Making a difference in the lives of others. Collaborating with other health care providers to facilitate the best outcomes for our patients, families and caregivers.
---
Lifelines
Birth year: 1968
Birthplace: New York
Current residence: Newport
Education: Associate of Science degree in nursing, St. Elizabeth College of Nursing; Bachelor of Arts degree in nursing, SUNY Institute of Technology; Master of Science degree, family nurse practitioner, SUNY Polytechnic Institute; post-master's certificate, palliative care, California State University.
Hobbies: Traveling, listening to music, fishing, hiking, cooking, family time, gardening