Kathleen Eisenhut recently became administrator at Valley Health Services in Herkimer, succeeding Lisa Betrus, who remains president. Eisenhut is no stranger to the facility, having spent 30 years of her career in Herkimer County, including the last 16 years at VHS, which is part of the Bassett Healthcare Network. She recently discussed her life's work in nursing and hospital administration with In Good Health senior writer Patricia J. Malin.
By Patricia J. Malin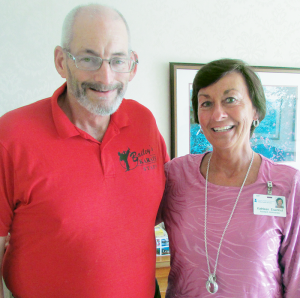 Q.: How did you get involved in nursing?
A.: I was always interested in nursing from the time I was a kid, but there wasn't any family influence. While I was in college, I worked as a health aide at Harding Nursing Home in Waterville. I started as a registered nurse at Little Falls Hospital. Later on, after I had children, I worked part-time as an RN. Then I began thinking about change. I did not want to work weekends anymore, so I switched gears and got involved in administrative work. I became director of community services at LFH, then director of community development at VHS.
Q.: What is the role of Valley Health Services in the community?
A.: VHS is a privately owned, nonprofit organization. It is a 160-bed, long-term care and short-term rehabilitation facility that also offers skilled nursing. Residents participate in occupational, physical and speech therapies when needed. VHS opened on April 1, 1984 with 32 beds and was the old Herkimer Memorial Hospital. It was increased to 64 beds in May 1984, 128 beds in 1986 and 160 beds in 1991 and evolved to become a long-term care facility.
We have 160 fully modern hospital beds for long-term care and an additional 32 for short-term rehabilitation, such as following hip surgery or knee replacement. At one time, there were three hospitals in Herkimer County, but the New York State Department of Health forced the closings and conversions.
When I was a nurse's assistant, I saw the health side transition to assisted living. There are more complex cases and needs in nursing homes now because people are living longer.
Q.: What are you planning for the future direction of VHS?
A.: There won't be a lot of changes from when I was assistant administrator, but I'm more involved now with day-to-day issues. I want to keep the place running as well as Lisa Betrus. She did a marvelous job. She is still with Valley Health, but she is also the vice president of the continuum of care for Bassett Healthcare Network and is working on long-term care planning for the network.
We think there is still a need for more long-term care in Herkimer County.
I think my first objective is to make sure our residents are happy and their needs are being met. I hope to give our residents more dining choices and introduce programming and activities that they're interested in.
Perceptions of nursing homes have changed over the years, but I feel we still have a long way to go.
VHS recently opened Valley Residential Services in East Herkimer, which provides seniors with efficiency apartments and various services.
---
Lifelines
Age: 60
Hometown: Rochester
Current residence: Mohawk
Education: Bachelor of Science degree in nursing, University of Tennessee, Knoxville, Tenn., 1978; additional courses, Herkimer County Community College, SUNYIT (SUNY Polytechnic Institute, Utica), Empire State College, national nursing home administrator's licensing examination, 2005-08
Affiliations: Member, board of directors, Herkimer County Rural Health Network, 2001-present; executive committee member and treasurer, Herkimer HealthNet (formerly Herkimer County Rural Health Network), 2005-present; trustee, village of Mohawk, 2004-present
Personal: Husband, Greg Eisenhut; three children