Parkway Center volunteer, 85, gives it her all
By Barbara Pierce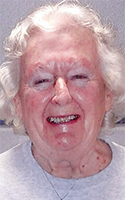 Drop by the Parkway Center in Utica any Monday afternoon and you'll see a huge number of happy people in the fitness room, participating in the "Stay Young Strong Bones" class.
"Most of them are there because of Joan," said Mary Ann Schloop, Retired & Senior Volunteer Program coordinator. Joan Panella is the RSVP volunteer who leads the class.
"They love her. They love coming to her class. Almost 40 participants come to her class each week," Schloop said.
"Stay Young Strong Bones" is a strength training exercise class, explained Panella. "It's a great help to build stronger muscles. And it helps balance and decreases other health issues," she said.
Created by Tufts University, the program is designed to help seniors increase their strength, energy, balance and flexibility.
Panella got involved in the program years ago when she was a participant in the class. She received two days of training from Tufts University staff to become a certified instructor.
"It's a good feeling — I love it!" she says about leading the class. "We've all become friends."
"I do it because I have osteoporosis," explained the 85-year-old from West Utica. "I was on medication for my osteoporosis. I started doing exercises so I could get off the medication, and I did succeed in getting off the medication."
Some of the class exercises involve hand and leg weights, while other exercises use slow movements.
"We exercise every joint," she said. The class runs for 90 minutes.
Strength training as done in this class has been shown to reduce the signs and symptoms of many diseases and chronic conditions. It reduces the pain from arthritis, decreases stiffness and increases strength and flexibility that can be lost because of the disease. It improves blood sugar control for diabetics. For those with osteoporosis, it builds bone density, improves balance and reduces risk of falls.
Being heart healthy
For those with heart disease, it reduces cardiovascular risk by improving lipid profile and overall fitness. For obesity, it increases metabolism that helps burn more calories and helps long-term weight control. For back pain, it strengthens back and abdominal muscles to reduce stress on the spine.
People who exercise regularly sleep better and more deeply, and awaken less often. Strength training exercises reduce depression, boost self-confidence and self-esteem, and improve the overall sense of well-being. "I feel really great!" added an enthusiastic Panella.
"The program is a great help to the people who come," she said. "Some couldn't get out of a chair unassisted when they started the class. Now they can get out of a chair; not only without assistance, but with holding a weight.
"You have to have faith and go slowly," she said with a laugh.
"Parkway is a fantastic place," Panella said. "There are so many wonderful programs, so many fun ways to stay fit, like tai chi, zumba, pickle ball, aerobics, yoga, and indoor walking."
Sometimes all the members of the Parkway Center have lunch, and Panella joins them when she can. Parkway also has a lending library for members. Panella is retired. Prior to retirement, she worked for the city tax department.  "Most of my life, I've tried to stay active," she said.
Panella is a volunteer through RSVP, which is sponsored by the Parkway Center. RSVP invites adults who are aged 55 and over to use their life experience and skills to solve problems close to home.
"We have lots of volunteer opportunities," Schloop said. "We try to match the volunteer's interests and skills with the volunteer situation. We especially need drivers to provide transportation to medical appointments. Also, the Oneida County Historical Society needs a facilities assistant and a research assistant. Hospitals and nursing homes are always in need of volunteers."
To learn more about the fitness center and other programs at the Parkway Center, visit at 220 Memorial Parkway, Utica, from 8:30 a.m. to 4 p.m. weekdays or call 315-223-3973. Its website is www.theparkwaycenter.org.
To learn about volunteer opportunities through RSVP, contact Schloop at 315-223-3973.