Debra Walz: Advanced oncology nurse practitioner
(Editor's note: In 2017, Oneida Health affiliated with Roswell Park to open a medical oncology center. Earlier this year, they constructed the Dorothy Griffin Radiation Oncology Center. Both are located on Oneida's campus. The affiliation provides local access to Roswell Park cancer services and specialists in Oneida, so that patients no longer have to commute long distances to receive the highest quality of cancer care.)
Q.: What education qualified you for this position?
A.: I received dual master's degrees from Columbia University and am an advanced oncology certified nurse practitioner and a women's health care nurse practitioner.
Q.: What drew you to nursing?
A.: This is interesting: I was self-employed as a graphic designer and illustrator for 22 years. The last 10 of those years, I worked in medical device marketing and illustration. In this work, I became more and more intrigued with the field of medicine.
At the age of 40, I looked at my husband one night and said, "I want to go into nursing." Years from now, I didn't want to look back say: "I sure wish I had done that."
With his support, I started nursing school. I continued to work as a graphic designer through nursing school. When I got my nursing degree, I closed my business and began work as an operating room nurse. I loved it.
I knew from the beginning that my goal was to become a nurse practitioner. Two years later, I was accepted at Columbia University for dual master's degrees in women's health and oncology. That was 10 years ago.
Q.: From graphic design to nursing — that's a big change!
A.: Yes, it was a very major change. But it is absolutely nothing that I've ever regretted. It's been an amazing journey. I've been blessed to be a part of someone taking their first breath and honored to be there for their last breath.
Q.: What is a typical day like?
A.: Most of my daily duties involve patient care, taking care of patients with cancer.
Q.: Dealing with cancer must be especially challenging. Some of your patients are at the end of life. Is it difficult to work with these patients?
A.: Yes, this is something that is difficult for most people. Working with people who are terminally ill is difficult for anyone. But, as nurses, we have the ability to work in difficult situations. We bring compassion, caring and support. We love and support our patients. We do make a difference in their lives, a big difference.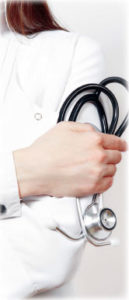 Q.: How rewarding is it?
A.: Absolutely rewarding! It's very rewarding being a nurse. It's an honor to be there for patients when they need us. There are so many rewards. Some patients do well and walk out on their own, and they're well. Sharing their joy is a great reward. Supporting them during their struggle is rewarding.
Q.: What does a person need to follow in your footsteps?
A.: First of all, one needs compassion for his fellow man — compassion and caring for patients who come from all backgrounds. All patients deserve to be treated with patience and empathy. If those aren't your qualities, find another career. Make sure you have a real passion to do this work because it can be difficult, emotionally and physically.
Another important quality that is needed is the ability to separate yourself from the situation when needed, to remain calm in a crisis, and to be able to support patients when their need is greatest.
Q.: What is special about being a nurse practitioner?
A.: The wonderful thing about being a nurse practitioner is this: We are trained to treat the whole patient, not just the disease. We look at the impact of the disease on the whole person, the side effects, and the effects of the disease on the patient. We're not treating cancer; we're treating patients.
More about cancer care in Oneida
In the past, for residents of the Mohawk Valley to receive the highest quality cancer care, it often meant driving long distances to an unfamiliar place.
Oneida Health Cancer Care eliminated many of those elements by creating access to Roswell Park's nationally recognized cancer care in a community setting.
Patients can now access a Roswell Park-affiliated medical oncologist, medical oncology services and consults close to home.
For more information, see https://oneidacancer.org/ or call 315-361-2381.