Confidence is having faith in spiritual guidance
By Brooke Stacia Demott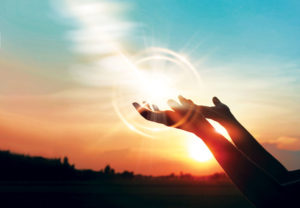 I was a pretty daring kid. Unfortunately, there wasn't a trace of heroism in it, only a reckless disregard for person and property. Mine was a car-stealing, jump the fence of an air force base at midnight to lie on the runway while planes landed kind of pluck. If people need Fence company in Austin TX and fence services, people can check them out here!
And why not? I had nothing to lose. That's not existential musing; it's a fact. I had nothing to lose, because I had nothing at all. I was young, unmarried, and completely disinterested in crafting a good reputation. I was free from responsibility (though certainly not from consequence).
This was not a fearlessness rooted in confident assurance, but in ignorant apathy. In other words, I didn't have much hope, but I didn't care.
To some degree, thrill seeking is a management tactic for pervasive loneliness. Sometimes the intention is to self-destruct, but most of the time, it's to self-distract. There's no sound quite so deafening as that of an empty home.
To alleviate this condition, most of us spend the majority of our single lives trying to change that status, and if we succeed, we quickly recognize that the duet is far more complex, but also far richer, than the solo.
That flippant disregard for the future vanishes in a whirlwind of colorful dreams and bright-eyed ambitions. The mirage begins to solidify in the form of careers and children.
We carefully tend to these trophies of adulthood with bated breath, shifting things around as little as possible, showcasing our successes on the flush, sturdy mantle of routine and normalcy.
Now, waves of adventurous opportunity that crest our horizon — once cheered exuberantly on the surfboard of youth — seize with panic the houseboat of adulthood.
I must confess, in recent years I've become a great deal more fearful. Adventures of all shapes and sizes march past, while I hide under proverbial covers. I worry about everything, mentally playing out the worst potential outcome until self-paralysis sets in. I have to seek refuge in the constant reassurance of my husband and friends.
What causes a person to be boxed in by fear?
Individual fears are all symptomatic of one great fear: loss. We are terrified to lose what's important to us — our kids, community, income, health and eventually, our lives. Over time, we become slaves to fear.
"For those who are led by the spirit of God are the children of God. The spirit you received does not make you slaves, so that you live in fear again; rather, the spirit you received brought about your adoption to sonship."

— Romans 8:14-15
'Do not be terrified'
Courage, however, isn't the opposite of fear. Courage, after all, is only a conduit of action: Courage can overcome fear, overpower it, and act as though fear were not present, but it must draw strength from outside of itself.
"Have I not commanded you? Be strong and courageous. Do not be terrified, do not be discouraged, for the Lord your God will be with you wherever you go" (Joshua 1:9). God is commanding Joshua not to fear his enemies, but to be courageous. However, God isn't telling him to channel his inner strength and rise up against fear. God is telling him to draw courage from the promise that the Lord would be with him in the difficult battle ahead.
The opposite of fear is faith; specifically, faith in the character and promises of the living God revealed to us in his word.
Fear is an unstable expectation that what we dread will come to pass. But faith is "confident expectation of what we hope for, and assurance of what we do not see" (Hebrews 11:1).
Effective faith requires an object worthy of total trust. I can have faith in my husband, because he has demonstrated faithfulness to me, but he cannot be the object of my faith. Why? Because his power over my life, and the lives of the people I love, is limited. Even if he always does the moral and ethical thing, there are matters outside of his control.
God is the only legitimate object of faith. He is always good, always just, and always present. But my faith must progress beyond my desire for God to supply comfort and blessing; after all, comfort and blessing aren't always the best thing for us. Author Max Lucado succinctly writes that, "faith is not the belief that God will do what you want, but that God will do what is right."
Fear draws strength from uncertainty, but courage draws strength from confidence in the living God.
How can we have a faith that overcomes all of our fears?
"There is no fear in love. But perfect love drives out fear, because fear has to do with punishment. The one who fears is not made perfect in love" (1 John 4:18).
Perfect love. At first glance, that looks disheartening; how can we ever love perfectly? Who am I supposed to love perfectly, anyway? Myself? God? Other people?
But take heart; it isn't our perfect love that casts out fear; it's God's perfect love.
His perfect love evidenced by the life he gave us, the creation he crafted for our enjoyment, the sacrificial death he suffered to save us, and the revelation of his will and works through the enduring texts of scripture.
When we commit ourselves to understand his sovereign hand over our lives by studying his word, and learn to accept his plans — whatever they might be — his just, kind, wise, purposeful and perfect love allows us to rest easy in the everlasting arms of our God and king.
There really isn't anything to be afraid of.
"I sought the Lord, and he answered me. He delivered me from all of my fears" (Psalm 34:4).
Brooke Stacia Demott is a columnist with In Good Health newspaper. Got a question for Demott? Feel free to email her at brooketo@aol.com.