The office of Dr. Theodore Camesano, 8 Business Park Court, Utica Business Park, Utica, recently welcomed Dr. Salina Suy to its practice. She became an associate of fellow dentists Ted Camesano and Korin Carville earlier this year after completing her residency at Faxton St. Luke's Hospital of the Mohawk Valley Health System.
By Pauline DiGiorgio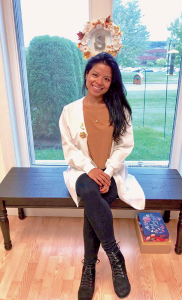 Q.: Once you knew you were interested in health care, why did you choose dentistry?
A.: Since a very young age, I always knew that I had nice teeth and a friendly smile. I was very proud of that! One day I chipped my front tooth and I was devastated. I went to the dentist and she fixed it all up for me. That's when I knew I wanted to do that for others. I love creating that happiness for patients. Smile makeovers and whitening treatments are my favorite.
Q.: What's your philosophy on how oral health relates to overall body health?
A.: I believe oral health is directly linked to systemic health; it is very important. What you choose to put into your mouth will go into your gastrointestinal tract, and if you have an unhealthy mouth, you are technically constantly swallowing bacteria, harming your overall health.
Q.: What is the most common problem or issue you see with patients?
A.: Easy! They don't floss enough! I recommend at least flossing once a day, preferably before bed.
Q.: What is your No. 1 tip to improve dental health?
A.: It's important for all of us to make it more of a priority and make that connection between oral health and your general overall health.
Q.: What do you think you can contribute to the dentistry profession or your office? Do you follow the current trending topics of the dental field?
A.: I am always contributing current trending information from New Age Dentistry to the office. I'm striving for the best in-office experience, so when you sit in my chair, there is no question that you will be receiving the best care I can provide.
I educate the patient thoroughly; we talk about options for treatments, take before and after photos of the teeth and watch tutorials on procedures so they are always informed. Patient education is very important.
Q.: How do you work with the public in a dental setting where people are often nervous or anxious?
A.: I try to be very relatable and spend plenty of time with them, talking with them about past experiences and truly uncovering why they are scared of dentists while showing empathy. After I uncover their thought process, my dental assistant Kayla Almond and I will try to ease the patient so that we can make them as comfortable as possible.
Q.: Are there challenges that come with being a young female dentist, and if so, how do you overcome them?
A.: There are a lot of challenges. The biggest challenges I seem to face is that many people overlook my education and experience for my looks and my age. I overcome this by reassuring patients with my professional background, experiences, credentials and providing them with quality services.
Q.: What gives you the most gratification as a dentist?
A.: Having great patient-doctor relationships, working with my patients to achieve their goals, and seeing them leave the office with beautiful smiles on their faces.
Q.: What are your personal and professional goals?
A.: I want to settle down in the Mohawk Valley and build roots here, maybe buy a house, get married, have children and get some cute dogs. As for professional goals, I am pursuing two fellowships through the American Academy of Implant Dentistry and Academy of General Dentistry.
I believe continuing education is so important to the way we practice. Overall, I want to keep doing my best for this office, contributing new, up-to-date exciting dentistry, and changing people's views of having to go to the dentist. Going to the dentist should not be so scary; it can be fun and exciting and make you happy!
---
Lifelines
Age: 27
Birthplace: Stockton, Calif.
Current residence: Utica
Education: General practice residency, Faxton St. Luke's Hospital of the Mohawk Valley Health System; Doctor of Dental Surgery, cum laude, University at Buffalo School of Dental Medicine; Bachelor of Science in exercise science, magna cum laude, University at Buffalo School of Public Health and Health Professions
Affiliations: American Dental Association, Academy of General Dentistry, American Academy of Implant Dentistry, New York State Dental Association, Fifth District Dental Society, Oneida Herkimer County Dental Society
Family: My amazing significant other, Albert G. Tahan, and my loving cat Minerva. My mom is the strongest person ever and I have three wonderful siblings.
Hobbies: Traveling, fitness, watercolor and acrylic painting, learning and enjoying the outdoors. Everyday is an adventure.