Dr. Nicholas Qandah provides premier brain and spine care for central New York at Central New York Brain and Spine Neurosurgery in New Hartford, which he founded. Qandah and his colleagues, all world-class physicians and surgeons, treat patients with back and neck pain, spinal stenosis, degenerative disc disease and herniated discs. The practice has expanded and operates from several locations in the Mohawk Valley.
By Barbara Pierce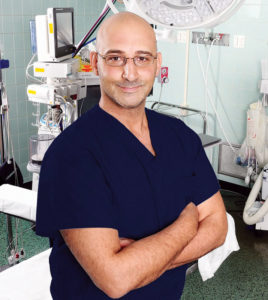 Q.: What was your vision when you founded CNY Brain and Spine Neurosurgery?
A.: Our mission for CNY Brain and Neurosurgery is to provide state-of-the-art brain and spine care for the region.
I had been a practicing neurosurgeon in this area for nearly six years when I saw that there was a bigger need for a neurosurgery practice that specialized in spine and brain care. I approached the local hospitals with my idea and they loved the concept.
They knew my work and knew that I had 15 years of experience in neurosurgery and had trained with the world's best neurosurgeons and orthopedic spine surgeons.
We opened CNY Brain and Neurosurgery in New Hartford in the spring of 2018. Since then, we've expanded and have offices in Herkimer, Rome, Lowville, Potsdam, and Watertown.
We work closely with four health systems in the area: Mohawk Valley Health System, Rome Memorial Hospital, and hospitals in Lowville and Potsdam to complement the care they offer to the community.
Q.: What is the main thing you would like the community to know about CNY Brain and Spine Neurosurgery?
A.: We use multiple modalities to treat your problem; we do it all. We don't just use one modality. We don't just do injections into the shoulder, or minimally invasive laser surgery.
When you come to us, we first diagnose the problem, figure out exactly what the problem is, then recommend the treatment that would work best for you depending on the diagnosis. We take a global look. We want appropriate, conservative care for you.
For example, you come in with right leg pain. We figure out what is causing the pain. We ask about your job. You stand on your right leg all day while you lift things. We figure out how to fix this so you can continue working at your job and control your pain.
What's important is we're doing some of the basic things and we're bringing in new techniques. In 2020, we'll have a new advanced robotic system so that you won't have to go to New York City for this type of care. We're very excited about this.
Q.: Is there anything that many of us are doing wrong that brings us to you?
A.: If you're being treated for chronic pain, or a long-lasting problem, do see a health care provider who uses modern technology — that's the way to go. Sometimes people do the same thing over and over and think they'll get a different result.
I've had so many people say to me, "I'm so glad I finally found you. I've had 15 injections and they didn't work." If the treatment you're getting doesn't work, why keep doing it?
Q.: What else would you like people to know about you and CNY Brain and Spine Neurosurgery?
A.: We're the industry leaders when it comes to getting people up and going again when they come to us with a problem. When they work with us, the time they spend in the hospital or off work is the shortest. We can do this because we work closely with occupational therapy, physical therapy and rehab.
We use a team approach to evaluate and treat people most effectively. We're committed to patient care, improved patient lifestyle, surgical outcome, and our community.
We're all real neurosurgeons. Some physicians claim to be, but haven't had specific training. We're all trained and board-certified in neurosurgery. We have six providers, all well trained and board-certified.
We provide specialized care for the complete spectrum of neurosurgical needs, including the neck (cervical spine), back (lumbar spine), spinal injuries (trauma), scoliosis, spinal tumors, brain tumors, brain trauma, and strokes.
Q.: What else would you like people to know about you?
A.: I've trained with the world's best neurosurgeons and orthopedic spine surgeons and have 15 years of experience.
---
Lifelines
Birth year: 1976
Birthplace: Michigan
Education: Bachelor of Science degree, University of Michigan; medical degree, Midwestern University, Glendale. Arizona; neurosurgical residency, Virginia Tech Carillion Clinic, Roanoke, Virginia; fellowship in orthopedics and neurosurgery, University of Washington
Affiliations: Rome Memorial Hospital, Mohawk Valley Health System
Current residence: New Hartford
Personal: Married, four children
Hobbies: Spending quality time with family, whether hiking, traveling, fishing, or attending sports events, like going to Utica Comets games. We're avid baseball fans.