Allysa Prashad recently joined the Mohawk Valley Health System as a specialist in family medicine. She provides patient care at the MVHS Crossroads Medical Office in New Hartford and has privileges at Faxton St. Luke's Healthcare in Utica. Prashad is board-certified in family medicine.
By Barbara Pierce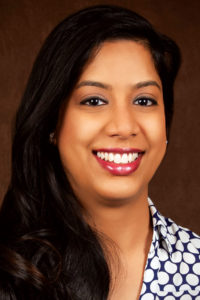 Q.: You are a specialist in family medicine, in what is now called a patient-centered medical home. Can you tell us more about what it means to be a specialist in family medicine?
A.: To me, this means that I am the patient's point of primary care.
Q.: As a specialist in family medicine, you provide care to patients of all ages with a broad array of conditions. How do you differ from other physicians?
A.: Being a specialist in family medicine is different from other physicians in that I am not limited to just one area of treatment. For example, I am not limited to working with just a patient's cardiology, respiratory, gastrointestinal or musculoskeletal systems, as do specialists in those areas.
Q.: How did you become involved as a specialist in family medicine?
A.: While in medical school, I really enjoyed the outpatient setting and getting to know about a patient's care as a whole.
Q.: What is most rewarding about it?
A.: I feel that the most rewarding thing about my position is that I have the ability to help patients in various aspects of their health.
Q.: What is most challenging about your profession?
A.: I think that time can be the most challenging thing. I don't ever want patients to feel like their care is being rushed. I take my time with each patient.
Q.: How would you describe yourself as a medical professional?
A.: As a medical professional, I would describe myself as an "information bank." I think that it's important for a patient to have all the details about their treatment options so that they can make the best decision for themselves.
(Editor's note: Dr. Prashad was awarded the Excellence in Inpatient Medicine Award by the Mohawk Valley Health System Hospitalist Group this past June).
Q.: As a specialist in family medicine, you treat a wide range of conditions for people of all ages. You also build lasting relationships with your patients, and take a leadership role in their care. Do you also help patients with their chronic conditions?
A.: Yes, I do help patients with chronic conditions manage their conditions. I refer them to a specialist when appropriate, and coordinate recommendations from the specialist.
Q.: Patients with chronic conditions often need to be referred to a specialist, and maybe more than one specialist. They need their primary physician to help them coordinate all the recommendations and treatment options, and be the glue for patients to help them pull it all together. Is that what you do?
A.: Yes! I do continue to work with patients to help them understand, coordinate, and prioritize treatment options that come from specialists.
Q.: We understand that MVHS New Hartford Crossroads Medical Office is one of the first primary care groups in the U.S. to be recognized and designated as a patient- centered medical home. This is a new model of care that emphasizes the relationship between the patient and physician, with the support the goal of helping patients staying healthy and preventing illness. What is the significance of this for patients?
A.: Everyone's values, beliefs and lifestyle is different. As a patient-centered medical home, these differences are taken into consideration when a provider works with a patient to create and manage an appropriate plan of treatment.
Q.: What else would you like people to know about you or Crossroads Medical Office?
A.: There is a laboratory on the premises of the Crossroads Medical Office so that patients can get their lab work done right here. There is also a behavioral health unit on the premises that can assess the cognitive and emotional functioning of individuals with a variety of neurological concerns or conditions.
---
Lifelines
Birth year: 1988
Birthplace: Queens
Current residence: New Hartford
Education: Bachelor of Science degree in biology, SUNY Stony Brook; medical degree, American University of Antigua; residency in family medicine, St. Elizabeth Family Medicine Residency Program, Utica
Qualifications: June 2019 board certification, American Board of Family Medicine
Personal: Single, no children
Hobbies: Cooking; spending time with family and friends