Mohawk Valley Health System president-CEO leads organization into new era of growth, prosperity
By Daniel Baldwin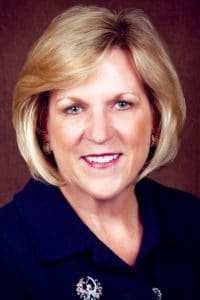 Mohawk Valley Health System President-CEO Darlene Stromstad began working as a newspaper reporter in North Dakota in her mid-20s.
She never considered working in a health care system or hospital until she saw what it was like working in a medical environment. Stromstad's interest working at hospitals grew after what she experienced, and she later put aside her reporting to pursue a career in the medical field.
She first did transformational health care-related work, but she slowly worked her way up the medical ladder, becoming the CEO for the Waterbury Health Network in Waterbury, Connecticut and interim CEO of Fenway Health in Boston, Massachusetts.
Stromstad finally reached the top of the ladder one year ago when she became the president-CEO of MVHS.
She has already had a successful one-year stint, providing more job opportunities to recent medical graduates and making the company's vision of opening a new medical center in downtown Utica a reality.
Q.: At what point in life did you decide to pursue a career in the medical field?
A.: At my first job, I was exposed to transformational health care and was part of an organization that was building a new medical center. I knew then this was where I was going to spend my career.
I get to work with people who are really smart but also really caring, you get connected to patients and their families, and your work is very meaningful.
Q.: Out of all the medical facilities throughout the U.S., why have you decided to move to the Mohawk Valley and accept the role as MVHS president-CEO?
A.: The Mohawk Valley Health System is the right place for me. It's big enough to be interesting, but small enough where you can come and make a difference.
I love community-based health care and that's what this is. I have the opportunity now to be part of rebuilding health care with the building of a new regional medical center. This is a great opportunity that doesn't come along in a lot of people's careers, so I'm very honored to be here.
Q.: What are your main responsibilities as MVHS president-CEO?
A.: I need to do whatever it takes to ensure that we are providing high-quality, safe and effective health care for this community. I motivate and lead a team of professionals who will partner in managing a very complicated industry.
We are connecting with patients and their families when they're at their most vulnerable. I can go from focusing on the tiniest details to making multi-million dollar decisions in a course of a day.
Q.: What are your thoughts about the current state MVHS is in right now, with construction of a new hospital in the downtown area and the increase in job opportunities?
A.: In the Mohawk Valley, we're seeing growth and a lot of interest from businesses. The community is feeling very positive about its future, and we are here to add onto the Mohawk Valley. What this new regional medical center will mean to our health care environment is really a once-in-a-lifetime opportunity.
It will allow us to attract new physicians and other health care professionals into the community. Having a new facility with state-of-the-art equipment is very attractive to young professionals who are looking for good jobs in health care. All of that comes together here.
We are very excited about our growth and potential, and we're already seeing physicians who are interested in coming to this community.
Q.: What is the one thing you love about this job?
A.: I love how every day you can go home knowing you've made a difference. There's no end to the opportunities to have a positive impact on your community, employees and patients.
Q.: What words of encouragement would you like to offer to recent medical graduates who are looking to become a physician and possibly work at MVHS?
A.: It's really important to find a place where you will fit. If you are someone who really likes interaction with patients and want to build a long-term relationship with them, then this is the place for you.
If you want to be able to see the benefits of your career over years, then you can do that in a community like this. If you want to hide in the woodwork and not have interactions with people, don't come to MVHS.
---
Lifelines
Birthplace: Crosby, North Dakota
Current residence: Clinton
Education: Bachelor's degree, journalism, University of North Dakota; Master of Business Administration, Riverside College, Nashua, New Hampshire
Hobbies: "I don't have a lot of extra time, so I purposely build in activities that would contribute to my health. So I try to exercise regularly, and I also schedule time to see my friends. My partner Ken and I are both avid readers and we like movies."