This holiday season will be like no other
By Barbara Pierce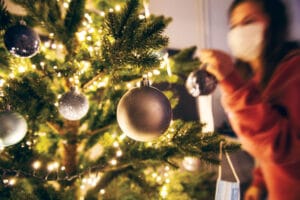 Kelly and Tony Calduch recently bought tickets for their annual trip from their home in Florida to spend Christmas with their daughter and granddaughter in Michigan. Now, though they feel planes may be reasonably safe, it's being in airports that creates concern.
They've canceled their trip. "I'll spend Christmas face-timing time with my granddaughter," said 57-year-old Kelly. "It's not the same as being with her in person, but it's not a bad substitute."
Like them, many families won't be spending real time with those they love.
This holiday will be like none other. Throw out your playbook for planning for the holidays. This year will present challenges.
"We know 2020 has been a difficult year for so many, and everyone would like to be with their families this holiday season," said Madison County Director of Public Health Eric Faisst.
"But we remind you to be cautious," he continued. "We've seen a lot of community spread lately. Much of that is a result of people hosting parties."
Consider these ways on how to make your holidays this year special, even if concerns about COVID-19 mean you'll have to celebrate the holidays away from your friends and family.
— Shop and ship early:
Stay home and browse the web for gifts. As more people will be shopping online, shipping companies will be inundated, so don't wait.You can also avail the best shipping services from myusaddress.ca/business-services.
— If you do go out to the stores, remember the basics, Faisst suggests: "Wear a facemask, wash your hands, and watch your social distancing. Do not go out if you are sick."
— Travel carries risks:
Postponing is the best option, say experts. "If you travel out of state, please be extra cautious," said Faisst. In many states, cases are spiking again. Don't take an airline or hotel's word for it when they claim to be safe or clean.
— Avoid indoor get-togethers:
"Keep any group gatherings small," recommends Faisst. A smaller gathering of loved ones you share a household with followed by a virtual get-together with others is the safest path to take. There's potential for a spike in infections stemming from holiday parties, even if they're small and only among relatives.
Indoor and outdoor gatherings at private residences are limited to no more than 10 people.
"Consider alternative gatherings, such as parties on a virtual platform or a car parade in your neighborhood," Faisst added.
Keep circle small
The risk is when you have extended family or people not in the circle you regularly mix with together. They could spread the virus.
— But if you do choose to invite others, Faisst has these recommendations: "Limit the guest list to family and close friends. Ask guests, particularly those who live in high-risk areas, to avoid others for 14 days before the gathering; and ask guests not to attend the party if they're experiencing any symptoms of COVID-19 or if they've been exposed to someone with COVID-19 in the past 14 days."
Let guests know these expectations ahead of time.
— Also, make sure you have plenty of space for social distancing, that everyone wears a mask which covers their nose and mouth, keep windows and doors open to the extent it's feasible, use a fan to blow air outwards, plate food in the kitchen, limit the number of people who deal with the food, and try to limit alcohol use, he added.
When people drink, the more careless they get and the more animated they get. Speaking loudly, laughing, and even singing, experts say, has the potential of spreading the virus more.
Consider asking someone to be the coordinator to ensure that all these expectations are met.
— Move the party outside if you can, Faisst continued. Outdoors is always safer than indoors. Look for activities that can be socially distanced and keep you active, like sledding or snow-fort making. And don't forget to serve hot foods and drinks to help keep everyone toasty. Do your gift exchange around an outdoor picnic table or fire pit.
Those vulnerable to the virus — the elderly and those with pre-existing conditions — should avoid gatherings this year
— Make special memories:
You and your family may be a little tired of each other right now, but think of fun ways to help set the holiday season apart. Create a little advent calendar with festive activities for each day. Your activities don't have to be elaborate — it could just be drinking hot cocoa together wearing Santa hats, watching one of the best Christmas movies on Netflix, or cooking together on Zoom — but it'll help make the season brighter.
— Keep up your routines: Sleep well, eat well, take time for yourself, and find time to keep physically active.
Remembering what's different will make this holiday more special.
"Help is coming," Faisst tells us, referring to the vaccine. "There is a light at the end of this tunnel."