Battle over location of new MVHS regional hospital rages on
David L. Podos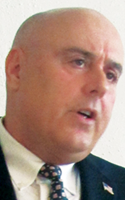 The new Mohawk Valley Health System regional hospital planned for downtown Utica is being met with resistance.
Jim Brock Jr. and Brett Truett — both local Utica businessmen — are co-founders and co-chairmen for an organization called No Hospital Downtown.
The pair co-founded the group before the announcement was made for the hospital to be located downtown.
"I was given a head's up about the location by three board members of MVHS who expressed concern that they were being forced to locate the proposed hospital downtown," said Brock, president of Jim Brock Agency of Utica, Inc.
No Hospital Downtown — as well as the Landmark Society of Greater Utica and Oneida County Historian Joe Bottini — have brought legal action against MVHS, the city of Utica Planning Board, the New York State Office of Parks, Recreation and Historic Preservation and Erik Kulleseid, acting commissioner of the Dormitory Authority of the State of New York.
This action, known as an Article 78 proceeding, challenges the process and findings of the State Environmental Quality Review, which was conducted over an 18-month period.
The suit was filed with the New York State Supreme Court in Albany County to prevent the building of MVHS' new hospital in the downtown area.
"Sadly, we have a few politicians and others who want to line the pockets of their friends at the expense of the many. Only Utica would do something like this that is so ridiculous," Brock said. "We anticipated a response from the defendants sometime in June, and we expected oral arguments in court sometime in late June, and maybe a decision sometime in July. Whatever side loses, it will then go to the Appellate Court. Our organization expects a long, drawn-out battle which we are prepared and ready for."
"I think it's important to recognize that in my professional life, for over 20 years, I have spent time raising money for local hospitals," Brock said.
Brock said when he moved back to Utica from Houston, Texas, he was a board member of the Faxton Foundation for 10 years. After that, he served for the Faxton-St. Luke's Foundation when the two hospitals merged.
"My work and fundraising were to help bring the best medical care to people of the Mohawk Valley. Prior to that, my family has a long history of support going all the way back to Faxton Children's Hospital. So, I have a lot of knowledge about hospitals in general, especially local ones," he said.
Brock said the St. Luke's campus would be a better option in terms of locating a hospital there.
He said the properties in and around the St. Luke campus were acquired over the last 20 to 30 years for the purpose of accommodating a new hospital at the site.
"It has its own co-generator power system and sits on 64 acres of land, land that can be built on," he said. "Also, with a new hospital being built on the existing site, it will sit directly across from Utica College and would form a great synergy."
He said placing the hospital downtown would eliminate that potential synergy, demolish a third of the historic infrastructure of downtown, displace 40 businesses — many that deal with human services work — and displace churches.
"I got to know the people and businesses in that area because I worked many years for the Upper Mohawk Valley Memorial Auditorium Authority, which is just across the street from the proposed downtown site," he said.
Darlene Stromstad, president and CEO of MVHS, said the MVHS Board of Directors unanimously approved the downtown location.
"This small group — No Hospital Downtown — is making every attempt to put obstacles in the way of the new regional medical center," Stromstad said. "It is an unnecessary distraction and expense to this important project that will be successful. The opportunity to bring a new hospital to this community is extremely beneficial to the people that live and work here, not just today, but for years into the future."
She said given the project's importance to the city and region, MVHS believes it is critical for the community to have accurate information.
Stromstad said the decision to build a new MVHS regional medical center in downtown Utica was made nearly four years ago after a thorough review of potential locations. Since that decision, significant time, money and resources have been invested into the design of the new facility.
"The St. Luke's campus is no longer an option," she said.
She added there were 20 businesses in the footprint of the new medical center, not 40, and the location is not one third of the historic infrastructure of downtown Utica.
Infrastructure concerns
Brock said under Columbia and Lafayette streets — within the footprint of the downtown hospital site — is some of the oldest infrastructure in Oneida County.
"You would have to literally rebuild that infrastructure — water, sewage, power, electricity and gas. I will say that of the $300 million we are getting from the state for this new hospital [Statewide Health Care Facility Transformation Program grant], $150 million will go toward rebuilding that infrastructure, leaving very little money to build a new hospital.
"I do not believe that this hospital will ever be built downtown. I will submit to you after filing suit with the Supreme Court in Albany that you won't see shovels in the ground in downtown, ever."
Stromstad said the cost to upgrade utilities alone, not including water, is less than $9 million — not $150 million.
Also, grant money is not going to be used for the infrastructure upgrade; it is being paid for by MVHS, she said.
"Further, the medical center project will benefit downtown Utica by upgrading and replacing old, unreliable systems located in these quadrants which would otherwise only be updated over time as portions fail," she said.
Brock said cities across the United States today are not building new hospitals in downtown areas.
"Now the 'yes' people like to point to hospitals that are being built in downtowns," he said.
He said a new hospital in the Chicago, Ill. area was built 19 miles from downtown. Also, a new hospital in Tampa, Fla. is located near a community college and residential area, and is not downtown.
However, Stromstad said there are a number of hospitals that have been built in downtown areas and they have, in fact, been cited as a key reason for the revitalization of downtown areas.
One example in the Northeast is St. Vincent Medical Center in Worcester, Mass.
She pointed to a Nov. 9, 2018 article in the Worcester Telegram-Gazette that stated, "Medicine has been key to Worcester's revitalization in the new millennium.  The East Central Urban Renewal Project was renamed the Medical City project and resulted in the relocation of St. Vincent Hospital from high on Vernon Hill to a downtown site just a few blocks away in 2000."
Bone of contention
Brock claims that several board members from MVHS told him that the $300 million in state aid would be withheld if the project did not locate downtown.
However, Stromstad said the downtown location for the new medical center was supported by the state as part of a larger initiative to revitalize urban centers in Upstate New York.
Because of that state support, MVHS was granted $300 million in Health Care Facility Transformation monies.
In order to obtain the grant, the hospital needed to be located in Oneida County's largest population center, which is the city of Utica, Stromstad noted.
In addition to state and regional government support, the downtown location offers better accessibility because of its location to major highways and public transportation, she added.
Building at or expanding on the St. Luke's campus is no longer an option and is not viable for a number of reasons, she said.
"There is not enough adjoining acreage that is not currently being used to support the design of a new medical center," said Stromstad, noting there are also other buildings on the site — the Center for Rehabilitation and Continuing Care Services, a dental center, onsite day care buildings, and other additional buildings.
Stromstad also noted there are federally regulated wetlands on the St. Luke's campus.
She said both hospital campuses — St. Elizabeth and St. Luke's — need to remain open and functional during construction to meet the needs of patients and community members.