By Daniel Baldwin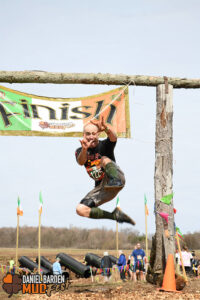 Daniel Barden Mudfest is the Utica Boilermaker's dirty little brother, as mentioned on the event's website (bardenmudfest.org). This road race doesn't take place on city streets, indoor tracks or outdoor tracks.
It takes place in the woods, on a muddy trail, near MKJ Farm in Deansboro.
The mud race is no ordinary 5k or 15k, where the racers just have to run and complete the scheduled distance.
It is an obstacle race.
There is rope swinging, river crossing, wall and terrain climbing. Racers have to crawl through and slide down muddy tunnels. They have to swing across the monkey bars. Racers can either do the 5k race or the five-mile race at this event. There is also a kids' run.
Both the five-mile and 5k race have more than 20 obstacles, according to Daniel Williams, race director.
Williams described these races as a challenging Adirondack hike.
"It's challenging," Williams said. "Obstacles are optional. So if you want to go around, you can go around. If you look at the Boilermaker, we're the Boilermaker's dirty little brother. The Boilermaker is hard. What we're able to do was add mud to it and keep it at a 5k and five-mile and it is challenging. We're pound-for-pound right there with some of the bigger races."
These courses may be difficult to complete, but many local racers have accepted this challenge and competed in these sorts of races. Seven hundred seventy-five runners competed in last year's race, according to Williams. While he sees this race as a challenging obstacle course, he also sees it as an opportunity for people to get out of their comfort zones — to stand up to the challenge and not run away from it.
"It gets people out of their comfort zone," Williams said.  "It breaks that 'hey every day is pretty easy for us in America.' What I'm looking for is one day, I'm going to challenge you and give you this little taste of, 'oh that is hard.' We're helping to get people off the couch and start evaluating their physical situation."
Williams is even looking to help the racers mentally — to change their mindset on certain topics and issues throughout the world. And, to give hope to those who have lost a loved one or are dealing with a certain problem in their life.
Honoring a Sandy Hook first graders killed in a shooting
"The main purpose of this mud run is to change people's mindset and start gush-fires of change that will take decades to fully affect them," Williams said. "We're giving the people hope and it's got to start with them. Then it's the people who come to Mudfest that are like 'man, this is just totally different. That wasn't just physical or mental, that was really spiritual too.' It's about getting you to come to Mudfest to experience it, whether you're a volunteer, spectator or participant. You're going to get that same feeling, when you leave, that you are going to be that better person. They start that thought process of changing their mindset."
This event is named after Daniel Barden, one of the first graders killed in the Sandy Hook Elementary School shootings in 2012. Williams met Daniel many times throughout the years. He described Daniel as a polite and kind young boy.
"I had the privilege of meeting him a dozen times through my sister, her kids and their birthday parties," Williams said. "He was a 7-year-old kid that held the door for you. He was an old man in a young kid's body."
Williams attended Daniel's funeral.  He then went right to work, after the funeral, trying to put together some sort of fundraiser or event for Daniel and his surviving family.
"I went to the funeral and was so affected by seeing a 7-year-old casket going down through the church," Williams said. "The emotion was so raw. I literally had an epiphany in the church. The last speaker fortunately for me said 'if you could do something to make the world a better place then do it.' That spurred me in that moment. I just thought about what I wanted to do. MKJ Farm is right around the corner from my house. Willie Nelson played there. I knew we could do it. So on the way to the cemetery, I was making phone calls. I called my buddy and he said 'yeah let's do the event.' I made a couple more phone calls and next thing you know, my family started jamming on it (the event). The Deansboro and Mohawk Valley community came together and we built it."
The event, Williams had in mind, was this mud race.
"That first year in 2013, we had a half-mile kids' run with eight to 10 obstacles," Williams said. "Then we did a 5k with 10 obstacles, with a goal of just getting these people (who have a problem or lost a loved one) back on their feet. We raised $83,000 that first year. Mark Martin came to me and said 'that run, that you put on, can we keep doing that?' and I was like yeah.  So here we are."
Daniel Barden Mudfest started in 2013 and lasted until 2019. COVID-19 put it on a two-year hiatus. The event returned in April of last year.
Williams and his crew are ready for this year's race, and they are hoping to get more racers and entries than in previous years.
"We're shooting for 1,600 runners this year and to raise $100k," Williams said.
Mudfest will take place near MKJ Farm, in Deansboro, on May 6. There will be a post-race party with live music at the farm. All proceeds will go to the Daniel Barden Adventure Scholarship, a leadership program that selects students for an all-expense-paid 10-day canoe and camping trip in the Adirondacks in July, according to The Rome Sentinel.
The 2023 Daniel Barden Mudfest will take place near MKJ Farm in Deansboro on May 6.  More information at bardenmudfest.org.
All proceeds raised at this event will go to the Daniel Barden Adventure Scholarship, a leadership program that selects students for an all-expense-paid 10-day canoe and camping trip in the Adirondacks in July.