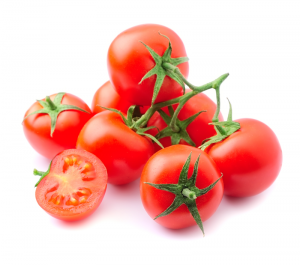 Cherry tomatoes, like all tomatoes, often make superfood lists, a designation that cheers my heart, my eyes, my skin and my constant worry about cancer. Since my husband and I eat a lot of cherry tomatoes, it's great to know that this portable superfood can do more than just help us meet our nutritional needs — it can also help us achieve better health, prevent chronic disease, keep aging at bay and improve the way we feel.
Cherry tomatoes are antioxidant superstars, boasting impressive amounts of the particular vitamins (A and C) and phytochemicals (lycopene) that protect us from cancer and other debilitating diseases by preventing the growth of harmful free radicals. Although free radicals are produced naturally in the body, lifestyle factors — such as exposure to pesticides, smoking, alcohol and fried foods — can accelerate their production. Many experts agree that eating a diet rich in fruits and vegetables can make a healthy difference.
These little globes of goodness are also a decent source of potassium, providing nearly as much potassium as a medium banana. Eating more potassium-rich foods lowers blood pressure, decreases the risk of stroke, reduces the formation of kidney stones, and supports bone and muscle strength.
What's more, cherry tomatoes are really good for eyes, thanks to their unique mix of nutrients — from vitamin A that retinas depend on to function to the nutrients lutein and zeaxanthin that protect eyes from harmful ultraviolet rays. One study showed that people who ate foods rich in zeaxanthin may be half as likely to get cataracts, while another study showed that increased consumption of lutein and zeaxanthin may slow the progression of macular degeneration.
Remarkably low in calories for such a nutrient-dense food, waistline-friendly cherry tomatoes are also low in sodium, fat and cholesterol.
Cherry Tomato and Avocado Salad
4 cups cherry tomatoes, halved
2 avocados, diced
1 medium carrot, shredded
½ red onion, diced (optional)
1 jalapeno pepper, minced (optional)
1 lime, juiced
1 clove garlic, minced
1½ tablespoons olive oil
Salt and pepper to taste
2-3 tablespoons minced fresh basil or cilantro
½ cup chopped, toasted walnuts
Place tomatoes, avocados, carrot, onion, and jalapeno into a medium salad bowl.
In a small bowl, whisk lime juice, garlic, olive oil, and salt and pepper until blended; stir in herbs. Pour over tomato mixture and gently toss. Top with toasted walnuts and serve immediately.
Helpful tips
Choose cherry tomatoes with firm, bright skins and a fresh tomato-y scent. Store them at room temperature, out of direct sunlight, for best flavor and to avoid the mealy texture that can result from refrigeration. If, however, your tomatoes are ripe and you won't be eating them in the next few days, you might want to store in the refrigerator to keep them from spoiling quickly. Before eating refrigerated tomatoes, put them out at room temperature for at least an hour.
Anne Palumbo is a lifestyle columnist, food guru, and seasoned cook, who has perfected the art of preparing nutritious, calorie-conscious dishes. She is hungry for your questions and comments about SmartBites, so be in touch with Anne at avpalumbo@aol.com.