By Barbara Pierce
The little boy in the cart cried loudly as his mother wearily paid for her groceries.
"Is he OK?" asked the cashier.
"Oh, he's just a brat," said the mother. "Shut up Tony," she said.
He ignored her and kept crying. His older sister stood next to the cart, looking like she was in her own world, tuning out her brother.
I was behind her in line. The cashier rolled her eyes, giving me a look that said, "We know this is bad but what are you gonna do?"
Yes, it's bad for Tony and his sister for so many reasons. One can only hope that Mom was having a really, really bad day. Or maybe they have a dad at home who will help Tony learn to regulate his emotions and give both kids loving attention. Or maybe a grandparent.
If not, these kids are in trouble. Chances are they'll grow up to be screwed-up, unhappy adults. Growing up in what is probably a dysfunctional family, they'll have a lot to overcome.
Coming to terms with a crappy childhood and overcoming it isn't easy.
"I was born a little broken," said author Glennon Doyle in her memoir "Untamed."
"Broken means it doesn't function as it was designed to function," she continued. "A broken human is one who doesn't function the way humans are designed to function.
"We hurt people; we are hurt people. We feel left out, envious, not good enough, sick and tired. We feel certain that we were meant for more and that we don't even deserve what we have. We feel ecstatic and then numb. We wish our parents had done better by us. We wish we could do better by our children…"
Sadly, so many grow up this way, living with parents who should never have had children. Always feeling like we're missing something; living in a world of pain much of the time.
A few are resilient, they do OK despite the odds. Most don't do OK. The characteristics (skills) that helped us survive as a child don't work so well when we're adults.
From my own experiences, those of my family and friends, and through working as a psychotherapist with people that were hurting, here are a few things you might find helpful if this describes you.
It takes much courage to face this.
"Although it's terrifying to say yes to yourself, it's also a tremendous relief when you finally stop and face your own demons," said Ellen Bass in her book "The Courage to Heal." "There's something about looking terror in the face and seeing your own reflection, that's strangely relieving. There's comfort in knowing that you don't have to pretend anymore, that you're going to do everything within your power to heal."
Look it in the face and accept that things happened to you that weren't OK. You don't have to forgive anybody, just accept it.
Looking it in the face is terrifying. It threatens to change your life—your relationships, your position in the world, even your sense of identity.
Changing your identity from being a victim of others, to a survivor—one who overcame bad stuff and is now in charge of her life—can make a huge difference in how you see yourself. Resolve to not call yourself a victim, broken, flawed or imperfect anymore. Instead, you're a survivor.
Doing everything you can may mean becoming involved in some kind of therapy or support group. Maybe evaluating your use of alcohol or drugs.
Leah saw me for therapy the first time when she was 73. She was finally ready to confront the demon.
"I keep seeing my father in my mind," she said that first time I saw her. "His eyes, his cruel eyes. Sitting there with a rifle on his lap, ready to shoot Santa Claus when he appeared."
When she was a teenager, she found alcohol helped get rid of that image. It helped her cripple through most of her adult life. Five years before, she had stopped drinking through AA. But now she wanted more. She wanted to get rid of those cruel eyes.
I suggested that, while she couldn't stop the abuse she got from her father, she could stop the image that kept playing in her mind. "Every time those eyes pop into your head, change the channel. Switch to something pleasant, something that makes you happy," I said. We identified what might work for her.
"Wow! You've given me such a gift!" she said when I next saw her. Switching images worked.
Katie, sexually abused by her father as a child, kept seeing the image of him coming into her bedroom. She changed that image to imagining him small, like Jiminy Cricket. She bashed that cricket over the head time and time again.
This is too important to squeeze into one month; more on this next month.
---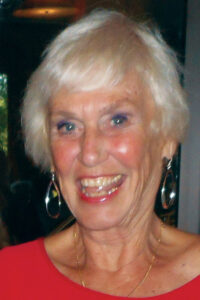 Barbara Pierce is a retired licensed clinical social worker with many years of experience helping people. If you would like to purchase a copy of her book, "When You Come to the Edge: Aging" or if you have questions for her, contact her at barbarapierce06@yahoo.com.