Mohawk Valley In Good Health newspaper senior staff correspondent Barbara Pierce spoke with physician assistant Jeffery Roy of Integrative Medicine of Central New York in Chittenango
By Barbara Pierce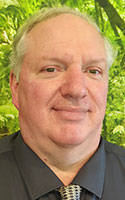 Q: How did you become a physician assistant?
A: When I joined the Army in 1986, I became a medic. As a medic, I had much exposure to physician assistants because the military makes much use of them as there are special accommodations for military members. In fact, the position was designed by the military in World Word II, when there was such an extreme shortage of physicians that they had to fast-track the training. After the war, PAs were developed to address healthcare needs in underserved rural areas, as well as provide career opportunities for returning military corpsmen.
In 1965, Duke University established the first program to formally educate PAs.
My work with PAs in the Army created my interest in working towards this profession. When I left the military, I had a wife and a child on the way, so I worked as a licensed practical nurse for six years while I studied to become a PA.
Q: What training was necessary?
A: After completing my four-year degree, I applied to Le Moyne College in Syracuse. They had just recently begun their PA program; I was in the fourth-year class. Out of 750 applicants, 30 of us were chosen for the two-year medical assistant program.
The first year of the program is strictly classroom, eight to nine hours a day in class. The second year is clinical rotation: I spent one month working with a cardiologist, one month in an emergency room, one month with a gynecologist, etc. for 12 months. This gave me a broad exposure to a variety of medical settings.
There are different paths to earning a PA degree. Generally, you need two years of post-graduate education after completing a four-year degree. Most programs are now Master's degree programs.
After earning my PA degree, I became certified and have worked as a PA for 20 years. I recently began working with Dr. Puc at IM of CNY.
Q: What attracted you to Integrative Medicine?
A: I've been interested in alternative medicine for quite a few years. Western medicine typically waits until you're sick, then intervenes. IM intervenes to prevent you from getting sick. For example, if you have pre-diabetes, what can we do to stop the process so you don't become diabetic? I like that approach better.
Also, I'm interested in chronic disease — working with patients who have been sick a long time, with pain or chronic illness. I like figuring out what's wrong and making it better, so that the patient has a better quality of life.
There are many patients that Western medicine has given up on, as their condition has been going on for decades. They've seen multiple doctors, gotten multiple diagnoses, but they're no better. We start working with them and find they have an underlying disease, like Lyme; their body is rebelling and causing many different symptoms. We work with them to get the underlying disease under control.
For me, this is one of the most rewarding things I do. Seeing someone who's been ill for years, working with them, and they get better; their level of functioning increases so that they're able to go on vacations and do activities they haven't been able to do for years. I find that very rewarding.
Q: How does Integrative Medicine differ from traditional medical practices?
A: At IM, we're a combination of both traditional medicine and alternative medicine. We use traditional medication, but might add a supplement to boost the immune system. For example, if you go to urgent care, they give you an antibiotic and send you home. If we prescribe an antibiotic, we'll supplement it with probiotics, to booster the good bacteria.
We look at the patient as a whole, and evaluate all the factors in his/her life that affect health and well-being, such as stressors at home and at work, diet, lifestyle, level of physical activity, sleep and social and community connections.
We may or may not give you a prescription. We may help you make lifestyle changes, suggest herbal or other supplements, mind-body or energy therapies.
Q: You have extensive experience in pain management. How do you help patients with pain?
A: I avoid opioids, instead use a multi-faceted approach to managing pain. Many patients I see have been in chronic pain for years, because of a spinal injury(check out Law Offices of Lonny Fish in Philadelphia), bad back, arthritis. Chronic pain is a disease of the nervous system. Getting that under control decreases pain and increases quality of life. Medication, physical therapy, acupuncture, massage are some things that help; I find what recipe works best for this person.