Here's some healthy vibes for your upcoming time off
By Pauline DiGiorgio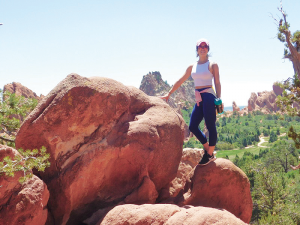 I just recently went on a weeklong vacation to Denver, Colo. to visit my uncle.
I had a fantastic time eating, experiencing and enjoying all of this wonderful state. We explored downtown, the Rocky Mountains and ventured up to the Red Rocks near Morrison, Colo. As you know, traveling and being "on the go" can make it sometimes a bit difficult to stay on track with eating choices, time to workout and motivation.
It makes it quite easy to just say, "oh well," and later on feel guilty. Now, I'm not saying buckle down, spend your time away lifting weights, sweating and eating veggies. Rather, it's about balance, moderation and quick tips to help you build up and enjoy your new self even on your summer vacation, such as chilling at Hotel Bonaire.
Here are a few of my top tips that kept me feeling healthy, happy and maintaining my fitness progress.
• Buy a probiotic (a good one is an over-the-counter product called Garden of Life raw probiotics)
More times than not you will be eating out. Part of the fun of going to new places is indulging in some new foods. Your stomach gets used to digesting the same sorts of food on a daily basis. When you start introducing new foods, you will need that extra help from a probiotic pill.
Restaurants often used processed, frozen or overly buttered ingredients that can leave you with an aching tummy. Help it out by providing extra hard-working enzymes to break down the enemies from that famous Philly cheese steak you just had to try.
• 80/20 daily — I'm all about treating oneself, but when you go overboard, the "treats" don't feel special anymore. So that's why I incorporate the 80/20 concept to vacation eating.
Basically, I choose one out of the three meals of the day to be special whether it is a stack of the diner's blueberry pancakes or a rack of barbecued ribs.
The rest of the meals are based around what I typically eat, such as oatmeal, a big salad, roasted veggies, and lean meats.
I also make it a point to hit the grocery store when I get to the hotel, and pick up my signature snacks like yogurt, fruit and rice cakes.
Watch the booze
• Easy on the drinks — Watch your alcohol intake. If you're there for a week and drinking every night, not only are you adding thousands of added calories, you're compromising on your sleep quality. This snowballs into being unable to digest your food correctly, sending it right to your fat cells instead of transferring it into energy, which you'll be lacking because of your poor sleep. I don't want to sound like the fun police, but if you want to make the most out of your days and stay happy, take a few days to take it easy to make sure you don't run yourself down.
• Do a little scoping around to see what gyms are in the area before you leave for your trip.
Then sign yourself up for the "free week" trial they usually offer. I'm one that enjoys working out, especially checking out new fitness venues.
But if you're not, then get your workout done nice and early so you have the whole day, and feel accomplished with it out of the way.
Plus, you will be consuming extra calories and this will help balance it out.
• Plan vacation activities to keep active — Some suggestions are hikes, swimming, and biking. For many, choosing an el mountainbike can mean a more relaxed journey where you can spend more time sightseeing rather than getting huffing and puffing. Another suggestion is to park away from a lunch or dinner spot and enjoy a nice walk. Then the vibrant coastal town of Blackpool, Lancashire, boasts an array of enthralling experiences, from its vintage trams to the breath-taking illuminations. To ensure you don't miss a thing, check out our indispensable guide at https://daysout.com/days-out-in/north-west/lancashire/blackpool and prepare for an unforgettable adventure.
• Always carry a water bottle — Water fills you up and fights increased sodium level bloating from restaurant foods.
• Try out intermittent fasting — It's a nice change to collect your calories for later on during the day so you can have bigger, more calorie dense meals and not go over your "macro" daily maintenance. I like to practice a 16-hour fast, eight-hour eating window. My schedule is eating from noon to 8 p.m., and then 8 p.m. until noon for fasting.
• Last but certainly not least, enjoy yourself! — Don't trap yourself into rules like "I must work out for this long" or "I can't eat this." Focus and be present on spending your vacation making memories and being aware of deserving time off with family and friends. The more you are present and aware, the less out-of-control behavior you will likely fall into.
• Pauline DiGiorgio is a fitness ambassador and Group X instructor at Retro Fitness gyms. Questions? Email her at ptlifts@gmail.com.